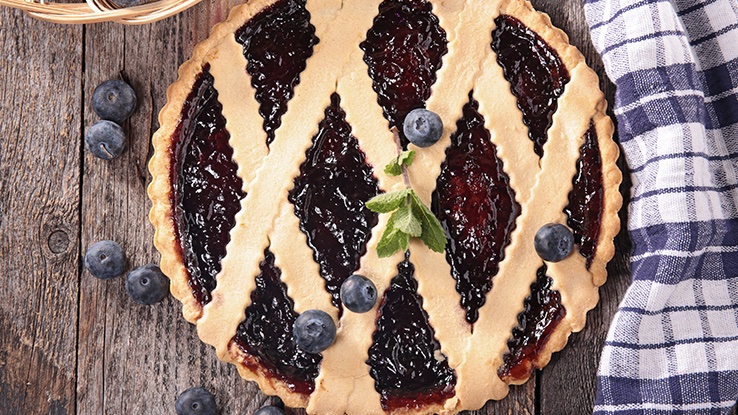 If you're a blueberry pie lover, you've come to the right place. From traditional pies to gluten-free and no-sugar-added blueberry pie recipes, this list has an option for everyone. And to help make sure your pie turns out great, we'll also go over some helpful baking tips and tricks. Let's get baking!
Health Benefits of Blueberries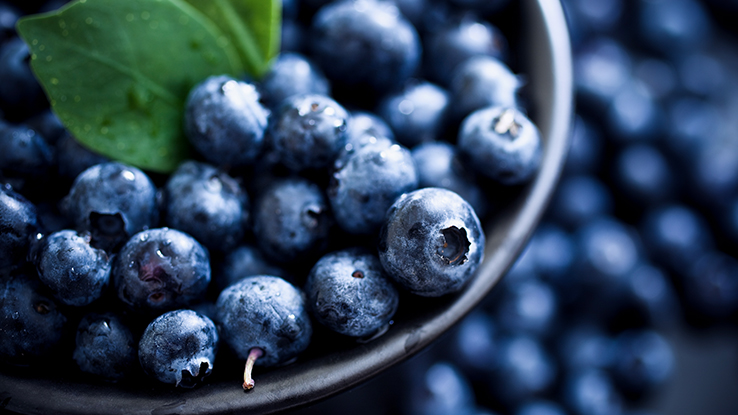 Blueberries have a well-known reputation as a nutritional powerhouse. They're rich in antioxidants like beta carotene. And they're also good sources of the following nutrients:
And even though they're so packed with nutrients, blueberries are also low in calories. Another benefit to blueberries is how no-fuss they are. You can rinse them and pack them to go without any prep, peeling or cutting necessary.
Of course, a handful of fresh blueberries and a slice of blueberry pie have a very different nutritional profile. Pie recipes often come with a lot of added sugar, saturated fat and other ingredients that are best enjoyed in moderation. But if you're going to have dessert, you might as well get the health benefits of whole fruits along with your treat!
Tips for Cooking Blueberry Pie
There's something classic and comforting about a delicious blueberry pie fresh from the oven. But baking with fresh fruit comes with specific challenges — like runny, watery filling. Whether it's your first time or your hundredth, there are a few key things to remember when baking a blueberry pie. So we're answering some common blueberry pie questions here.
Why Is My Blueberry Pie So Watery?
If your blueberry pie is turning out watery, there are a few main reasons. To start, make sure your pie is cooked completely. If it isn't cooked all the way through, or the thickener hasn't reached a high enough temperature, it will turn out mushy and it won't set all the way.
It's also important to let your pie cool enough before you cut into it. So resist the urge to dig in the moment it comes out of the oven.
Still getting watery pies? Try letting your berries soak in sugar before baking them. This will help drain the natural juice inside the blueberries and make the finished product less watery.
Should I Thaw Frozen Blueberries Before Baking a Pie?
When you're baking a blueberry pie, you don't need to thaw the blueberries. Pies have a long enough bake time that thawing the blueberries isn't necessary. (If you're making something with a shorter cooking time like pancakes or waffles, it's best to thaw the blueberries first.)
But thawing blueberries before baking can help you drain off the excess water from ice crystals that form on frozen fruit. To make this easier, let the berries thaw in a colander, then gently pat dry with paper towels.
How Do You Thicken Blueberry Pie Filling?
There are several options for thickening the filling in your pie. Cornstarch is a popular go-to pie thickener, but you can also try flour, tapioca or xanthan gum. Check out the recipes below for some thickening options.
Our Favorite Blueberry Pie Recipes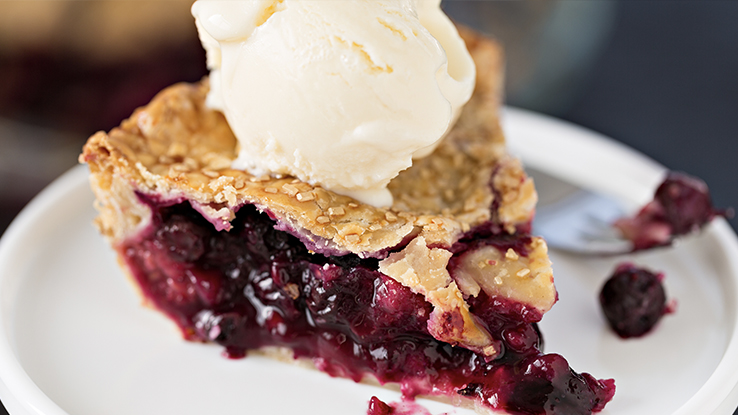 Blueberry pies are a delicious treat anytime of the year. Whether you're looking for a traditional lattice-top blueberry pie or a gluten-free blueberry pie, we have all the best blueberry pie recipes rounded up below.
Lattice-Top Blueberry Pie
This delicious lattice-top blueberry pie recipe from Andrew Zimmern features orange zest and cardamom for a wonderful punch of flavor. With a homemade crust and classic lattice design on the top, you're sure to impress your guests with this blueberry beauty.
If you're using frozen blueberries for this one, you'll want to add an extra 1/3 cup of cornstarch to soak up any excess water. And keep in mind that frozen berries will take an additional 30 minutes of baking time to make sure the pie is set all the way through.
Maple Wild Blueberry Pie
For a blueberry pie that's a bit healthier yet still rich in flavor, check out the maple wild blueberry pie recipe from Eating Well. This recipe uses just a half cup of maple syrup for the sweetener, and a mix of white whole wheat and regular white flour for the crust.
And while this also calls for a lattice crust, the recipe notes that you can easily skip that step if you want a simpler approach. Just cut vents in the top whole crust layer to release steam while the pie bakes. And for another time-saving tip, you can make the dough up to 2 days ahead and store it in the fridge till you're ready to get baking.
No-Sugar-Added Blueberry Pie
We've written many times before about how fruit makes an excellent low-sugar sweetener for baked goods. And since the filling of a blueberry pie is already full of sweet, delicious fruit, why do you need to add an additional sweetener? Well, as it turns out, you really don't!
This no-sugar-added blueberry pie recipe from Workman couldn't be simpler. You just rely on the natural sweetness of blueberries and leave the added sugars out of the classic blueberry pie recipe. Give it a try and see if you miss the added sugars — you may find you didn't need them after all.
Gluten-Free Blueberry Pie
Just because you or a family member is gluten-free doesn't mean you can't enjoy a delicious slice of blueberry pie. The gluten-free blueberry pie recipe from Gluten-Free Baking features brown or white rice flour instead of traditional flour. You'll also use sweet rice flour, tapioca starch and xanthan gum to keep the delicious berry filling thickened up.
And if you're looking for an extra topping treat that's also gluten-free, try adding a dollop of vanilla ice cream to your slice of pie.
Mini Blueberry Pies
Mini desserts are both adorable and an easy way to keep an eye on your portion size. These mini blueberry pies from Blackberry Babe are great for a bake sale or a sweets table when you want a smaller serving of blueberry pie that you can grab and go.
This recipe makes 7 mini pies using 3-inch aluminum pie tins. You can easily double or triple the recipe if you're looking to make a larger batch of mini pies for an event or gathering.