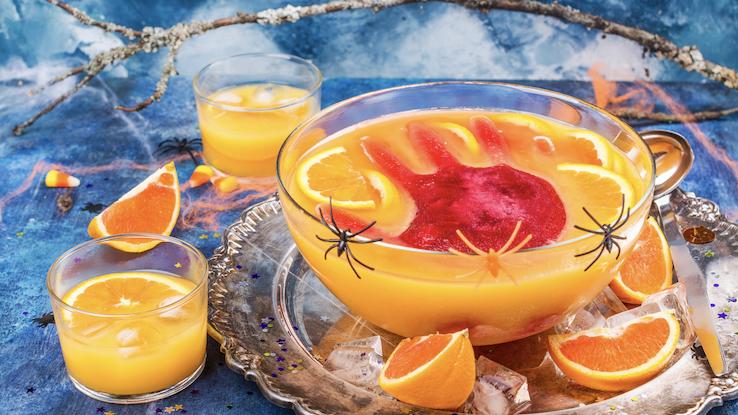 Thinking about getting into the spirit of Halloween with some spooky themed drinks? Most Halloween drink and punch recipes use soda, candy and other added sugars — and those ingredients are no good for your teeth or your overall health. So instead of the usual sugar bombs, try these five healthier Halloween drink ideas.
1. Pumpkin Smoothie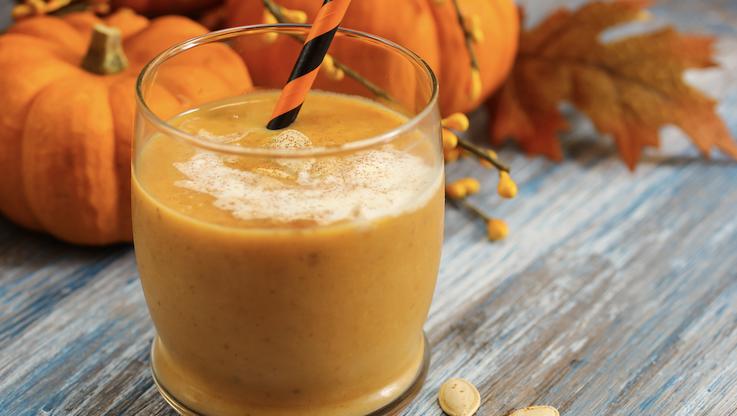 The pumpkin base in this drink is perfect for Halloween. It tastes just like pumpkin pie in a glass. And pumpkin isn't only a seasonal treat — it's also a healthy food with lots of nutrients, so you'll be getting a dose of vitamins and antioxidants while you celebrate. This recipe can use dairy milk or plant-based milks, so it's a flexible choice if you're vegan or lactose-intolerant. Start with just a tablespoon of honey for sweetness, and add more only if you need it.
Ingredients:
Half a cup of canned pumpkin
Half a cup of milk, soy milk or another plant-based milk
Half a cup of crushed ice
One tablespoon of honey
One teaspoon of pumpkin pie spice
Directions:
Add the canned pumpkin, milk, crushed ice and honey into a blender.
Blend until you have a nice, thick consistency.
Pour into a glass, sprinkle a bit of pumpkin spice and serve.
2. Rotten Apple Cider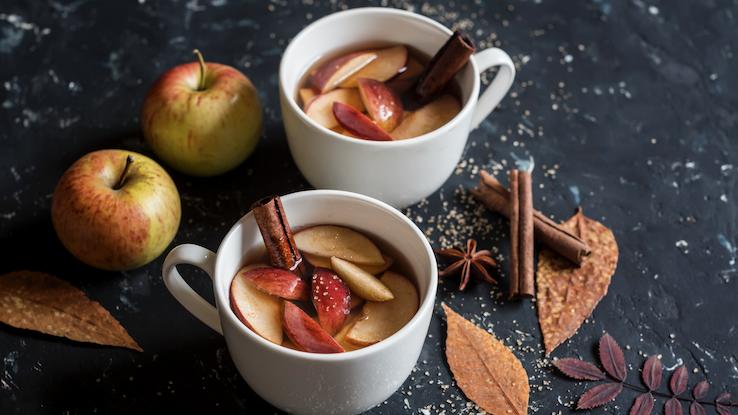 Don't worry, this Halloween drink recipe isn't actually made from rotten apples. But the brown hue will look just rotten enough to go with your spooky theme! Apple cider comes with many of the health benefits of eating apples (minus the healthy fiber of the whole fruit). Just make sure to choose a brand with no added sugars. And remember that even without added sugars, fruit juices are naturally high in sugar — so enjoy this sweet treat in small servings.
Ingredients:
Four cups of 100% apple cider
One cup of 100% orange juice
One tablespoon of honey
Four cinnamon sticks
One whole nutmeg
12 whole allspice berries
Half a teaspoon of grated orange rind
Directions:
Add all of the ingredients into a saucepan and heat them to a boil on high heat.
Once the cider is boiling, turn the heat to low and let it simmer for 10 minutes.
Serve the rotten apple cider with a cinnamon stick or apple wedge.
3. Apple Bobbing Punch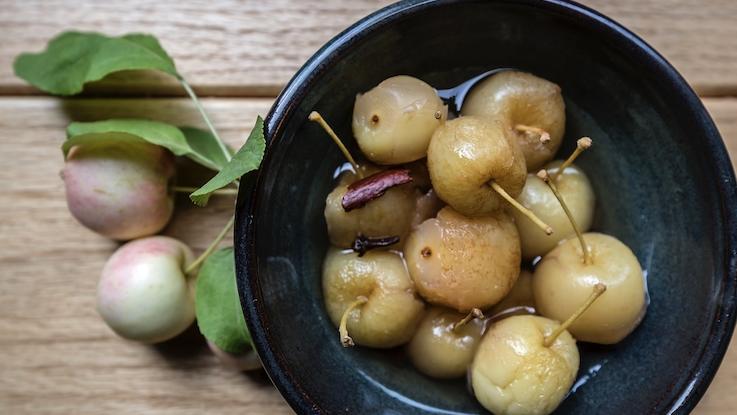 Bobbing for apples is a fun Halloween tradition — and you can put a new spin on it with this bobbing apple punch. The 100% fruit juices in this mix will give you a healthy serving of antioxidants and vitamin C. And you and your guests will love bobbing for the mini crabapples in each glass. Just remember that, like the rotten apple cider above, this drink is a naturally sugary treat best enjoyed in small amounts.
Ingredients:
One bottle of 100% apple cider (32 ounces)
One bottle of 100% cranberry juice (32 ounces)
One jar of whole crabapples
One can of frozen 100% orange juice concentrate (6 ounces)
Directions:
Pour all of the ingredients into a punch bowl or festive cauldron and stir.
Refrigerate the apple bobbing punch for a couple of hours and serve chilled.
4. Blood Punch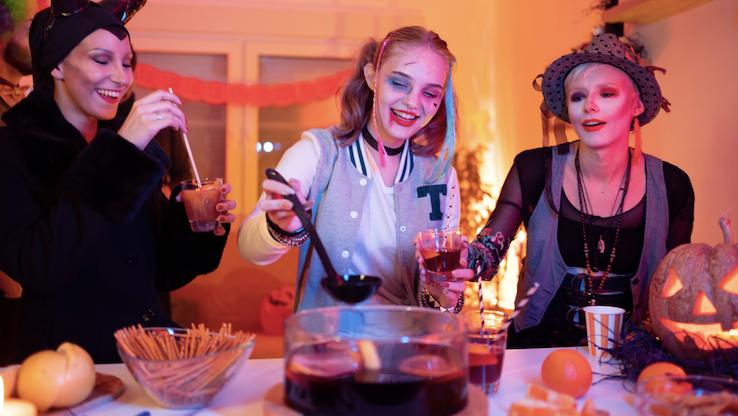 This spine-tingling punch is made mostly with fruit juices. By using the sweetness from fruit juice, you can avoid the added sugars of most punch recipes. Diced strawberries add a ghoulish effect while providing vitamin C and potassium.
Placing the punch bowl over the block of dry ice dry ice offers a smokey, spooky effect — but make sure to follow safety steps when handling dry ice. Wear safety goggles and insulated safety gloves. Keep dry ice in a well-ventilated room and keep children away from dry ice. And most importantly, never eat dry ice or put it in a beverage.
Ingredients:
Three cups of 100% cranberry juice
One and a half cups of 100% apple juice
One and a half cups of 100% grape juice
Three cups of strawberries
Block of dry ice (to place underneath the punch bowl)
Directions:
Chop the strawberries into small pieces and pop them in the freezer for a couple of hours until frozen.
Stir the juices in a punch bowl and chill for a couple of hours in the fridge.
Place a block of dry ice in a bowl, pot or cauldron that's bigger than the punch bowl.
Set the punch bowl over the dry ice to make it look like a bubbling cauldron.
Add the frozen strawberries to the blood punch and serve.
5. Count Dracula Sangria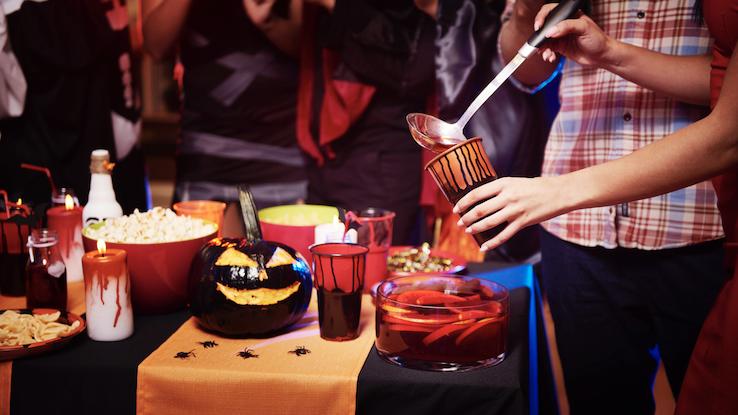 If you're looking for an alcoholic beverage for the adults at your Halloween gathering, try this spooky sangria. Fresh apples and oranges add a healthy twist — just remember to only drink alcohol in moderation.
Ingredients:
Two bottles of red wine
Two cups of 100% orange juice
Three apples, chopped into small pieces
Three oranges, separated into small slices
Two cans of seltzer or club soda
Directions:
Pour the ingredients into a pitcher and mix well.
Refrigerate for a couple of hours or serve chilled over ice.
Resource Links:
"Dry Ice Safety" via CDC (Centers for Disease Control and Prevention)
"Beverages as a Source of Nutrients and Phytonutrients" via Advances in Nutrition