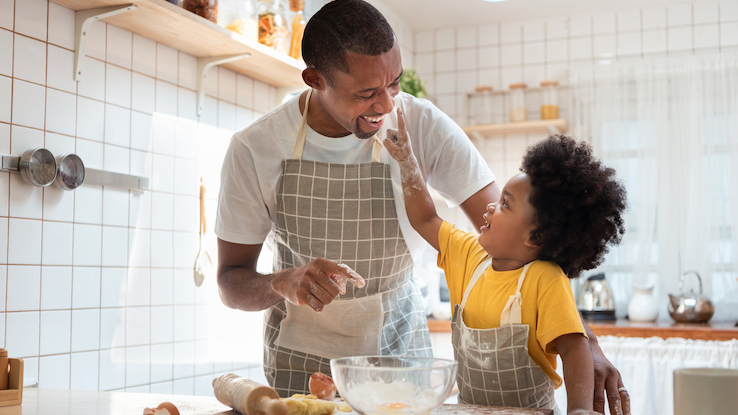 Who says that cutting back on sugar means giving up the fun of baked desserts? As you'll soon discover, there are plenty of ways to whip up healthier versions of delicious homemade cookies. The cookie recipes you'll find here either use less sugar, or ditch the refined sugar altogether in favor of healthier sweeteners.
So read on to find your family's next favorite good-for-you cookie recipe.
Best Ever Fruit-Sweetened Oatmeal Raisin Cookies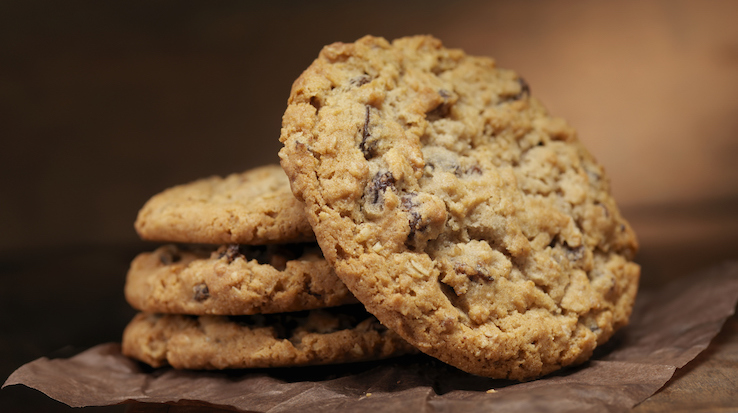 Oatmeal raisin cookies just sound healthy, don't they? Oatmeal and raisins are for sure healthy ingredients — but most traditional recipes also have quite a bit of added sugar.
In an age when refined sugar is considered a pantry staple, we tend to forget that some of the tastiest sweeteners actually grow on trees. That's right, we're talking about fruit. Fruit is a great way to sweeten your favorite desserts without the added sugar. And using whole fruits like apples and bananas gives you the benefits of fiber along with your sweet treat.
Applesauce-Sweetened Oatmeal Raisin Cookies by Today
This recipe gets all its sweetness from wholesome applesauce. And because it uses vegetable oil as the fat element, it's also perfect for vegans!
Many of the ingredients you'll need will be familiar, as far as the flour, quick oats, raisins, eggs and baking soda. Then you'll use a mixture of cinnamon, unsweetened applesauce, vanilla extract and chopped walnuts to add sweetness, spice and texture.
Banana Oatmeal Raisin Cookies by Amy's Healthy Baking
What could possibly be more delicious than oatmeal raisin cookies? Oatmeal raisin cookies with a fun banana flavor, that's what! These cookies are soft, chewy and flavorful due to a tasty mix of mashed banana, ground cinnamon and vanilla extract.
They're not quite sugar-free, since they call for half a cup of maple syrup — but that's still a lot less added sugar than most recipes. And if you think you can't enjoy them due to your gluten-free diet, think again! You can adjust by using gluten-free instant oats and flour.
Date-Sweetened Delights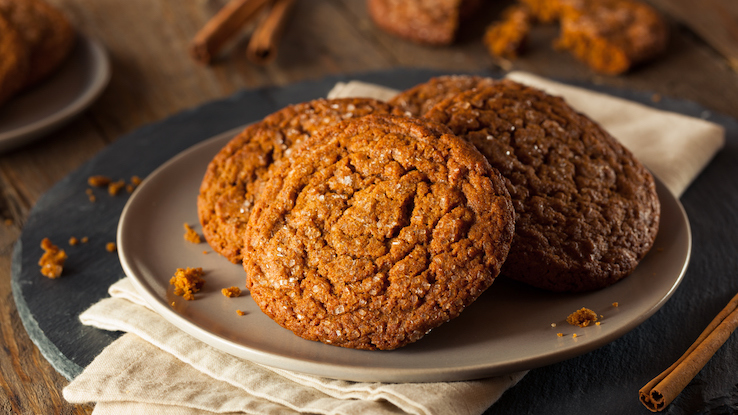 Dates make a fantastic natural sweetener. They're soft, chewy and oh-so-sweet, all without any added sugars. Once you try baking with whole dates, you may never go back to refined sugars again!
Date-Sweetened Ginger Snaps by 8fit
Nothing says a cozy day at home like a fresh batch of ginger snaps. What if we told you it was possible to get the same familiar taste without even a smidge of added sugar? Dates give you all the sweetness you need for some truly tasty cookies.
These twists on an old favorite also use other healthy ingredients like almonds, coconut, cinnamon and fresh ground ginger. And you can easily swap out the egg for an egg substitute if you'd like to whip up a vegan batch.
Date-Sweetened Peanut Butter Cookies by Okonomi Kitchen
Peanut butter cookies are another childhood favorite — and dates and peanut butter are a match made in cookie heaven. These wonderfully nutty cookies call for just peanut butter, soft dates, oat flour, baking powder and a plant-based milk of your choice.
Just make sure to choose unsweetened peanut butter and plant-based milk — many versions of those products have a lot of added sugar. These little beauties are also vegan and gluten-free.
Naturally Sweet Three-Ingredient Treats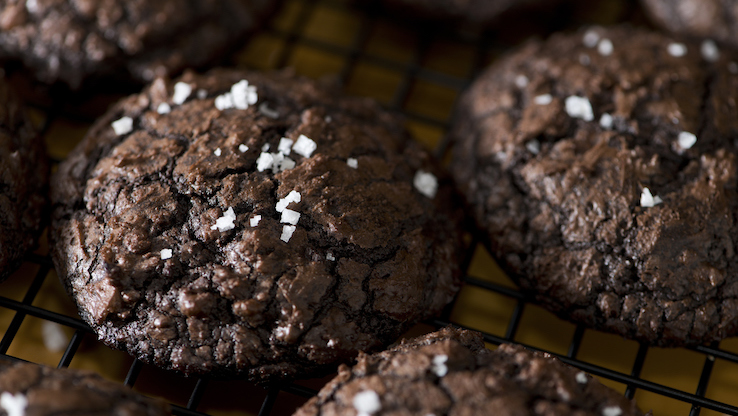 Sometimes a big baking project is just too much, and what you really need is a super simple recipe you can whip up in the blink of an eye. Enter these three-ingredient wonders. Neither requires more than three simple ingredients that you can mix together in a flash to bake effortlessly delicious cookies you're sure to love.
Fudgy Three-Ingredient Cookies by A Clean Bake
You may have seen three-ingredient cookies that rely on a ton of refined sugar or butter to round out the mix. Not these fudgy confections! All you need for this recipe is ripe bananas, unsweetened cocoa powder and either peanut or almond butter.
Add some sea salt as an optional ingredient for a little more nuance. And choose almond or peanut butter according to your taste and any dietary restrictions. These cookies are truly as easy as one, two, three!
Three-Ingredient Oatmeal Breakfast Cookies by Big Man's World
Our old friend oatmeal is back — but this time as a breakfast cookie! All you need is rolled oats, ripe bananas and a nut butter of your choice. And you can prep and cook these beauties in just 20 minutes, so they're even good for busy mornings.
If you like some chocolate with your morning meal, you can toss some chocolate chips into the mix before you bake. And with such simple, wholesome ingredients, you can feel good about eating these cookies for breakfast any day of the week.
Lower-Sugar Twists on Chocolate Chip Cookies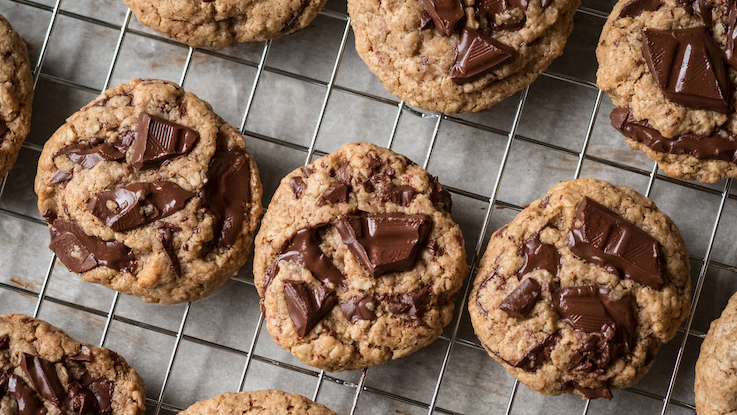 Yep, it's even possible to create a sheet of warm chocolate chip cookies with less or even no added sugar. Enjoy the same great taste with these creative takes on a classic favorite.
Reduced Sugar Chocolate Chip Cookies by Better Homes & Gardens
When it comes to cookies, those of the chocolate chip variety are in a category all their own. If you want to enjoy the same classic taste with six grams less sugar per cookie than the average batch, then check out this recipe!
While it uses many of the same chocolate chip cookie ingredients you're probably used to, it substitutes the typical mountain of white sugar with smaller portions of packed brown sugar and honey. Add in some dark chocolate pieces, and you'll have a classic treat for the whole family.
Healthy Chocolate Chip Cookies by Big Man's World
It's really not possible to have too many chocolate chip cookie recipes. That's why we've included another healthier, lower-sugar twist on the classic. To form the base, you'll use a mixture of blanched almond flour and arrowroot starch. Then, you'll sweeten things up with vanilla extract and just six tablespoons of maple syrup for the whole batch.
Top things off with some sugar-free or semisweet chocolate chips, and you'll have a new favorite dessert that won't leave you overloaded on added sugars.