Gone are the days when eating a tasty bowl of cereal meant consuming tons of sugar and chemically engineered ingredients. Now, you can eat a healthier cereal without sacrificing taste. Packed with protein, fiber, and all-natural ingredients, these cereals can all be part of a balanced, nutritious diet. Here are our must-try picks for top healthiest cereals that still taste as good as those classic sugary options.
Barbara's Cinnamon Puffins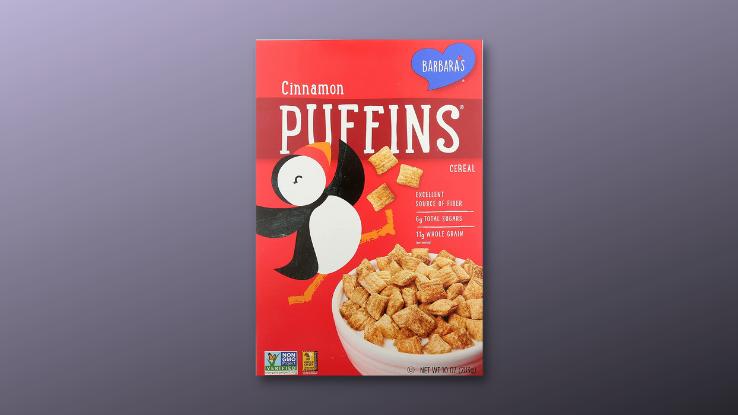 Cinnamon Puffins are one of those cereals you won't believe makes our list. These pillowy corn puffs taste amazing, but each serving packs just 90 calories and 6 grams of sugar. They're also made with vegetarian and certified kosher ingredients. Not to mention, Barbara's Cinnamon Puffins have a few other highlights:
Excellent source of vitamin C
Contain 6 grams of fiber per serving
No artificial flavors, additives, or preservatives
Wheat and dairy-free
Good if you're watching your cholesterol levels
Chances are Cinnamon Puffins will become your new go-to cereal once you try them. Plus, they're also an excellent choice for kids and picky eaters.
Kashi GO Crunch Breakfast Cereal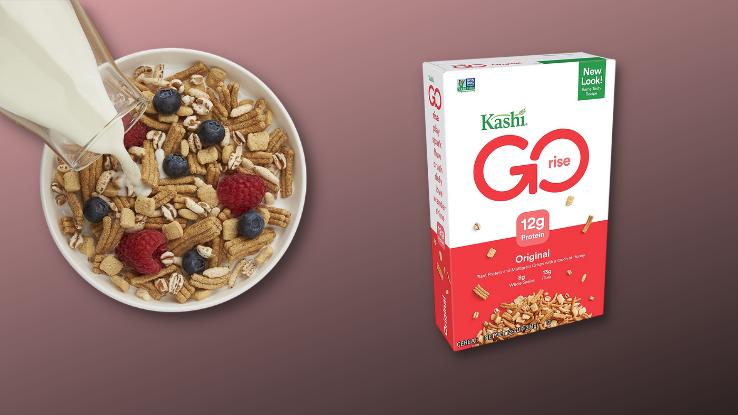 Are you looking to up your protein game? Kashi GO Crunch can help. Packed with 9 grams of protein and 8 grams of fiber, this cereal can cover two nutritional goals with just one bowl. Plus, Kashi GO Crunch clusters are made from not one, but seven whole grains — and a dash of sesame seeds for good measure. Instead of sugar, Kashi sweetens its cereal with a pinch of honey and cinnamon. What else is there to love? Glad you asked:
Non-GMO project certified
Made with 100% whole grains
No artificial colors or flavors
Several different flavors to choose from
If you're looking for a cereal that will actually leave you feeling full all morning long, Kashi GO Crunch is a great option. And it makes a great yogurt topping, too.
Bob's Red Mill Homestyle Coconut Spice Granola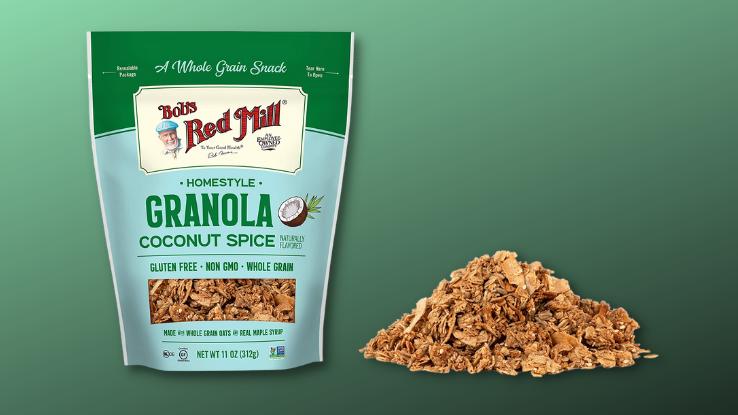 Whether you've been a fan of traditional granola in the past or not, Bob's Red Mill Homestyle Coconut Spice Granola is the kind of cereal that will make you rethink your views on granola. Made with a blend of whole-grain oats, coconut, wholesome seeds, and real maple syrup, this cereal packs a great taste and plenty of health benefits. Some of its pluses include the fact that it's:
Certified gluten-free
Non-GMO project verified
Kosher
Baked in small batches for a homemade taste
All that coconut also adds a dose of healthy fat and helps it taste delicious. Great with or without milk, this granola also makes for a top-notch yogurt add-in. Just don't overdo it: the granola's caloric content is certainly higher than that of other cereals on our list.
Nature's Path Heritage Flakes (Organic)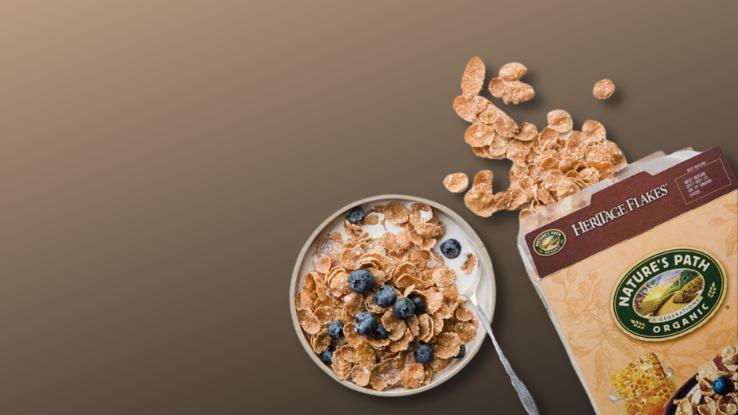 Keep it organic without sacrificing taste when you pick up a box of Nature's Path Heritage Flakes. These filling flakes are made with a blend of ancient grains and lightly sweetened with honey and evaporated cane juice. They're great with a side of yogurt or when topped with fruit for a little extra sweetness. And with 17 grams of whole grains and 5 grams of fiber, this cereal can be part of a well-balanced diet. Nature's Path boasts a few other pros, including:
0 grams of trans fat
4 grams of protein
Certified organic
Low sodium
Kosher
While they may not be as sweet as sugar-packed cereals — we're looking at you, Frosted Flakes — they're a whole lot healthier. Plus, they'll leave you more satisfied and free from any unwanted sugar rushes.
Quaker Brown-Sugar Oatmeal Squares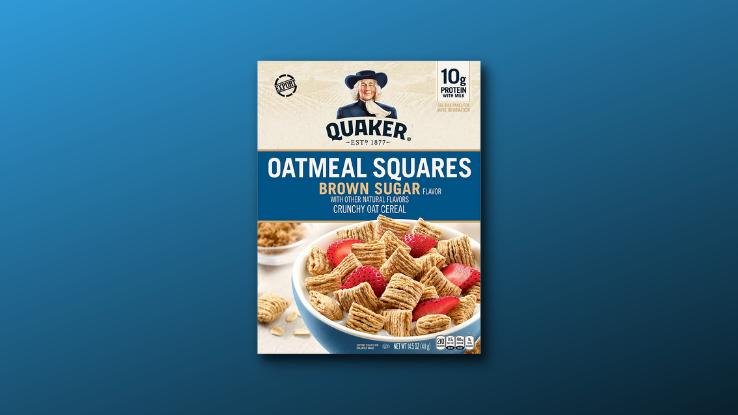 Even if you're not into hot oatmeal, Quaker's latest is worth trying. Quaker's Brown Sugar Oatmeal Squares are made from 100% whole grains and come packed with 5 grams of fiber and 6 grams of protein per serving. When you add milk to the mix, the crunchy squares soften perfectly, giving them a more oatmeal-like feel. But that's not where the upsides end:
The cereal is high in beta-glucan, which is excellent for the heart.
Its whole grains dissolve into long-lasting energy.
It boasts the same amount of fiber as a pouch of Quaker Instant Oatmeal.
While brown sugar tends to be much healthier than white sugar, there are 9 grams of sugar in each serving, which is something to keep in mind. It's one of the sugarier cereals on our list, but tossing this into your rotation once in awhile is a delicious way to go about planning breakfast.
KIND's Healthy Grains Protein Peanut Butter Whole Grain Clusters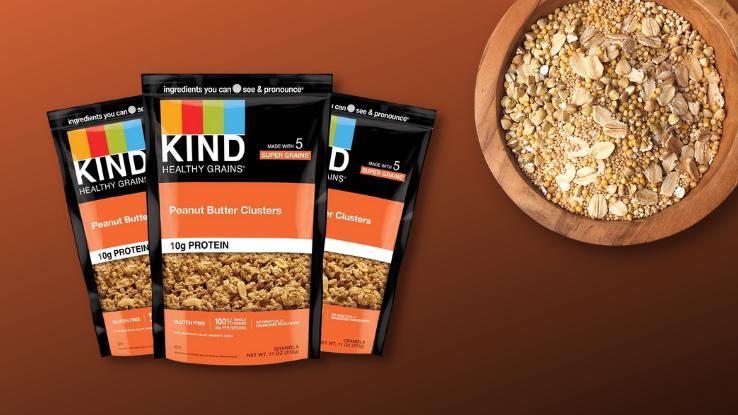 While KIND may be better known for cereal bars, the brand's Healthy Grains Protein Peanut Butter Granola is definitely worth checking out. This flavorful snack is made from five super grains, including oats, buckwheat, millet, amaranth, and quinoa. And KIND has tossed in some high-protein peanut butter for good measure. Great with or without milk, this delicious, gluten-free treat also boasts a few other pros:
0 grams of trans fat
10 grams of protein
Vegan
Kosher
Low sodium and Non-GMO
Good source of fiber
No genetically engineered ingredients
Not only is this an excellent way to start your day, but KIND's cereal makes for a great post-workout snack or an added dose of protein if your regular yogurt toppings aren't cutting it.