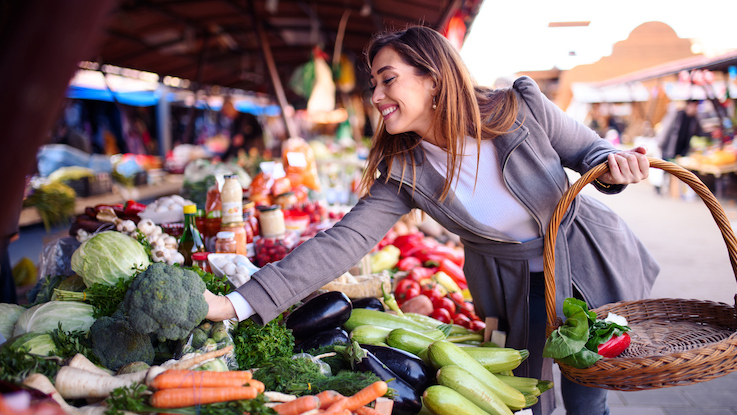 Spring is on its way, meaning we're about to see a nice change in fresh produce. Say goodbye to your hearty winter favorites like Brussels sprouts and squash and hello to asparagus, rhubarb and other produce that's in season in spring. By using spring seasonal produce in your meals, you can enjoy delightful flavors while boosting your nutrition.
What Are the Benefits of Eating Seasonally?
The good news is that eating seasonally — including spring seasonal produce — has a ton of benefits! First and foremost is taste and nutrition. Fresh fruits and vegetables usually taste better and retain more nutrients than produce that's been hanging around in storage for a long time. When you eat more fresh produce, you're getting more of the vitamins and minerals your body needs.
In-season produce is also often cheaper than out-of-season produce. That's because it's easier to grow. When you can take advantage of the current climate conditions and grow things locally, it's a lot cheaper than using greenhouses and energy-intensive grow lights. And that's not even counting the cost of importing produce from other parts of the world where it's in season. You'll see all of these cost savings add up in the grocery aisle.
And speaking of shipping produce across the world — eating fresh produce is also a great way to support the environment. Currently, about one-third of climate emissions are related to food production or transport. By choosing locally grown spring seasonal produce from your local farmer's market, you're doing your part to reduce long-distance transport of fruits and veggies.
What Produce Is in Season in Spring?
Not sure what fruits and vegetables spring has to offer? Luckily, you've got a wide selection of options at your disposal. Here are some of the fruits you can expect to see on the shelves in spring:
Apples
Apricots
Avocados
Bananas
Kiwifruit
Lemons and limes
Pineapple
Strawberries
The list of spring vegetables is just as appetizing. Leafy greens like lettuce, spinach, collards and chard will start to make an appearance. You may also find some of the following:
Artichokes
Asparagus
Broccoli
Cabbage
Carrots
Celery
Onions
Peas
Rhubarb
Turnips
Recipes that Use Spring Seasonal Produce
To help you make the most of produce that's in season in spring, we've curated a nice selection of recipes. Try one — or all — of these ideas out to see how spring seasonal produce can transform your diet. These recipes are all low in added sugars and use more whole food ingredients to help you eat healthier.
Farro With Artichokes and Herb Salad
If the word "salad" sets your teeth on edge, this farro-based salad from Food & Wine might be a good compromise. Instead of relying on greens or lettuce, it uses farro as the base, along with a generous helping of seasonal vegetables.
Farro is a good substitute for pasta because it's a whole grain loaded with dietary fiber and protein. Paired with in-season celery root, carrots, artichokes and herbs, this farro salad becomes a delightfully warm dish that will keep you sated on chilly days in early spring. Top it all with cheese shavings for a nice hearty finish.
Lemon and Asparagus Pasta With Cashew Cream Sauce
If you're in a pinch and need a fast dinner, this lemon and asparagus pasta from One Green Planet is absolutely the way to go. Not only will it have your taste buds dancing, but it's also totally vegan!
The main attractions here are the fresh asparagus — sauteed until crispy — and the dairy-free cashew cream sauce. If you've never tried a vegan cheese sauce, don't fret. This simple version gets its flavor from soaked or boiled cashews, almond milk, nutritional yeast and lemon zest. While you can use any linguini you want, try a whole-grain variety for an added nutritional boost.
Panzanella With Spring Vegetables
It's true — panzanella is more of a summer dish. But hear us out! This spring panzanella from Bon Appetit puts a twist on a familiar favorite. Rather than use juicy tomatoes, you'll swap them out for spring favorites like sugar snap peas, asparagus and herb leaves. The result is a bright green dish that packs quite a punch — both taste-wise and nutritionally.
Luckily, the recipe is a bit forgiving when it comes to ingredients. Depending on when you're making this, some veggies might be hard to find. If that's the case, you can just double up on what you've got to keep things fresh.
Feta and Green Vegetable Potato Salad
Channel the sun as you dream of summer with this feta and green vegetable potato salad from Delicious Magazine. It goes way beyond traditional picnic potato salad fare with a mix of leeks, zucchini, baby potatoes and young broad beans. And don't forget the kalamata olives and feta — key ingredients for getting that Mediterranean vibe.
We like to imagine you sitting around with your friends in your blooming backyard enjoying this dish with some white wine, but you can choose your own dream dining scenario. Whatever you decide on, just make sure you leave about an hour for cooking. Have leftovers? Great! Spread some on griddled sourdough bread for the perfect lunch treat.
Baked Rhubarb With Orange
Technically, rhubarb is a vegetable. However, that won't stop us from giving it the sweet treatment in this rhubarb and orange-juice concoction from Food52. While this recipe doesn't use any added sugar, it does include honey and orange juice to add a sweet touch without the guilt. And since it calls for freshly squeezed oranges, that makes it easier to avoid juice brands with added sugar.
Whether you need a dessert for your Easter celebration or another festive gathering, this rhubarb dish should do the trick. For an extra touch, combine it with fresh whipping cream or Greek yogurt and top with orange zest.
Resource Links: