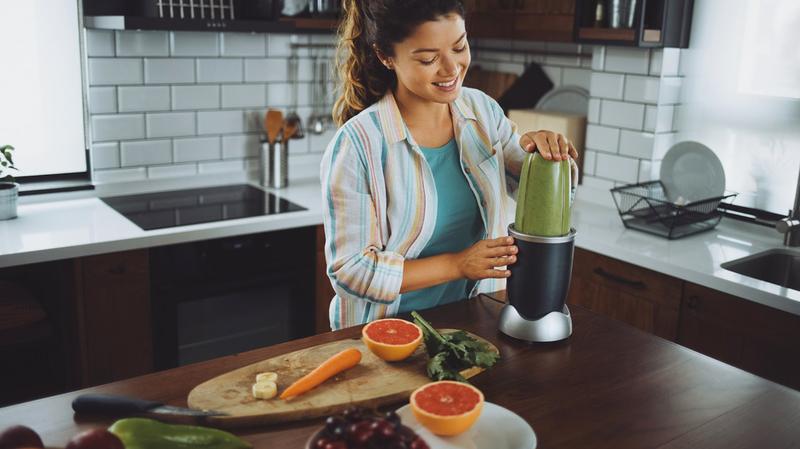 Smoothies are refreshing, tasty and highly customizable, allowing you to make options that are just as nutritious as they are delicious. Adding yogurt to your favorite smoothies provides extra protein, calcium and other important nutrients. Greek yogurt works especially well in smoothies, thanks to the dense, milkshake-like texture, but regular yogurt is still a great alternative.
If you're watching your fat intake, a lower fat yogurt tastes just as great in a smoothie as a full-fat alternative. To avoid adding any extra sugar or sweeteners to your smoothie, be sure to use yogurt that isn't infused with fruit or artificial (or even natural) flavors. Aside from yogurt, you can make a delicious smoothie with your choice of milk or a milk alternative along with a nut butter or protein powder and your choice of add-ins. The only limit is your imagination. Here's a look at some perks of eating yogurt, plus a few great smoothie recipes. Enjoy!
What Are the Health Benefits of Yogurt?
Yogurt is rich in protein, calcium and potassium and provides a range of vitamins and minerals. Perhaps most importantly, the probiotics in yogurt support the immune system and the digestive system. Additionally, a single serving provides iodine, riboflavin, zinc and other key nutrients. Eating a cup of yogurt within an hour after exercising can also boost recovery after a workout. This is especially true for Greek yogurt, which is high in protein. Some brands of yogurt are also fortified with vitamin D. However, fruit yogurt often has less calcium than plain yogurt, so keep that in mind if you need a calcium boost.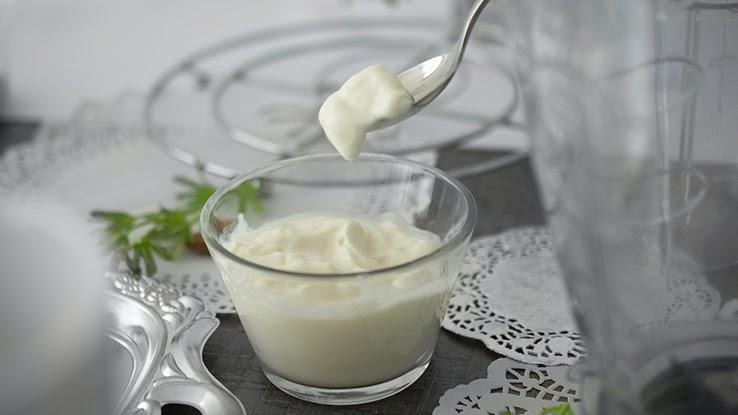 One of the biggest draws of smoothies is that they're easy to make and highly versatile. You can add just about anything you want to these frothy concoctions, including your favorite dairy or dairy alternative as well as nut butters, protein powders, veggies and fruits. However, to make sure your smoothie is healthy, be sure to include the proper balance of protein, fat, veggies and fruits. Just as it's easy to customize a smoothie, it's easy to overdo it in one or more areas, such as adding too many ingredients with sugar or protein to the drink. Fruit naturally contains plenty of sugar. You can add a little honey or another type of sweetener to enhance the taste, but be careful about adding more sugar than intended.
Enjoy a Taste of the Islands with a Tropical Fruit Smoothie
Greek yogurt is the star of many smoothie recipes — for good reason. In many cases, a simple half cup of yogurt is enough to make a total of two smoothie servings when combined with other ingredients. If you're not familiar with Greek yogurt, it's much thicker and more solid than regular yogurt, thanks to straining out the whey, lactose and sugar using a fine mesh cloth. During the straining process, the yogurt naturally thickens as the moisture content reduces. Generally speaking, the more concentrated the yogurt, the tangier it will taste, and the creamier it will be.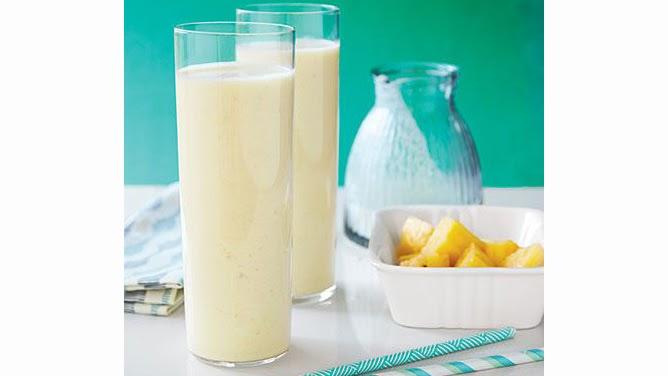 To make a yummy Greek yogurt smoothie with a tropical explosion of flavors, all you need are some pineapple chunks, unsweetened coconut, light coconut milk and honey to blend with plain low-fat Greek yogurt and some ice cubes. Simply place all the ingredients in your blender or handheld smoothie maker. Take a look at the full recipe to see the exact ratio of ingredients.
Sip an Antioxidant Blast with a Strawberry Banana Smoothie
To make this strawberry and banana yogurt smoothie, you need one banana, strawberries, peanut butter or almond butter, honey, oatmeal, unsweetened almond milk and nonfat Greek yogurt. Not only do bananas help thicken the smoothie, they are also full of fiber, nutrients and antioxidants. Strawberries add a hefty dose of vitamin C and antioxidants, and they also help thicken the mixture with natural fiber. Both fruits can be used frozen or fresh. If you're using a frozen banana, you may need to add a bit more water or almond milk to ensure it blends smoothly.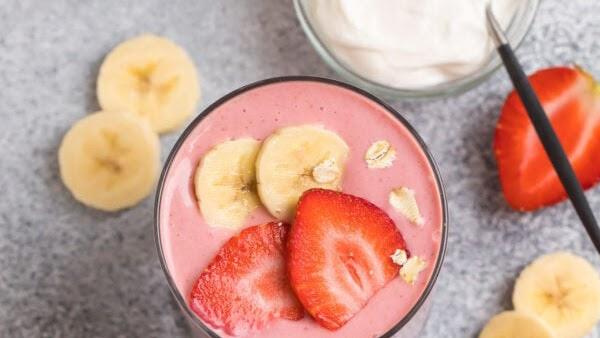 To create the smoothie, add all the ingredients — plus some ice if you like your smoothies slushy — to your blender and push the button. Blend to your desired consistency, adjusting ingredients as necessary. For the breakdown of each ingredient, check out the full recipe.
Pack a Protein Punch with a Chocolate Peanut Butter Smoothie
The protein in a smoothie can come from a variety of sources, including plain regular or Greek yogurt, unsweetened nut butters, flax seeds, and nut milks. Protein powders are also an option, but many contain some added sugar, so be sure to choose a powder with no sugar or at least very little. Between yogurt, nut butter, seeds and protein powder, it's important to pay attention to the amount of protein you're adding to your smoothie. In fact, if you're using nut butter or another source of protein, you may want to scale back (or even eliminate) your favorite protein powder.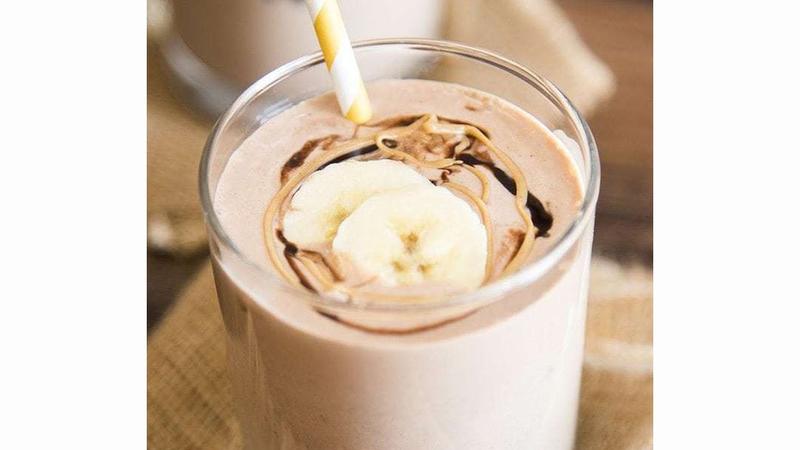 To make this deliciously decadent chocolate peanut butter version, you need cocoa powder, bananas, milk or nut milk, low-fat vanilla Greek yogurt and peanut butter. Place the ingredients in a blender with ice and serve while it's still frosty. Check out the full recipe for more details.
Indulge in a Blend of Healthy Fats with a Banana Almond Flax Smoothie
Many people try to avoid fat, but it's important to have the proper ratio of healthy fats in your diet, especially if you follow a ketogenic eating plan. When it comes to fat, full-fat organic yogurt can be a healthy way to add fat to your smoothie. Other options include nut butters without added sugar and salt and seeds like flax, sesame, chia and hemp.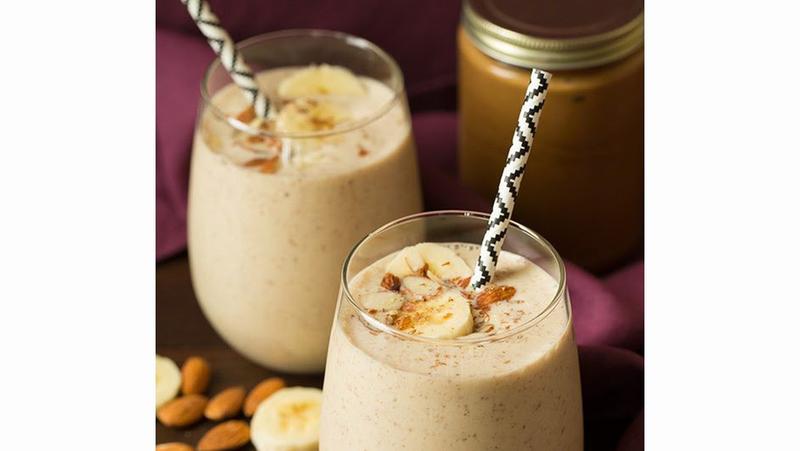 This tasty smoothie combines several types of healthy fats in one delicious drink you can enjoy any time of day. Blend unsweetened almond butter, ground flax seeds, bananas, unsweetened almond milk, plain Greek yogurt, honey and almond extract. Then, if you want a cold, frothy smoothie, throw in a few ice cubes and blend again until smooth. To take the fat content down a few notches, swap nonfat Greek yogurt for the full-fat version. Find all the recipe details here.