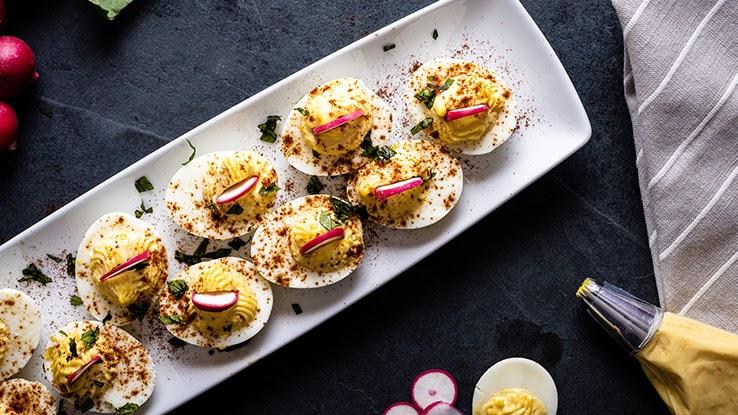 When it comes to appetizers, it almost doesn't get more classic than deviled eggs. These humble hard-boiled treats — made extra-zesty with the customary Dijon mustard and paprika — remain an enduring staple of Thanksgiving dinners, holiday potlucks and New Year's brunches everywhere. They whip up in a flash, too, which makes them the perfect last-minute addition to your buffet spread, and they're sure to conjure up a little nostalgia for holidays past among all the guests who give them a nibble.
Another great thing about deviled eggs? They're incredibly versatile. There's nothing wrong with sticking to a classic recipe, of course. But if you're searching for some fun ways to spice up your holiday menu this year, you might be surprised at all the ways a few key ingredients can transform your deviled eggs into something spectacular. To get started, take a look at these quick, easy recipes — along with some simple preparation tips that'll help you make this side dish truly shine.
Deviled Egg Tips and Tricks to Simplify the Cooking Process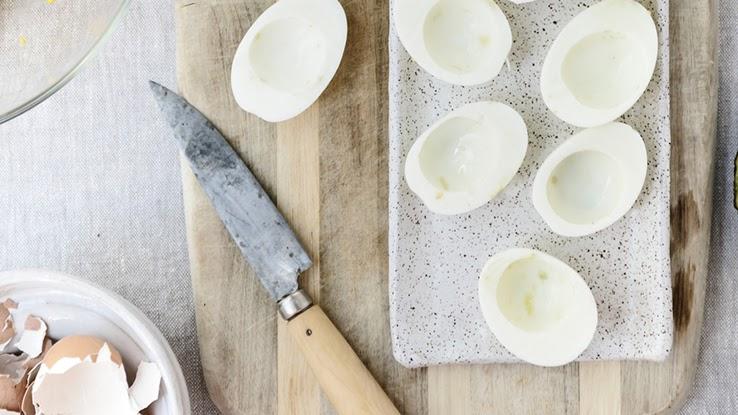 Before you jump into a new deviled egg recipe, it's helpful to get a short refresher on the basics. Let's go over some of the best ways to cook and fill your eggs to ensure they turn out great each time.
What's the Right Cooking Time for Deviled Eggs?
To create the perfect deviled eggs, you want the right water-to-egg ratio. Place your desired number of eggs into a saucepan, and fill it with water to about an inch and a half over the eggs. To make 12 deviled eggs, you'll need six whole eggs — all in a single layer on the bottom of your pan. Start out with the stove on high heat until the water begins to boil; don't wait until you have boiling water to add your eggs as you would with something like pasta.
Once your water is boiling, put the lid on your saucepan and turn the heat down to low. Leave your pot covered for one minute before removing it from the heat and letting it sit, covered, for 14 minutes. After this, rinse the eggs under cold water — or let them sit in a bowl of ice water — until they've cooled completely.
Tips for Preparing and Filling Your Eggs
Now that your eggs are cooked and cooled, it's time for the tricky part. If you've ever tried to peel a hard-boiled egg before, you know how easy it can be to accidentally peel some of the whites off with the shell — and that creates an uneven texture that'll leave your eggs looking less appetizing. To prevent this, gently crack the eggs, ends first, under cold running water until they have light cracks all around their shells, which should then slide right off. Set them aside and pat them dry with a paper towel.
Once your eggs are prepped, it's time to get them ready to fill. To do this, you'll slice the eggs in half lengthwise and remove the yolks. Place the yolks in a bowl to use for your filling. The next steps will vary depending on the deviled egg recipe you're using. To fill your eggs, however, it's best to use a small spoon to place the filling into the hollow of each white half. Keep a damp paper towel handy to wipe off any extra filling from the eggs and your plate. From here, you can add any toppings your recipe calls for — and enjoy!
Classic Deviled Eggs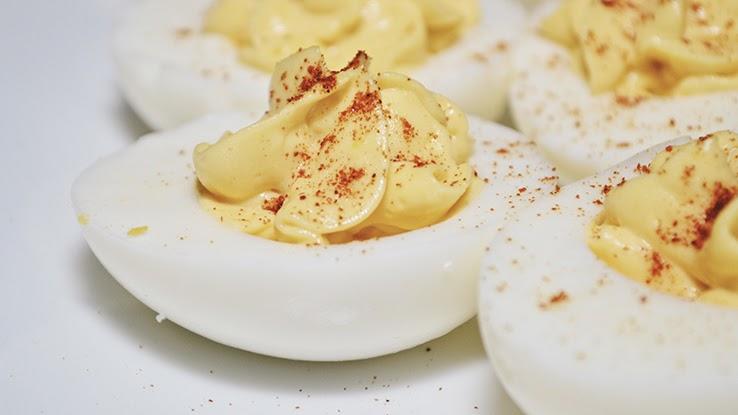 For many deviled egg lovers, there's nothing better than the tried-and-true classic. This basic deviled egg recipe from Food Network is a simple snack everyone will enjoy, and prepping it is a great way to get familiar with the assembly process if you're making this appetizer for the first time. In addition to your eggs, you'll just need mayonnaise, white vinegar, yellow mustard, salt, pepper and paprika to garnish.
After carefully cooking and prepping your eggs, take the egg yolk and mash it with a fork. Then, you combine the yolks with the white vinegar, mayonnaise, mustard, salt and pepper in a bowl. Whip everything together so it's nice and creamy, and place a generous scoop of the filling into each egg. Finish things off with a sprinkle of paprika, and voila!
Avocado Deviled Eggs
Any guacamole fans at the party? This Food Network recipe for avocado deviled eggs incorporates the flavors and textures of everyone's favorite zesty green dip to bring the classic appetizer fully into the new millennium. While you'll need to add some lime juice, cilantro, avocado and chili powder to the mix, these eggs still come together quickly — and your guests will love them.
To speed up the prep process, you can combine your guacamole ingredients with your egg yolks in a food processor — a technique that makes the filling airy and smooth. Just be sure that, if you're planning on making them ahead, you store them tightly covered in the fridge. The lime juice will keep the avocado from turning brown, but it's best not to take any chances. This recipe makes 24 deviled eggs, and it's easy to scale up or down.
Deviled Eggs With Fried Capers, Lemon and Parsley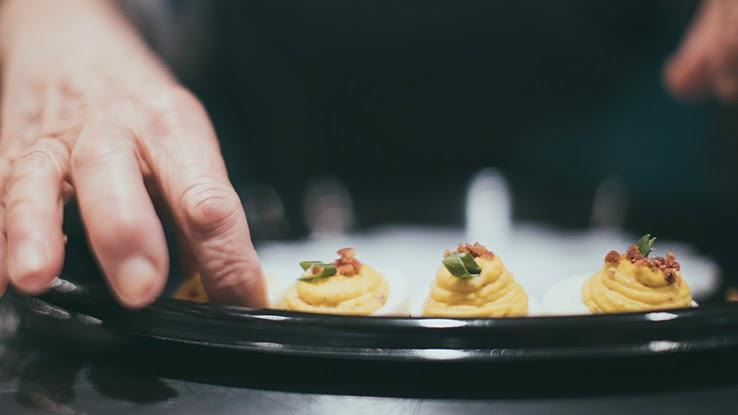 We apologize for calling deviled eggs "humble" earlier — this recipe from Serious Eats definitely demonstrates just how elegant they can be. Thanks to ingredients like salty fried capers, tart lemon and lively parsley, these eggs are spiked with flavors similar to a classic chicken piccata dish and will tantalize your taste buds just as much.
After cooking and separating your eggs, you'll blend mayonnaise, Dijon mustard, lemon juice and chopped parsley into the yolks (and don't be afraid to add a light splash of the caper brine for even more flavor). Once you've filled your whites, top each egg with some fried capers and a generous sprinkling of parsley before plating.
One more pro tip: This recipe suggests putting your filling into a zippered plastic bag and cutting off the corner so you can pipe the yolk directly into each egg. It's a great way to keep your presentation more uniform; the bag makes it easier to control the amount of filling you add to each half.
Pimento Cheese Deviled Eggs
It's time to get tangy, and this recipe from the Southern Lady Cooks can help. It features diced pimentos and sharp cheddar cheese, along with smoked paprika, garlic and honey mustard, to create multiple layers of savory spice in each bite.
Aside from the unique blend of flavors these eggs bring to the table, the filling on its own can make a great snack. The authors of the recipe recommend it on Ritz crackers, and they also suggest adding green olive slices as garnish atop each egg. These pimento cheese deviled eggs are also prime for a little culinary experimentation, too; you can try using different shredded cheeses and adding more or less of each spice to suit your taste. Just be gentle with the smoked paprika — a little goes a long way!
Dill Pickle Deviled Eggs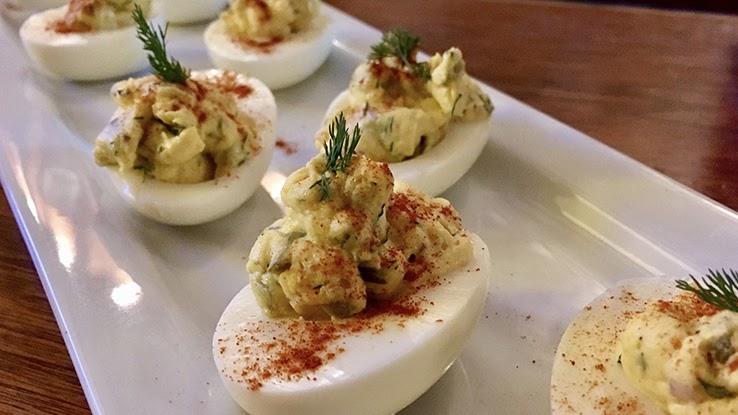 Plenty of classic deviled egg recipes out there incorporate a sprinkle or two of fresh or dried dill into the yolk filling; it's sort of a secret ingredient that takes the traditional flavors up a notch. But the secret's out — and front and center — with these dill-icious pickle-packed eggs from Delish.
In addition to the usual yolk mix-ins like Dijon mustard and mayonnaise, you'll also add pickle juice, diced dill pickles and chopped dill for plenty of tangy flavor. If you're worried about going overboard, you can omit the pickle juice, but do keep the diced pickles — they add some nice, crunchy texture to the smooth filling.