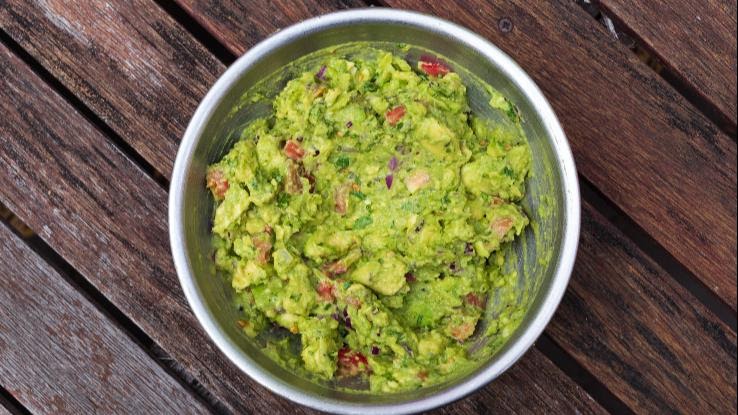 Dips can be a great way to feed a crowd — or just a fun and tasty snack for one. While dips sometimes get a bad rap on the nutrition front, there are lots of healthy ingredients to try! And the good news is that the healthiest dips are also some of the easiest to make. So check out our roundup of quick, easy guacamole dip and other healthy recipes.
Quick & Easy Guacamole Dip and Another Amazing Avocado Option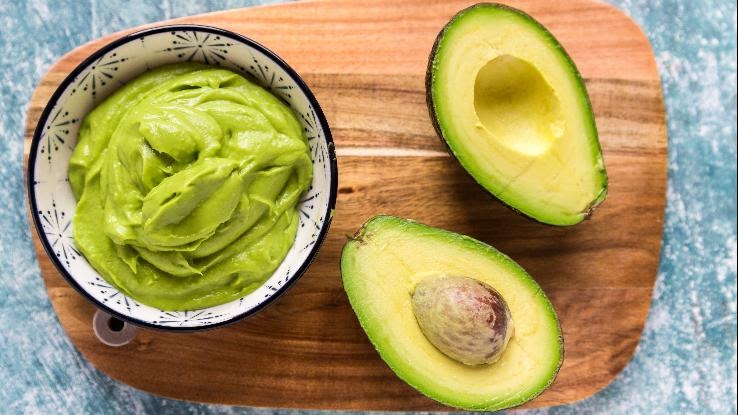 Avocados are fairly high in fat, but it's the better-for-you unsaturated type. They also have lots of fiber to aid digestion and other important nutrients, like potassium and vitamins E and K. And their creamy consistency makes a perfect base for delicious dip recipes, like guacamole.
When you're buying avocados for your next dip, press a thumb into the skin to see if they're ripe. The flesh should still be firm, but with a little give to it. Pro tip: If your avocados aren't quite ripe yet, place them in a paper bag on your kitchen counter for a day or so.
You can serve guacamole and other avocado-based dips with tortilla or pita chips. Or for a lighter option, try serving your guacamole with fresh veggies for dipping, like carrot, celery and bell pepper slices.
Ina Garten's Guacamole from Food Network
This simple guacamole recipe from chef Ina Garten is a breeze. You begin by scooping fresh avocados into a bowl. Then add a generous squeeze of fresh lemon juice, along with fresh onion, garlic, hot pepper sauce, salt and pepper.
No careful blending required here — just cut through the avocados til they're in small enough pieces for a dip consistency. As a finishing touch and an extra bit of color and freshness, add some diced tomatoes at the end.
Creamy Avocado Dip from Delish
If you want to switch it up from the traditional guacamole, opt for this creamy avocado-yogurt dip. Start by mashing two pitted and peeled avocados in a bowl — similar to a classic guacamole base.
Once you've got the avocado down to the consistency you want, you'll add in your plain Greek yogurt, garlic and lime juice, and of course season to taste with salt and pepper. Greek yogurt is higher in protein and thicker than other yogurt varieties, making it a perfect add-in for healthy dips.
You can also make this recipe vegan by choosing soy or nut-based yogurt, instead. Just make sure to read the labels — some non-dairy yogurt alternatives may be high in added sugars.
Delicious Dairy-Based Dip Options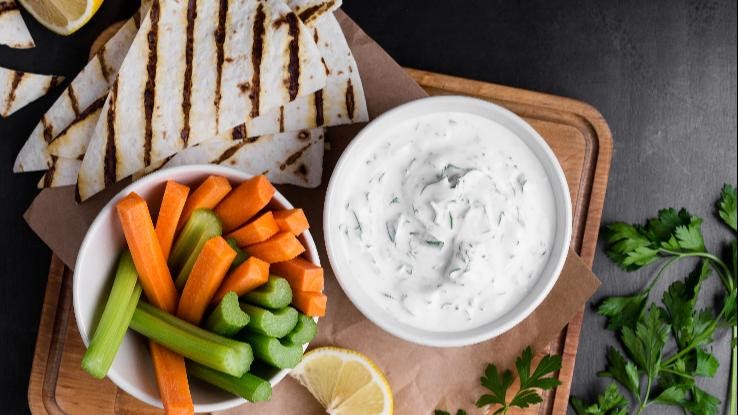 Looking for an equally quick and tasty alternative to guacamole dip? Avocados aren't the only dip base in town. For a change of pace, try dips made with dairy. Dairy products are a good source of protein and other key nutrients — but they can also be high in saturated fat, which may raise your risk of heart disease. So if your doctor recommends eating less saturated fat, go for lower-fat versions of your favorite yogurts and other dairy products.
Heart-Healthy Spinach Artichoke Dip from Cleveland Clinic
If you're looking for a dip with a little more tang, try this classic artichoke dip with a healthy twist. This recipe is simple to make and easy to modify according to your tastes and dietary needs. And because it starts with frozen spinach and frozen artichoke hearts, you'll save lots of time and hassle on the veggie prep!
You'll heat the thawed artichoke hearts and spinach in a saucepan until tender. Next, you'll add some creamy, savory flavor courtesy of low-fat softened cream cheese and Greek yogurt. For the final hit of flavor, mix in garlic powder, Parmesan cheese and red pepper flakes.
For another Greek-yogurt-based dip that packs a ton of flavor, try this quick and easy tzatziki dip. (It calls for whole milk Greek yogurt, but you can sub low-fat yogurt if that's a concern for you.) You'll start by grating a cucumber and mincing some fresh garlic and dill. Then break out your whisk and your zester — all that's left is to mix the ingredients together and add some fresh lemon zest for a nice bright citrus note.
If you're feeling fancy, the recipe notes that a drizzle of olive oil and some fresh mint make great additions. Tzatziki is best served with a big platter of raw, crunchy veggies and crispy pita for dipping.
Spicy, Satisfying Salsa Dips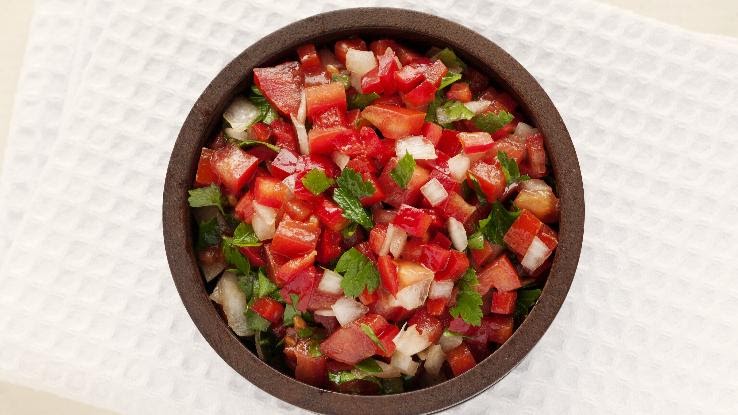 If you're looking for a lighter, lower-calorie dip option that's heavy on the fresh veggies, look no further than salsa. It's just as quick and easy as guacamole dip — and nothing beats a homemade salsa for freshness and flavor.
Easy Homemade Salsa from Real Simple
For this classic salsa recipe, you'll need ripe plum tomatoes, onion, cilantro, garlic and jalapenos. Once you've gathered your veggies, get to chopping. Mix your diced veggies in a big bowl and squeeze in some fresh lime juice. Then season with salt and pepper to taste.
If you like a smoother salsa, you can blend in a food processor. And to customize the spice level, you can leave the seeds out of the jalapeno to make it more mild or keep them in for more heat.
In the mood for something fruitier? Switch things up with this sweet mango salsa. You'll need ripe mangoes that are nice and juicy but still firm enough to cut into small pieces. This recipe also calls for red onion, cilantro, fresh lime juice and jalapenos — but it notes that jicama and red bell peppers make great optional add-ins.
Mango salsa goes great with tortilla chips. It's also a good fit for seafood recipes. So if you're looking for a healthy dip or side dish with some great tropical flavor, mango salsa is an excellent choice.