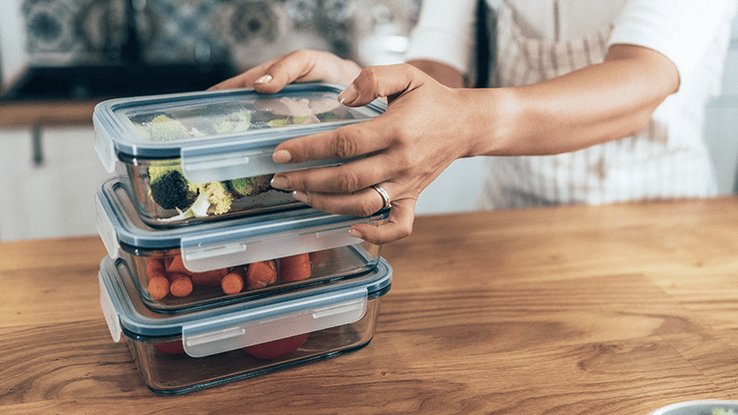 We all know that restaurant meals and lots of processed ready-to-eat foods can wreak havoc on our wallets and on our health. But when life gets busy, it's often takeout to the rescue. This is why meal prepping for the week can save you a ton of stress, time and money!
But how do you get started? Well, we've rounded up everything you need to know about meal prepping for the week, from health benefits to storage tips. One morning in the kitchen can bring you a week's worth of meals — saving you lots of dollars and boosting your nutrition. Let's get prepping.
The Health Benefits of Meal Prepping
Meal prepping can save you from those last-minute calls for delivery or visits to the drive-thru lane. And cooking more meals at home has big health benefits. When you cook at home, you know what ingredients you're putting in and exactly what you're eating.
Consider the last meal you had at a restaurant or when you ordered in. The portion was likely a lot bigger than what you would have chosen if you had cooked the meal yourself. The average fast-food meal contains a whopping 1,193 calories. Based on a 2,000-calorie diet, that's over half your recommended calories for the entire day in just one meal.
Meal prepping is also a great way to do portion control. After you've cooked up your meals for the week, you can portion out individual servings into separate containers. This can reduce the temptation to grab seconds or extra helpings.
Restaurant meals, fast food and frozen dinners are often higher in salt, added sugars and saturated fat, too. When you meal prep, you're in control of each item on your plate. You can meal prep based on calories, health conditions or for any dietary needs or choices. For example, it's easy to prep meals that are entirely vegan, dairy-free or gluten-free.
Meal Prepping Actually Saves You Time and Money
You may think that meal prepping takes up a lot of time — but it's actually a huge time saver! Instead of needing to cook two or three separate meals every day of the week, you can cook once or twice for the whole week. There's no need to go to the grocery store after work every day and devote lots of mental energy to meal planning throughout the week. With meal prepping, you streamline that process into a single session, and then you're done for the week.
Just think — you'll never have to ask yourself what's for lunch or dinner each day. You can easily pull it out of the fridge or freezer and have dinner on the table in no time. One helpful meal prep tip is to prepare a few ingredients that you can use for multiple meals during the week. Let's say you cook a large batch of ground beef. You can keep half set aside for taco night and use the other half for a casserole that you store in portions in the fridge.
Meal prepping also saves you money. You may think you know how much you spend every month eating out, but the honest answer may surprise you. When you order delivery, for example, you're not only paying for the food, but you're also paying for the convenience, the delivery and the fees. When you have meals already prepared, there's no need to spend extra money on these services paying tips and additional fees.
Get Started: Meal Planning, Menus and Shopping
Choose Your Meals: Start with your recipe and meal ideas for the week. Consider how many days you'd like to meal plan for and which meals you'll be prepping (like 5 lunches and 5 dinners). Now go to your favorite recipe site and choose a few recipes you can make in big batches — that way, you can cook just a few dishes to eat several times during the week.
Choose Your Portions: Next, you'll factor in how many people you are meal prepping for and their needs. Check your recipes to see how many servings you'll get, and double or triple the recipes as needed. Factor in any family members who eat lunch at school or at work, and decide if they'll be bringing those meals from home or eating at the cafeteria.
Choose Ingredients that Can Multitask: To save time, choose proteins, grains and veggies that can work for multiple meals. Consider cooking chicken that you can add to pasta one night, salads for lunch and tacos another night. Or cook up a big pot of rice that you can use in a soup, a stir fry and a burrito recipe.
Get Your Ingredients: Once you have your meals and recipes in mind, it's time to hit the grocery store. Shop for all your ingredients at once to set yourself up for meal plan success. Needing to go to the grocery store multiple times per week could derail your meal prepping success. And take advantage of the chance to buy in bulk! If you're making big batches, you may be able to find deals on bulk ingredients at the store.
Stay Organized: Storage and Organization Tips
There are a few different ways you can store and organize your meals. Some people choose to pre-make and portion out each meal at the start of the week. Others prefer to keep proteins, grains and veggies separate, then toss them together to make each meal. Others make complete meals ahead of time and then freeze them. There's no right or wrong way to organize and store your meals. Choose whichever style fits your schedule and preferences.
The key when it comes to storing and organizing your meals is to find a way you can stick to. This may be a combination of fully cooked dinners stored in the fridge and lunch or breakfast ingredients in separate containers that you can toss together each day. Freezing meals also gives you a great buffer. If you're running late one night, you can pivot and grab a frozen pre-made meal from the freezer without needing to order a pizza or go through a drive-through.
Whichever method you choose, meal prepping is a great way to feed your family healthy, home-cooked meals — all while saving you a ton of stress, time and money.