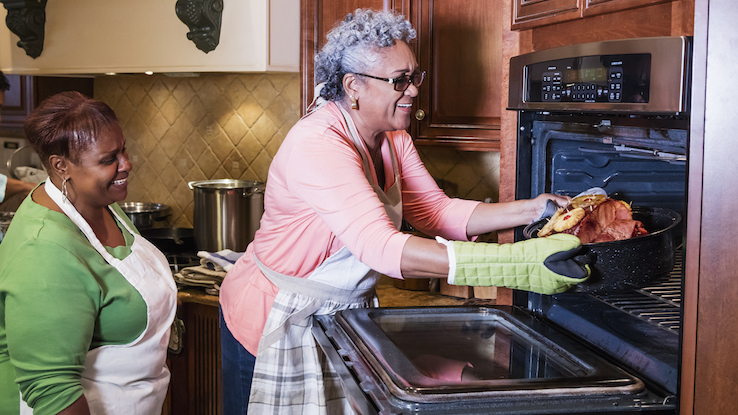 Sweet, salty and perfectly tender, ham is a holiday dinner table staple guests anticipate each year. And there's certainly nothing wrong with sticking to a tried-and-true classic version you know everyone loves. But if you're looking to shake up tradition just a bit this season, we've got some great ideas to help you out.
Whether you want to spice things up (literally!) or give vegan guests something to savor, this ham recipe collection features tantalizing options to delight your friends and family. To make things even easier, you'll also learn some helpful tips for baking, serving and glazing. Whether you're using your oven or a pressure cooker, we'll help you get your holiday ham table-ready.
How to Choose a Ham
Most hams you'll find for sale are cured. Curing is a preservation process that gives ham its flavor and texture, and there are different types of cures to choose from. City hams and pre-glazed spiral cut hams are some of the most common types sold at grocery stores. They're almost always cured in a liquid brine and then fully cooked. Most city hams are smoked for added flavor, too, and it's easy to find both bone-in and bone-out varieties. Leaving the bone in adds flavor and keeps the meat moist. You can also use the bone to make soup stock after you've eaten the meat.
Country ham, on the other hand, is cured using a dry rub and is usually sold uncooked. Sometimes country hams are smoked, but these are much less common than smoked city hams. It's possible to find large, holiday-worthy country hams at grocery stores. But, you're more likely to find them at the deli counter, where they're sliced for sandwiches, or at a specialty butcher.
The ham you ultimately go with depends on the amount of time you want to spend cooking it and the flavor you want to achieve. Most recipes assume you'll be using a city ham that you'll simply glaze to add flavor and reheat in your oven. You can substitute country ham in many recipes, but there are a few things to keep in mind. These are usually uncooked cuts of meat, so they take more time to prepare and cook. Most city hams take around 45 minutes to reheat. But you'll need to cook a country ham like you do a turkey — for about 20 minutes per pound in the oven.
When you're shopping for ham, plan to cook around a half-pound per person for a bone-in ham. For a boneless ham, plan for a third-pound per person.
Ham Cooking and Serving Tips
You'll need a large roasting pan to cook your ham in. A 9-inch by 13-inch pan is usually large enough to fit a ham without it touching the sides. To keep the ham from burning, cover it loosely with aluminum foil. Baste it often while it's cooking to ensure it takes on plenty of flavor and stays moist.
To plate your ham, you can pre-slice it and serve it on a platter. You can also dish it up right from the roasting pan. If you go with this option, it helps to carve some pieces your guests can easily finish pulling off. Before you carve the ham, remove the juices from the roasting pan.
One of the best parts about serving a holiday ham is the leftovers. If you serve it for Christmas Eve dinner, for example, you can plate it alongside other dishes the next day at your Christmas brunch. From chef salads to split pea soup, there are also plenty of other ways to finish off holiday ham leftovers.
Baked Ham With Pineapples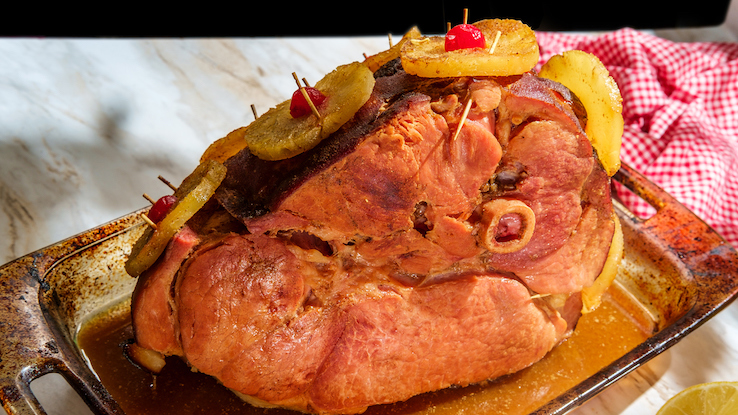 Let's kick things off with a classic! This recipe from Taste of Home is deliciously traditional — you've probably seen something similar on a holiday table at least once before — and it's pretty easy to cook up, too. You'll score a fully cooked bone-in ham to create diamond shapes, adding cloves to get that old-fashioned look. Then, it's just a matter of glazing the meat with pineapple juice and brown sugar before decorating it with pineapple slices and maraschino cherries. After an hour or so baking in the oven, this ham will be ready to carve and serve up.
Ham With a "Bee Sting" Glaze
Want to bring some heat to the holidays? This peppery ham has you covered — and it's so much more pleasant than an actual bee sting. This recipe from Country Living comes together quickly thanks to the fully cooked, smoked, bone-in ham you'll use as the base of the dish. And here's where it gets really fun: The glaze you'll make blends zesty ingredients like cayenne pepper, ginger and lemon peel, and it'll have your home smelling just like the holidays — but with a surprise twist.
Does your dinner group like things on the even-spicier side? One great thing about this recipe is that there's plenty of room to tailor it to your preferred flavors, especially if that means making it hotter. To really amp up the spice, add a tablespoon of vinegar-based hot sauce and a quarter-teaspoon of red pepper flakes per every 4 pounds of ham you're cooking.
Quick and Easy Instant Pot Ham
If you're already a devoted Instant Pot lover, you'll be happy to know you can even use it to cook up your holiday ham. To make this pressure cooker-friendly recipe from Life Made Sweeter, you'll need a fully cooked spiral ham, along with some basic seasonings like Dijon mustard, minced garlic, butter and brown sugar. After whipping up the easy glaze, you'll be delighted with how quickly this ham cooks — it only needs about eight minutes for every 4 pounds of meat. The simplicity and quick cooking mean this is also a perfect last-minute main dish on a busy weeknight any time of the year.
You can easily adapt this recipe to suit any guests following low-carb or paleo diets. Simply substitute golden monkfruit for the sugar to keep the carb count down. You might not even realize the brown sugar is missing.
Tangy Honey Mustard Apple-Stuffed Ham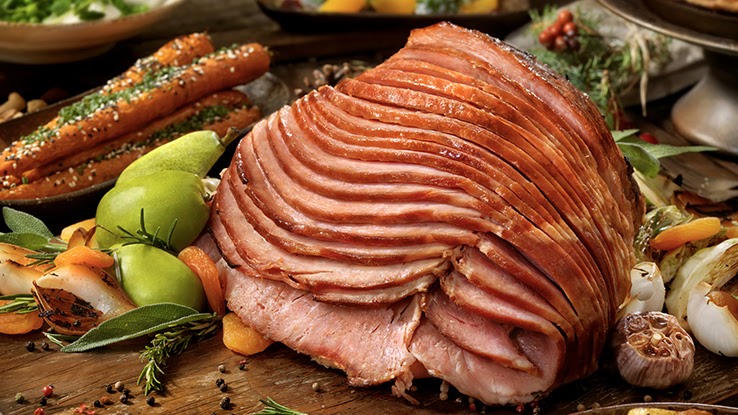 Short on time? Your guests would never know it after feasting their eyes on this honey mustard apple-stuffed ham from A Spicy Perspective. Using only six ingredients — including a pre-cooked, pre-sliced ham — you can create a dish that's as flavorful as it is beautiful.
Since you're starting off with a ham that's already cooked and sliced, the prepwork here is pretty simple. You'll begin by thinly slicing up a few Granny Smith apples and tucking them between the slices to give the ham its signature look. After glazing it with a blend of whole-grain mustard, Dijon mustard, honey and ground cardamom, you only need to pop it into the oven for an hour or so, making sure to baste it as you go. Your dinner guests will be delighted to find delicately spiced apples when they dish themselves up some slices of meat.
Vegan Maple Ham
This sweet and smoky recipe from Sunnyside Hanne is sure to make the vegans and vegetarians at your holiday table feel welcome this year. The base of this vegan ham is seitan, a type of protein that comes from wheat and has a chewy, meaty texture. You'll season it with liquid smoke — you can also actually smoke it with hickory chips if you have extra time — for some seriously authentic flavor. A few key seasonings and a glaze of maple syrup, soy sauce and apricot jam round out this recipe.
If you really want to elevate things, follow the recipe's instructions to make the caramelized pineapple and orange topping and stud the roast with cloves. The charred fruits and spice add extra depth and make this a truly beautiful addition to your holiday spread.