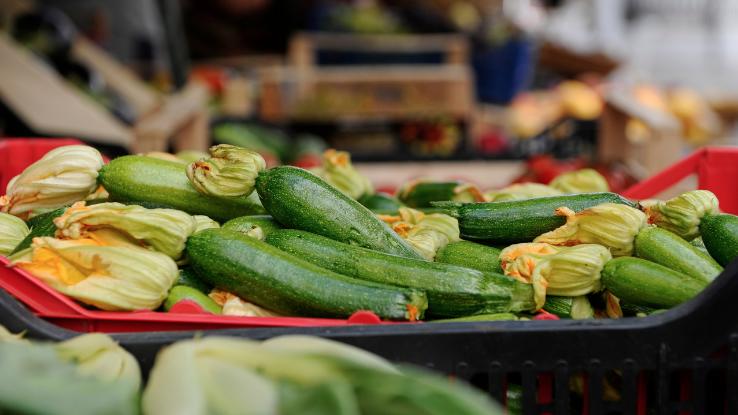 Versatile, healthy and delicious, zucchini can be transformed into a number of easy-to-make, mouth-watering dishes. In fact, when it comes to the popular summer squash, the trickiest thing about it is spelling its name correctly. Although preparing this tasty produce in the kitchen or on the grill is a cinch, it can be hard to know where to start, so we've rounded up some of the best zucchini recipes around. Read on to learn more about what you'll need to get cooking!
What Are the Health Benefits of Zucchini?
Although it's often dubbed a vegetable, botanists would agree that zucchini is a fruit, like all other varieties of summer squash. This versatile piece of produce can be turned into delectable savory and sweet dishes alike, but it's also beloved among foodies for its numerous health benefits. For one, its relatively high fiber content can aid in digestion. Even better, zucchini is rich in nutrients, including vitamins A and C as well as iron, calcium, zinc and several other B vitamins.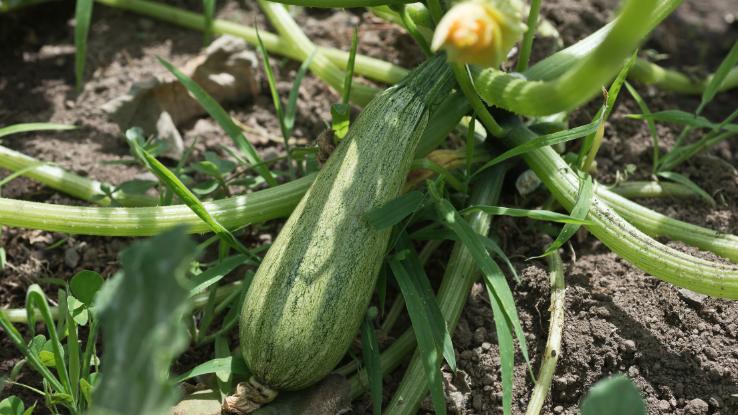 In addition to immune system-boosting nutrients, zucchini also contains a plentiful amount of antioxidants and carotenoids, which mainly benefit your eyes, skin and heart. According to experts at the Mayo Clinic, these summer squash can also help you maintain a low-carb diet, which, in turn, "can significantly lower blood sugar and insulin levels," something that's particularly helpful if you (or a member of your household) have type 2 diabetes. Finally, this fruit's low calorie density, and the fact that it's rich in water, might help you feel fuller throughout the day, meaning less snacking — and less weight gain.
Baked Parmesan Zucchini Sticks
These crisp, yet tender, zucchini-based treats make for a tasty low-calorie snack. All you need to do is over roast them to perfection. As you'll likely learn from cooking this delectable summer squash, zucchini and parmesan go together like the savory version of peanut butter and jelly, and that's probably why this simple recipe can turn into a real craving.
For this recipe, you don't need any fancy gadgets, but we do recommend investing in some quality baking sheets since we feel confident you'll be using them quite frequently. Ready to try your hand at this easy-to-make dish? Cut your zucchini into quarters, lengthwise, and then sprinkle on some parm. From there, the oven does all the work, turning the sticks a nice golden-brown color.
Looking for the full recipe? Check it out here — and make sure to follow their advice and let the sticks broil for a bit at the end if you want to achieve optimum crispiness.
Baked Zucchini Tots
Whether you're trying to appease your kids at dinnertime or whip up a tasty snack for your buddies, tater tots are an undeniable crowd pleaser. Luckily, zucchini can be used as a low-calorie (but equally delicious) substitute for the popular potato treat. So, how do you transform summer squash into tasty tots?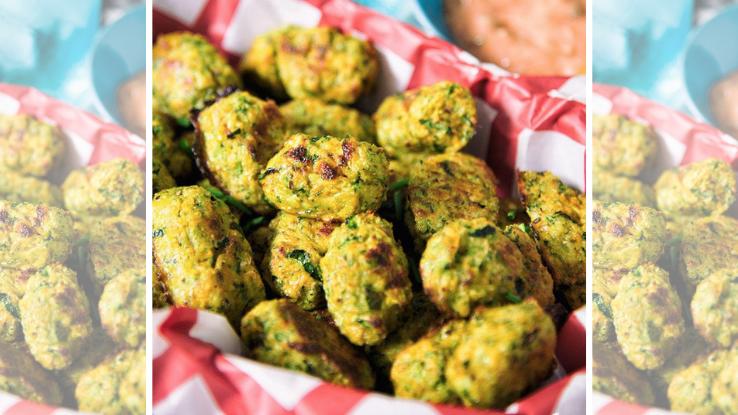 First, you'll want to buy a high-quality grater so you can shred about two cups of zucchini into pieces. From there, you have to squeeze all of that excess water out of the zucchini. Once it's ready, add the shreds, two egg yolks, a cup of parmesan, a cup of rice cereal, and some garlic powder and oregano into a bowl and mix thoroughly. From there, place even dollops of the mixture onto a baking sheet and let the oven work its magic, browning to tasty perfection. Serve with ketchup or your other favorite dipping sauce.
Without a doubt, these paleo-friendly tots make for a great side, app and late-night snack. Looking for a more visual version of this recipe? Check out this guide.
Zucchini Pizza Bites
If you're a fan of pizza bagel bites, but you're trying to cut snack foods like that out of your day-to-day, we've got a great compromise. Zucchini pizza bites deliver on all the bagel bite goodness but trade the bread for a low-carb alternative. And, again, you really can't go wrong when it comes to pairing zucchini with cheese.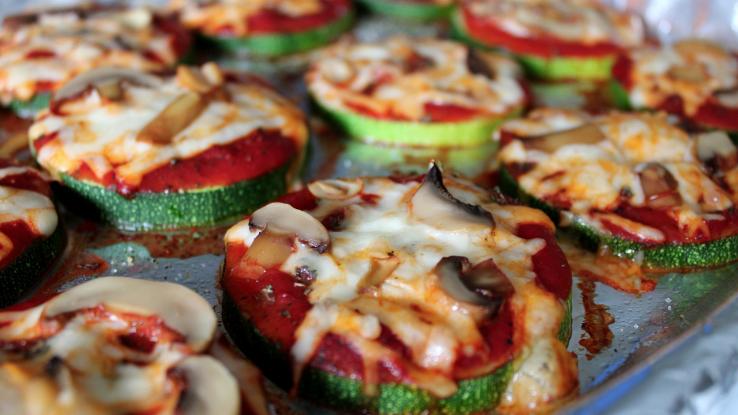 Ready to put an end to late-night pizza runs? To prepare this mouth-watering recipe, you'll want to cut your zucchini into rounds and then cook those rounds in olive oil in a large skillet, flipping once and ensuring the slices turn a nice golden color on each side. Next, simply place the cooked rounds on a baking sheet and add your pizza toppings — mozzarella cheese, marinara sauce, mini pepperonis, slices of mushroom and so on. The zucchini is your canvas, so feel free to be creative! Pop these in the oven — or toaster oven — and remove once the cheese has melted.
Shrimp Scampi, Bolognese & More with Zucchini Noodles
Chances are you've probably heard of zoodles, or zucchini noodles, the latest trend when it comes to creating low-carb pasta alternatives. However, it's possible you haven't actually jumped on the zoodle bandwagon yet. Not sure where to start? We recommend picking up a zucchini spiralizer to churn out the best squash-based noodles around.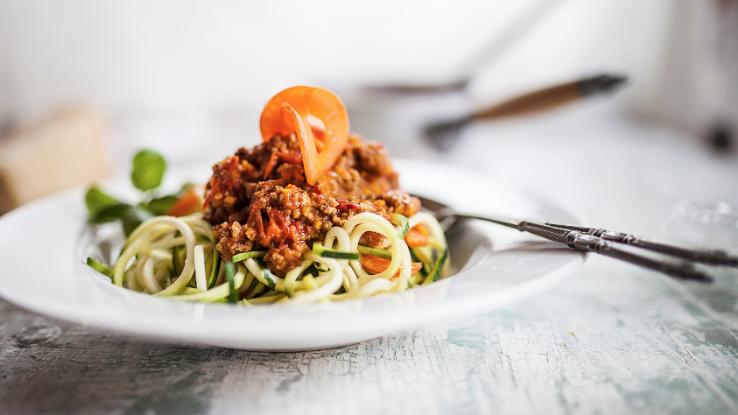 Once you've gathered all your tools and gadgets, slice the zucchini into super-thin strips so they resemble spaghetti. From here, you can really make any pasta dish you desire, from a zoodle bolognese (pictured) to a zoodle alfredo. One of our favorites, though, is a healthy spin on shrimp scampi, which requires cooking up some shrimp, butter and garlic in a large skillet and then tossing in some chicken stock, lemon juice and, of course, the zoodles.
Need a little extra help? Be sure to check out this quick, chef-quality recipe for more tips and tricks.
Zucchini Fritters
There are quite a few different ways to approach zucchini fritters, but our favorite is the Greek take on them. Known as kolokithokeftedes, zucchini balls or fritters are made using all the usual suspects: grated zucchini, crumbled feta cheese and, of course, some fresh mint. Another reason we love the Greek spin on these? Zucchini fritters taste great with a side of tzatziki sauce.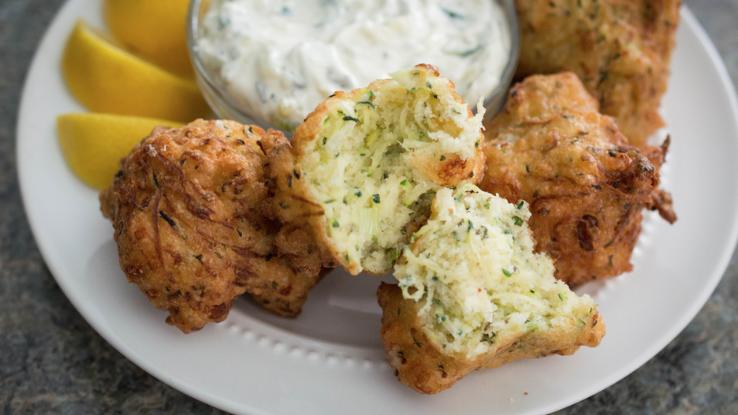 To get started, grate and drain the zucchini. To prepare the batter, combine sliced green onions, crumbled feta cheese, eggs, and some chopped mint and black pepper. You then "fold in the drained zucchini and just enough self-rising flour to form a soft dough" (via Food Love). From there on out, you have a choice of how you want to fry the fritters. You can invest in a deep fryer or simply fry the batter on the stove using olive oil until the fritters turn a nice golden-brown color.
Looking for more tips and tricks? Check out the full recipe here.
Baked Zucchini Fries
Similar to the parmesan zucchini sticks, these fries don't call for any hot oil. That's right — they're baked through-and-through and made even more delectable thanks to that Parmesan-herb breading. (Remember what we said about zucchini and this particular type of cheese — a match made in heaven!)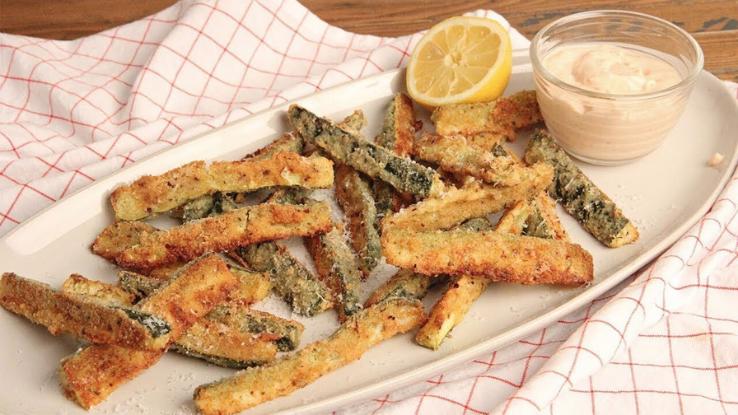 Like with the sticks, you cut your zucchini into quarters, lengthwise, to get that fry shape. To create that wonderful, crispy breading, combine Panko, Parmesan, some Italian seasoning and a little salt and pepper. Next, "dredge zucchini in flour, dip into eggs, then dredge in Panko mixture, pressing to coat" (via Damn Delicious). From there, the fries just need to bake in the oven for 20 minutes or so, and then you're good to serve them with your favorite dipping sauce.
Still have questions? Get the full rundown on one version of this recipe here.
Grilled Lemon-Garlic Zucchini
One of our favorite zucchini-based recipes that really puts the "summer" in "summer squash" is the simple act of grilling some lemon-and-garlic-bathed zucchini. It's beyond basic, but it also tastes so good, making for the perfect, versatile side dish on a hot day.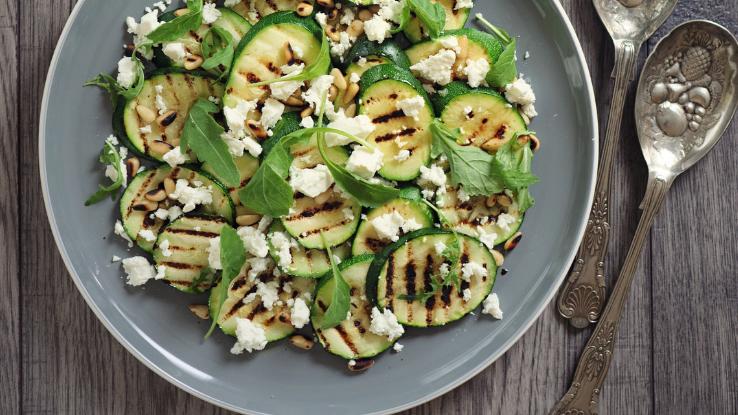 First, cut your zucchini into rounds, as shown above. Next, whisk together that delightful mixture by combining butter, garlic, Italian seasoning, lemon juice, salt and pepper. Once you've brushed the zucchini rounds with the tasty concoction, grill the slices until you get that nice char on both sides. If you don't have a grill on hand, this simple recipe can also be whipped up in a grill pan.