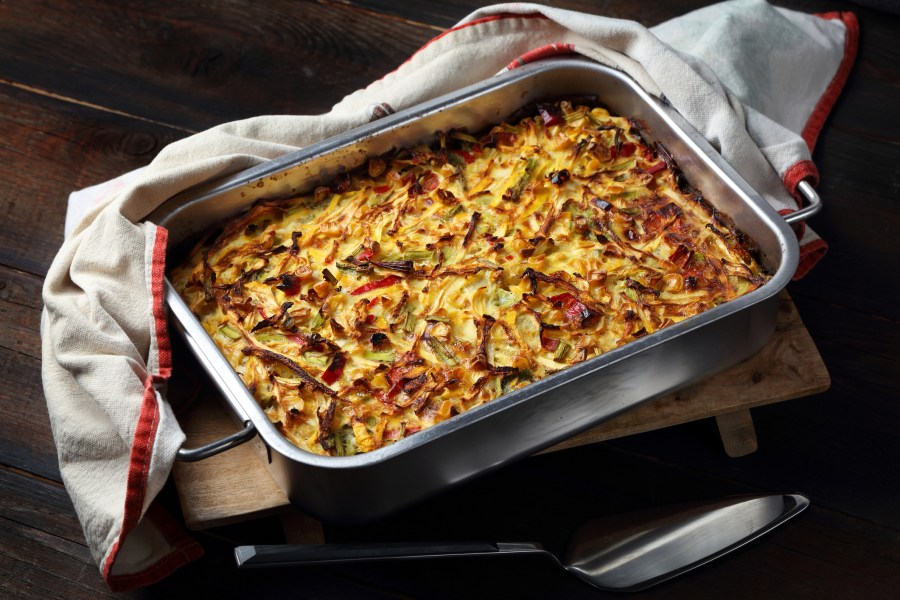 Mmm, burgers. Who doesn't love a good burger? Still, a burger every night could get old fast. But with these six healthy hamburger meat casserole recipes, you can switch it up while still enjoying all of the deliciousness of a burger– just in a different form. They're easy to make and will feed the whole family. Plus, they're good for you! If you're a vegan or vegetarian, keep reading to the end where you'll find our reviews of hamburger meat alternatives that can be easily substituted into any of the recipes below.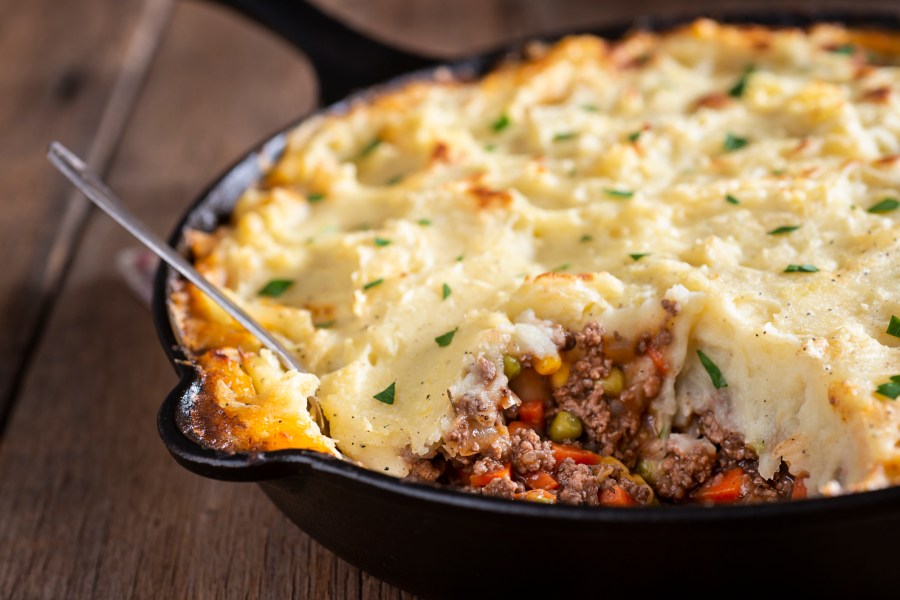 A Shepherd's pie casserole dinner never fails to impress. The most incredible part of this recipe by Andrew Zimmern is its countless variations. You'll never grow tired of combining new flavors. We recommend trying this recipe as its written first, but then let your creative juices flow the second or third time you make it.
First, you're going to get your potatoes boiling for mashed potatoes.
Sauté your favorite mixed veggies in a pan, then set them aside.
Make a roux with flour and melted butter and cook for a minute.
Toss your sautéed veggies back into the pan, stirring to incorporate the roux.
Once ready, put the veggies to the side and add your hamburger meat or a meatless option to the pan, cooking for five minutes over medium heat.
Add the peas, then pour the mixture into a casserole dish.
Pile on the mashed potatoes or replace them with alternative toppings, such as creamy cauliflower, squash puree, or sweet potatoes.
With just 30 minutes of baking, healthy, meaty comfort food is ready to be devoured by the whole family. You get to use the same skillet for cooking the veggies and baking the pie, making cleanup a snap!
Sloppy Joes are, well, sloppy. But you can skip the mess and enjoy a kid-friendly dinner with this neat Sloppy Joe Casserole.
First, cook some pasta, drain it, and set it aside.
Grab an all-purpose, 12-inch cast-iron skillet and add in your hamburger meat or your meatless hamburger alternatives. Make sure to cook until lightly brown before adding your preferred veggies.
Onion is a must, but other than that, veggies are optional. Still, we think it would be easy to slip some bell peppers and spinach into this recipe.
Once the veggies are softened, add in tomato sauce, mustard, Worcestershire, brown sugar, salt, and pepper. Simmer.
Stir the cooked pasta into your hamburger meat mixture and sprinkle it evenly with cheese. You can top it with more cheese and fresh basil if you like.
Finally, bake your casserole until the cheese is melted.
A Sloppy Joe casserole is the sort of meal that the whole family can get behind. It's a quick and healthy meal to make, and you can easily swap out veggies and hamburger meat if you like.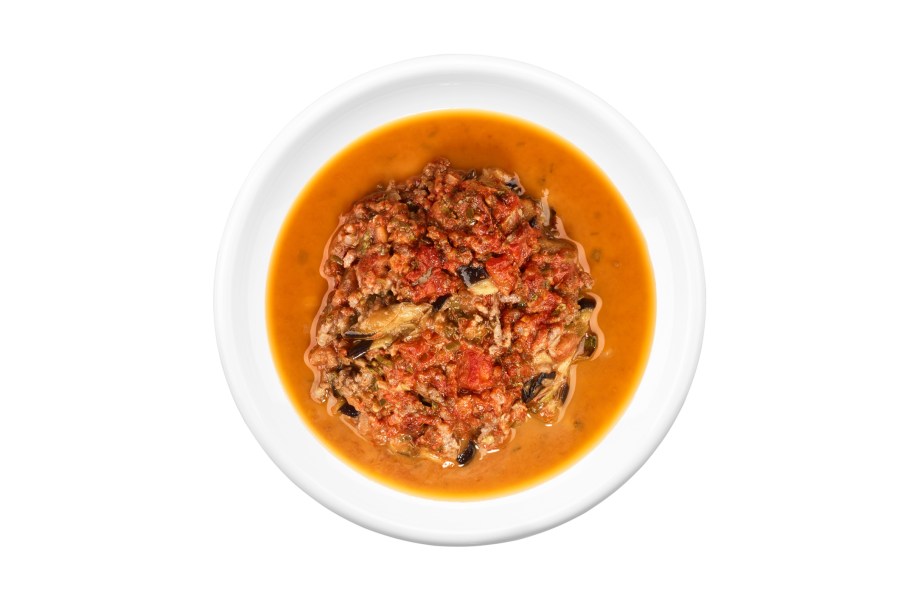 Moussaka is a greek dish, combining meat, béchamel sauce, and eggplant. Hamburger meat casseroles often feel like wintery comfort food, but this dish makes a satisfying summer casserole.
Start by preparing your meat sauce and béchamel sauce simultaneously.
Once your sauces are well on their way, brush eggplant slices with oil and sprinkle on salt and pepper. Arrange them in an even layer on prepared baking sheets and broil.
Pull your eggplant out of the oven and slip them into a casserole dish, covering the slices with meat sauce and sprinkling with cheese. Top with the remaining eggplant and pour the béchamel sauce over top, topping with breadcrumbs as you see fit.
After baking for 45 minutes, serve the Moussaka casserole. Whether you prefer beef, lamb, pork, or a meat alternative, this casserole dinner will please the whole family and makes for great party food.
Keto Beef Casserole from Paleo Leap
This Keto Beef Slow Cooker Cabbage Casserole makes you look professional with far less work than happens in a professional kitchen. You'll love this one-pot meal whether you're following a strict ketogenic diet or just love a beef casserole.
Grab your slow cooker and throw in all of your ingredients. You'll need hamburger meat or your beef alternative topped with riced cauliflower, sliced cabbage, chopped tomatoes, onion, garlic, and a pinch of spice. Cook slowly to give the ingredients time to integrate and infuse together. Your house will smell good, your tastebuds will be happy, and your kitchen will be remarkably clean for having cooked up something so tasty.
Spicy Southwest Butternut Squash Casserole from Jar of Lemons
This wholesome Southwest Butternut Squash Casserole brings together the best of all worlds with a spicy, savory, creamy, and healthy dish. It's perfect for a quick, easy-to-prepare dinner using only a casserole dish and simple ingredients.
Dice squash into cubes or use pre-cut butternut squash (you can often find this in the frozen food section)
Add squash and red peppers together and bake, as the squash needs the longest time in the oven.
Mix in beans, kale, hamburger meat or meatless alternative, your spice mix, and 1/2 cup of cheese
Top with another 1/2 cup of cheese and bake
Feel free to alter the recipe to your preferred taste by kicking up or chilling out the spicy flavor, or switch out the hamburger meat type for boneless chicken or pork.
Zucchini Lasagna with Bolognese Sauce from EatingWell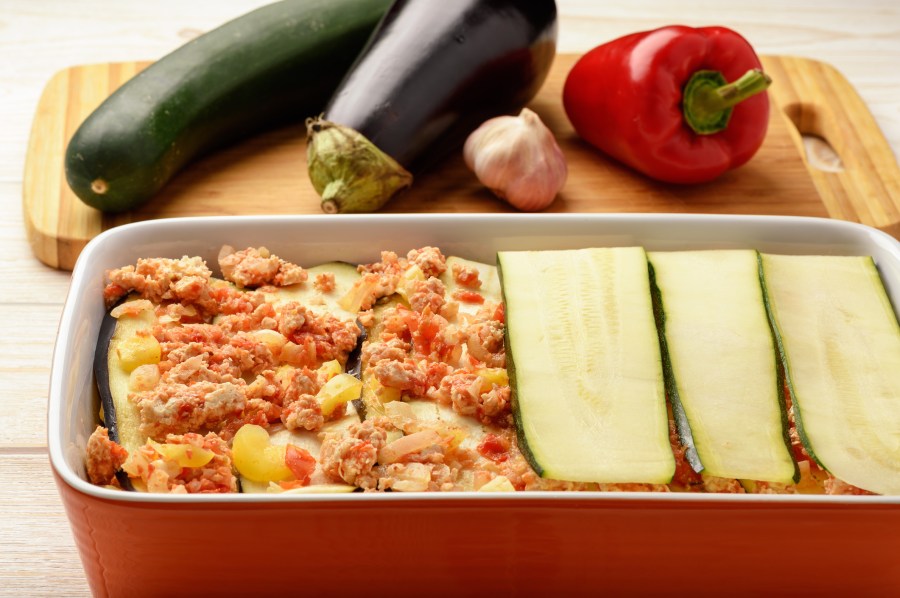 Have you ever tried switching out pasta for zucchini slices? It's a surprisingly seamless and delicious swap. This Zucchini Lasagna with Bolognese Sauce is a delicious way to make the most out of zucchini and hamburger meat in a little under an hour.
You're going to start by roasting zucchini slices
While those are cooking in the oven, make your simple bolognese sauce using hamburger meat or meatless vegetarian option, and tomatoes, wine, oregano, or basil
Mix egg and ricotta together to make your ricotta filling.
In a new casserole dish, layer zucchini, sauce, ricotta, and repeat.
The Zucchini Lasagna with Bolognese Sauce casserole is a healthy, delicious, quick meal with a lot of potential for you to add your personal touch. It's also a no-noodle lasagna, so that means fewer calories and no gluten!
Impossible Burger or Beyond Burger?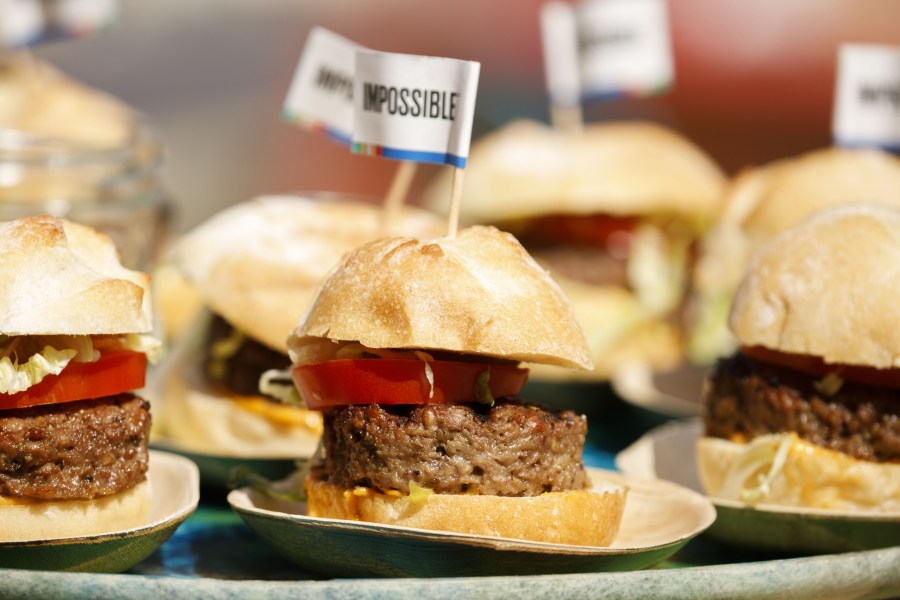 Try out the Impossible Burger and Beyond Burger brand alternatives if you're looking for ways to turn these hamburger meat casseroles vegetarian or vegan, without giving up their meaty flavors.
Both brands are similar. Beyond Burger comprises pea protein, coconut and canola oils, and spices. Impossible Burger is made up of soy protein, coconut and sunflower oils, and seasonings. The color and texture of the Impossible Burger are remarkable, and it does taste like meat. It also has fewer calories and fat than Beyond Burger. Beyond Burger, on the other hand, has fewer carbs and is free of soy and GMOs. Which is better comes down to personal preference. Both may trick any lover of hamburger meat, particularly when used as a substitute in casserole recipes.