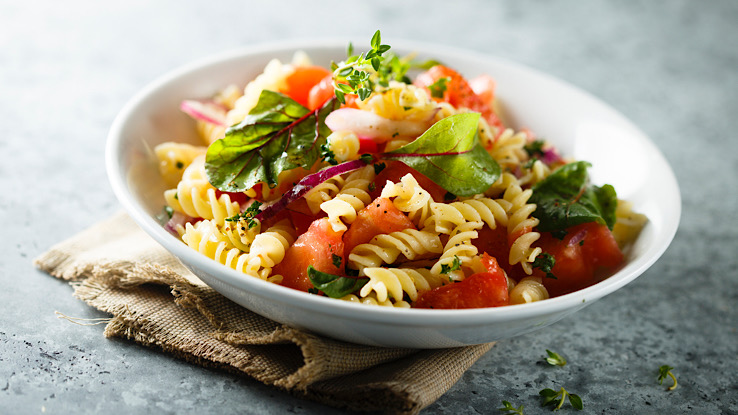 Salads are a favorite go-to side dish for many during warm-weather seasons. As we approach summer, is there a more quintessential side dish that beats pasta salad?
A typical salad is easy to prepare; it simply involves mixing vegetables with dressing. However, making a delicious and healthy plate of pasta salad isn't easy. It's important to choose your ingredients carefully, time the preparation, ensure the temperature is correct and the dressing contains the right proportions. So, how can you make a perfect pasta salad?
Keep reading to find recipes for making easy and healthy pasta salads at home. Whether you're looking for something light, an appetizer, a side dish, lunch, low-carb, gluten-free, or something for a date night, we give you options to choose from.
Health Benefits of Pasta
Pasta is made from grain, a basic food group from the carbohydrate family. Carbohydrates are the body's main energy source, so pasta will supply the energy you need to keep you consistently productive throughout the day. In addition, eating whole grain pasta can give you dietary fiber, which has a host of health benefits. This includes keeping your gut healthy and reducing the risk of chronic health conditions.
Pasta is an excellent foundation for a healthy, nutritious, and satisfying meal. This is because you rarely eat pasta alone – it is a partner for many other foods, such as vegetables, beans, or healthy fish. These foods come packed with micronutrients and essential minerals that help enhance your overall health.
In particular, pasta salad is good for you – if it includes vegetables. The health benefits of vegetables help you to:
Fight inflammation
Improve your skin
Reduce the risk of heart disease
Improve your mental health
They are a source of essential trace nutrients and minerals such as calcium, potassium, manganese, and vitamins A, C, and K
Because of these benefits, nutritionists recommend that half your plate should be vegetables – and pasta salad could help you achieve this goal.
Try these super easy pasta salad recipes, packed with fresh produce and seasonal flavors, for your next side.
Delicious Deli Pasta Salad
Deli pasta salad is a simple recipe with three easy steps to prepare but is incredibly mouth-watering with Mediterranean flavors. You'll need:
pasta
frozen peas
basil leaves
tomatoes
olive oil
garlic
vinegar
Instructions:
First, boil the pasta, add the peas and continue boiling until the peas and pasta become tender. Next, prepare your dressing by mixing the chopped tomatoes, olive oil, garlic, basil leaves, and vinegar. Then, season with salt and pepper until smooth. Lastly, add and mix the pasta, dressing, and remaining basil leaves together. That's it. Enjoy your pasta salad!
Besides being fast and straightforward to prepare with readily available ingredients, Deli pasta salad packs numerous health benefits. For instance, basil is a flavorful leafy green herb of the mint family. It is rich in essential minerals and vitamins such as iron, calcium, manganese, and vitamins A and K. Together with garlic, tomato, and peas that contain compounds with potential medicinal properties, Deli pasta salad may promote a healthy gut and skin, along with helping to detoxify the liver..
Cold, Gluten-Free Italian Pasta Salad
Are you sensitive to gluten but still want to enjoy a delicious homemade pasta salad? Switch things up a little and enjoy a cold, gluten-free Italian pasta salad. This easy and quick meat-free and dairy-free recipe will give you a perfect side dish with numerous health benefits.
For the ingredients, you'll need:
gluten-free rotini pasta
English cucumber
bell peppers (red, yellow, and orange)
red onion
grape tomatoes
black olives
extra virgin olive oil
red wine vinegar
dried oregano
basil
parsley
salt (use in moderation)
black pepper
Instructions:
From the list of ingredients, you may think preparing a cold Italian pasta salad is a tedious and lengthy process, but it's easier than you think. Cook the pasta, and transfer it to a bowl. Then add chopped vegetables. Add the remaining ingredients, giving everything a good toss. Let the pasta salad marinate and chill in the fridge for about half an hour before serving. This is the most crucial part; it gives the Italian flavor of this pasta salad stronger. You can also let it marinate overnight and serve it the next day.
This is a healthy upgrade on the classic Italian recipe, providing nutritious gluten-free salad with tons of veggies and other healthful ingredients. And the amino acids offered in the pasta are perfect for keeping your muscles, skin, and bones healthy.
Make it Creamy with Avocado
If you're an avocado enthusiast and are interested in a little bit of crisp bacon in your pasta salad, this recipe is for you. You'll need:
pasta
bacon
cherry tomatoes
onion
cilantro
avocado
lime juice
cumin
buttermilk
garlic powder
salt (use in moderation)
Black pepper
Instructions:
Begin by putting the dressing ingredients in a blender and process until smooth while you cook the pasta. Toss the diced avocado with lime juice and mix everything together in a large bowl. Finally, refrigerate for an hour, and then serve!
This avocado pasta salad is tasteful and creamy but has a crispy texture. Its ultimately healthful, making it a healthy side dish. Avocado is a nutritious, versatile, and delicious superfood. It is low in calories but loaded with some essential nutrients, including fiber, folate, potassium, magnesium, copper, niacin, and vitamins B6, C, E, and K. Alongside other vital ingredients, such as onion, cumin, buttermilk, lime, and tomatoes, avocado is beneficial to your gut, lowers the risk of heart disease, protects you from inflammation, and may promote weight loss.
Salads are healthy, nutritious, and a great way to incorporate essential minerals, vitamins, and fiber into your diet. The recipes allow you to enjoy a great salad plate and benefit from the ingredients' multiple health and nutrition benefits.
Resource Links: