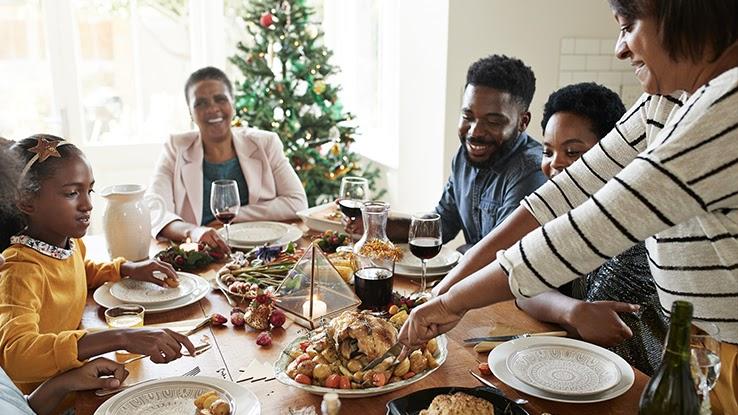 It's that wonderful time of the year when we start dreaming of holiday tables filled with family, friends, and — perhaps most importantly — delicious food. Due to the ongoing COVID-19 pandemic, it's been a long time since many people have gathered in person, but 2021's holiday season seems a bit more promising when it comes to traveling home and celebrating at in-person events.
Not used to hosting duties anymore? We're here to help you shake off the dust and prepare a beautiful spread. Below, we've rounded up five healthy (and easy-to-make) appetizers that are perfect for any holiday gathering. With all the filling and heavy food that comes with celebrating, these apps keep it simple and light, allowing your guests to enjoy every course. So, let's get cooking!
Baba Ganoush
Baba ganoush is a great party appetizer. Not only is it smooth and rich, but it's also vegan — and nut- and gluten-free. If you have any guests with dietary restrictions, this is sure to be a stress-free crowd-pleaser. Best of all, this recipe is packed full of flavor, taking the beloved dip and spread to a whole new (delicious) level. Your guests won't be able to stop scooping, and this colorful appetizer will look beautiful on your festive table.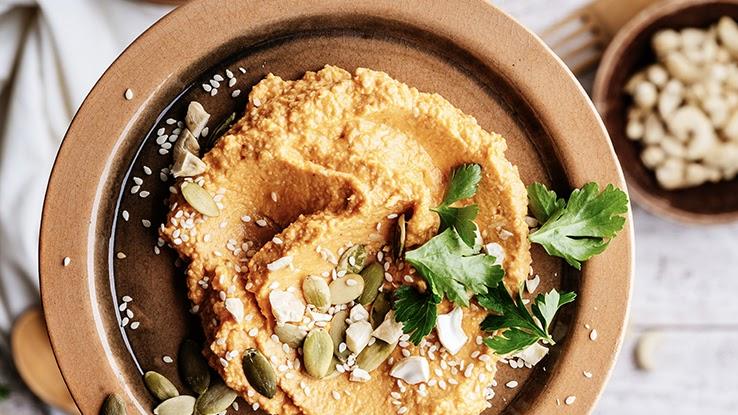 How to Serve:
This baba ganoush requires sturdy to scooping tools, like raw vegetables — cucumbers, carrot sticks, and bell peppers. If you rather serve it with something warm and toasty, we recommend a toasted wedge of pita or pita chips.
Recipe:
This baba ganoush recipe is from Cookie and Kate. "When you get it right, baba ganoush is irresistibly smooth and luxurious, smoky, and savory," the chef notes. But this healthy app is also easy to whip up right before your holiday dinner party. In fact, you can even prep it the night before without sacrificing quality. For this recipe, you'll need eggplant, olive oil, lemon juice, garlic, tahini, and spices. The recipe serves four to six as an appetizer, but you can easily double it for larger gatherings.
Charcuterie and Cheese Platter with Olives, Almonds, Crackers & More
A charcuterie board is a great way to feed the masses. Best of all, a delicious platter of cheese, meat, nuts, and fruit generally has a little something for everyone. To help you make the ultimate charcuterie board, we found a recipe that has it all. From olives and grapes to honey and jams, the spread on this board will elevate your cheese-and-crackers game to a whole new level. Not to mention, laying everything out on the board in an aesthetically pleasing way can be fun!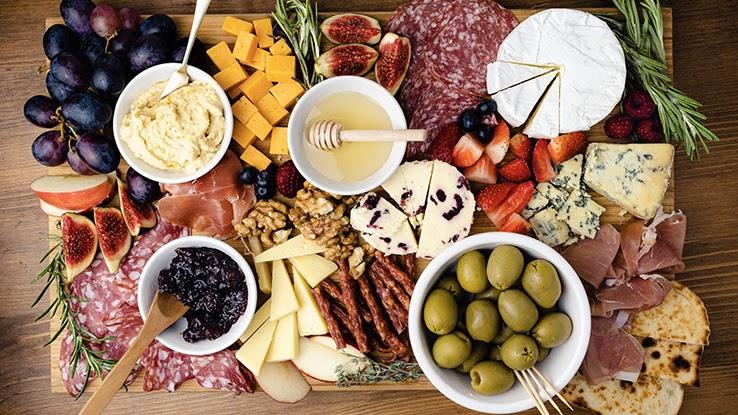 How to Serve:
The presentation of your board is almost as important as what's on it. It's important to lay out your meat, cheese, and fruit in an artful way that's also easy for your guests to grab what they want without making a mess. Choose a clean, sturdy wood that won't soak up the flavors on top for your board. (Marble is also a great surface.) Next, pick some festive small bowls for your jellies, honey, spreads, and olives. Many olives come soaked in juices; a bowl will help keep the olive juice from spilling all over the board.
Pre-cut about half your cheese to alleviate the need for a knife — nothing's worse than struggling to grab an app while balancing a cocktail and paper plate. Leave small cheese knives out on the board so that you can replenish the slices as needed. For your meats, we recommend pre-cutting them too, and then either roll them up or spread them out artfully. Next, fan out some crackers and place fruits in the gaps. Finally, sprinkle in your almonds and other nuts for a beautiful board that your guests won't be able to stop picking from!
Recipe:
When it comes to a charcuterie board, the options are almost endless; you can pretty much serve whatever types of cheese, meat, nuts, olives, and fruits you want. This recipe from Simply Homecooked features strawberries, salami, gouda, cheddar, prosciutto, honey, olives, almonds, and more. And it provides step-by-step pictures if you need some help with your board's layout.
Caprese Salad with an Olive Oil Drizzle
As pictured here, you might be most familiar with a Caprese salad served with a balsamic vinegar drizzle, but Rachael Ray's olive oil version is just as flavorful. For those who've never indulged in this lovely app, a Caprese salad is a traditional Italian dish served with sliced mozzarella cheese, tomatoes, and olive oil drizzled on top. With the crisp tomatoes sandwiched between rich mozzarella, there's so much more to this appetizer than meets the eye. Plus, it's exceedingly easy to assemble.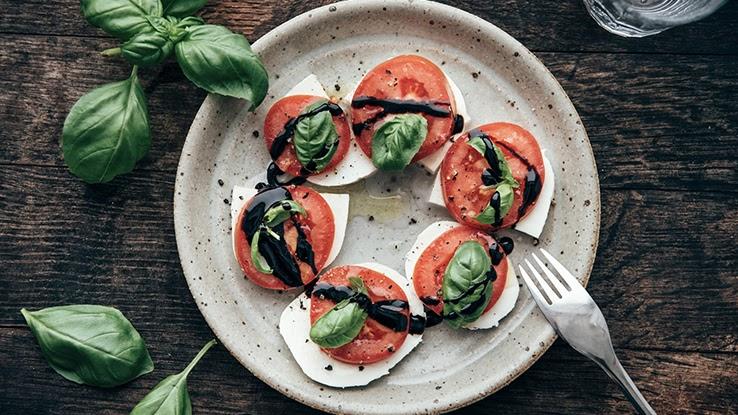 How to Serve:
It's best to assemble your Caprese salad on a large platter instead of individual plates. You can set out a pair of tongs or a fork to make it easy for guests to grab a portion. To prep, start by slicing your mozzarella and tomatoes into medium-sized slices. If they are too thin, they will fall apart when people pick them up. Layer your ingredients alternating between the tomato and the mozzarella. Finish it off with a drizzle of olive oil, salt, and pepper. Garnish with fresh basil — and enjoy!
Recipe:
This Caprese salad recipe from the Food Network's Rachael Ray uses three vine-ripe tomatoes, one pound of fresh mozzarella, 20–30 leaves of basil, salt, pepper, and enough olive oil to create a nice drizzle over the rest of the spread. You can even add some coarse salt, which pairs well with the mozzarella.
Baked Eggplants with Pesto
Baked eggplant with pesto is a warm, flavorful appetizer that's sure to get everyone feeling cozy and festive. Baked eggplant with pesto is full of flavor and packed with nutritional value, too. The homemade pesto is something you can whip up the night before and store it in the fridge; this makes assembling your eggplant app a little quicker, and less stressful, on the day of your holiday gathering.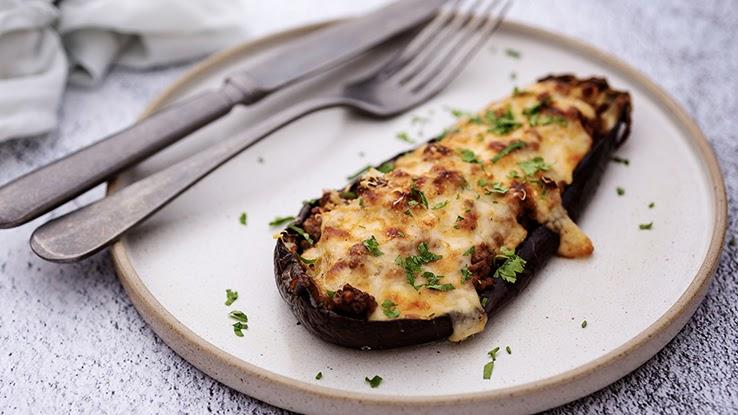 How to Serve:
Baked eggplant with pesto can be served as a main course, a side dish, or an appetizer. To serve it as an appetizer, you can cut it into personal-sized pieces so that it's easier for guests to grab. Garnish the app with parmesan cheese before slicing. Use a large platter or marble board to place your eggplant.
Recipe:
This recipe from Allrecipes makes two servings of eggplant entrees, so it will serve four to six guests as an appetizer or side. You'll need one large eggplant — which you'll slice in half — as well as fresh basil, garlic, olive oil, and pine nuts to make the pesto.
Roasted Eggplant and Red Bell Pepper Spread
For an easy, healthy spread, look no further than a roasted eggplant with bell pepper. You can serve this up with warm bread, making this a toasty appetizer for your winter gathering. Plus, it pairs well with a charcuterie board. And although it looks rich in flavor and ingredients, it only takes 30 minutes to prep. As with other apps on our list, you can also make it the night before, so there's one less thing to prep before your guests arrive. Trust us: if anyone has dietary restrictions, this vegan and gluten- and dairy-free spread is a great option.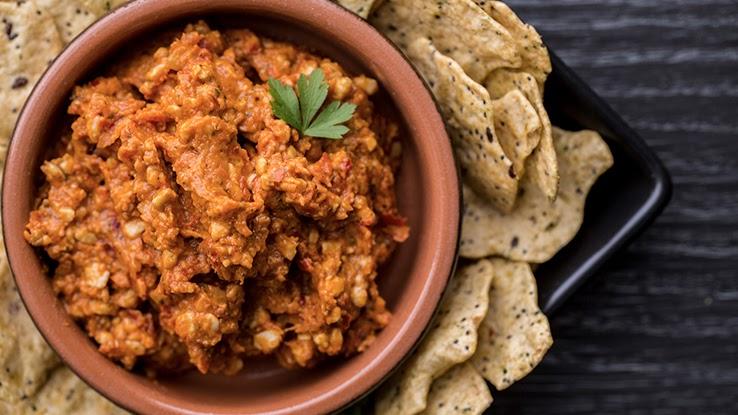 How to Serve:
To serve this yummy spread, put it in a festive bowl. Place the bowl on a platter with toasted bread or crackers. Use a spoon instead of a knife for this spread so that guests can easily scoop it onto their plates or toast. The rich red coloring makes this a beautiful addition to any holiday table.
Recipe:
This recipe from Salt & Wind makes about three cups of spread. You'll need two pounds of bell peppers — that's about five or six large peppers — and one small eggplant. Additionally, you'll need garlic, lemons, chives, red wine, vinegar, olive oil, sugar, red pepper flakes, salt, and pepper.