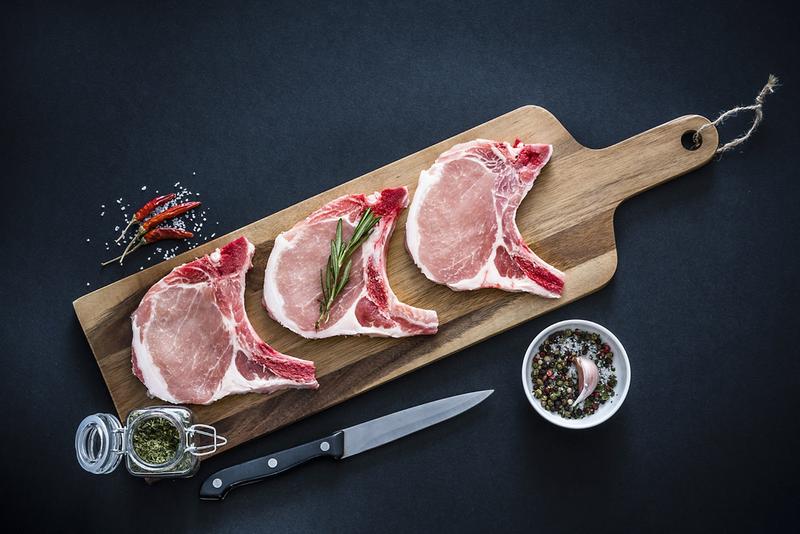 They call pork the "other white meat" for good reason. Some doctors recommend pork as an alternative to beef, so when you're trying to minimize the amount of red meat you consume each week, pork chops are a versatile meat choice that makes a perfect addition to a healthy eating plan for your entire family. Pork is leaner than beef — particularly if you trim off excess fat — but still high in protein, which helps build strong, healthy muscle.
If you're following a low carbohydrate or ketogenic diet, pork chops don't have any carbs unless you add other carb-heavy ingredients to your recipes. They are also high in zinc, an important mineral for building a strong immune system and maintaining healthy vision. Other essential nutrients include vitamin B-6, selenium, iron, niacin and thiamin. Ready to get your healthy diet on track with some of these tasty baked pork chop recipes? Let's get started!
Low-Sodium Lemon Garlic Pork Chops
If you try to limit the amount of sodium your family eats, then you're probably always on the lookout for good recipes that taste great without adding a bunch of salt. This simple recipe for lemon garlic pork chops doesn't use salt at all, but you won't notice it's missing when you taste them. The lemon and other spices add plenty of zesty flavor.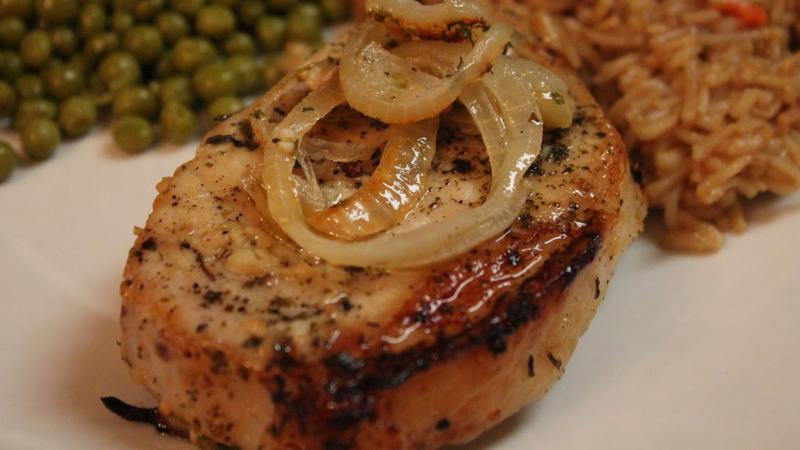 To make these pork chops, start by drizzling olive oil over the pork chops and then season them with black pepper, minced garlic and dried basil flakes. Next, place the pork chops in a zippered bag along with a sliced lemon and a sliced onion. Seal the bag and place it in the refrigerator for at least an hour to allow the flavors to penetrate the meat. When the pork chops are ready, place a little olive oil in the bottom of the baking pan and top the chops with the lemon and onion slices, paprika, and parsley.
Bake at 375 degrees Fahrenheit for 20 minutes and then finish under the broiler to get a nice sear. Allow the meat to rest for at least 5 minutes before serving. Visit the recipe site to watch a video of the entire process.
Keto Pork Chops with Broccoli
Many people these days follow ketogenic or low carbohydrate diet plans. If you want your family to enjoy dinner while avoiding heavy starches and added sugar, these keto pork chops baked with broccoli are a great place to start. This dish is also perfect when you want the simple convenience of a quick and easy, one-pan dinner solution. You can even make cleanup easy by lining the baking sheet with parchment paper.
First, mix olive oil, melted butter, parmesan cheese and a spice blend of minced garlic, parsley, thyme, pink salt and pepper. Place the pork chops on the baking sheet and brush half of the butter mixture on top. Chop about three to four cups of fresh broccoli and toss it in the remaining mixture. If you want, you can also add other vegetables like cauliflower and carrots. After coating the vegetables, place them on the pan with the pork chops and cover the entire pan with aluminum foil.
Bake for about 10 minutes at 400 degrees Fahrenheit, removing the foil after 5 minutes. Sprinkle mozzarella cheese on top of the chops and flip the broccoli. Bake for another 10 to 12 minutes to reach an internal temperature of 145 degrees. For photos and step-by-step instructions, take a look at the full recipe here.
Easy Sugar-Free Baked Pork Chops
Many pork chop recipes include added sugar in the form of ingredients like brown sugar or fruit. If you have diabetes or you're just watching your sugar intake, this can make finding a healthy and delicious pork chop recipe difficult. This particular recipe is ideal for making juicy baked chops without any added sugar that are still loaded with plenty of flavor.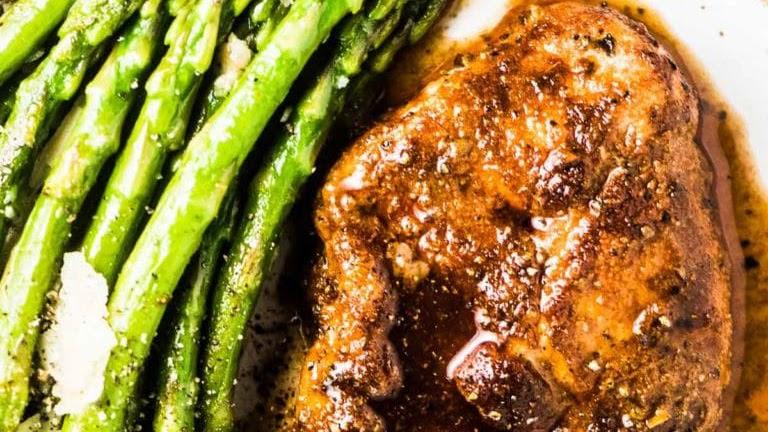 Start by mixing a dry rub of paprika, garlic powder, onion powder, oregano, salt and pepper. Drizzle each pork chop with olive oil and then sprinkle the dry mix on both sides of the meat. Before you place the chops in the oven, add a little more olive oil on top of the spices. Bake for 18 to 20 minutes at 400 degrees Fahrenheit.
Ready to start cooking? Check out the exact measurements for all the ingredients in the full recipe and watch a helpful video.
Healthy Oven-Fried Pork Chops
Generally, one key factor in healthy eating is cutting back on fried foods, but that doesn't mean you have to give up on ever enjoying the taste of fried food again. When you just can't resist a savory, crunchy, "fried" pork chop, this oven-fried option makes a great substitute for the real thing.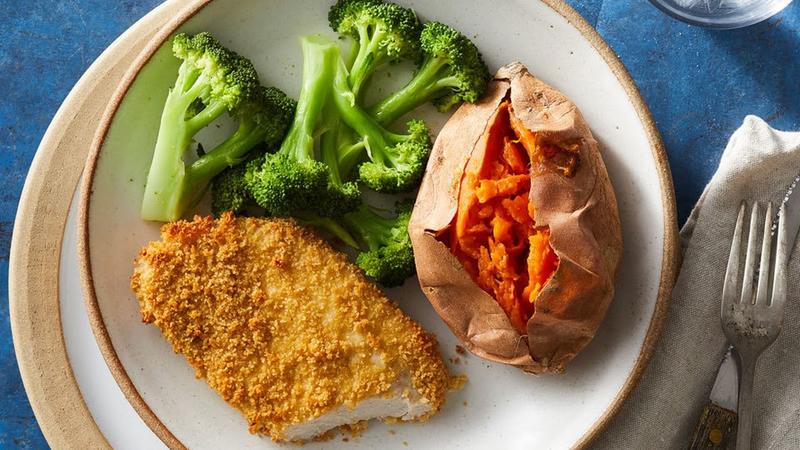 Place the breading ingredients in three bowls: one with flour, one with an egg and Dijon mustard blend, and one with panko bread crumbs and ground black pepper. Sprinkle salt on both sides of the pork chops and then dip them in the flour to coat them. Dip the coated chops in the egg mixture and then immediately dip them in the panko crumb mixture until they are fully coated. Bake for 18 to 20 minutes at 400 degrees Fahrenheit.
You can place each chop directly on a baking sheet sprayed with cooking spray, but they will cook with a crispier coating if you place them on a wire rack coated with cooking spray above the pan. For other recipe tips, check out the details here.
Herb-Roasted Pork Chops and Vegetables
When you need a quick and easy dinner with all the fixin's, it's hard to beat the simplicity of a sheet pan dinner. What does that mean exactly? This popular cooking method lets you cook everything for dinner — sides and all — on one large baking sheet in the oven. It's convenient and a great way to add some tasty oven-roasted veggies to your baked pork chop meal.
To prepare the pork chop seasoning, mix Italian seasoning, salt and black pepper in a bowl. Cut small red potatoes into chunks, cut an onion into wedges, chop an onion clove and place them all in a large bowl with baby carrots. Toss the vegetables in olive oil and sprinkle with half the seasoning mixture. Place them on a baking sheet and bake for 20 minutes at 450 degrees Fahrenheit. Add the pork chops to the pan and brush them with olive oil followed by the remaining seasoning mix. Bake another 15 to 20 minutes until the chops are thoroughly cooked.
If you need additional crispiness and browning, remove the vegetables and broil the meat for a few minutes before pulling the pan from the oven. Check out the detailed recipe with measurements here.