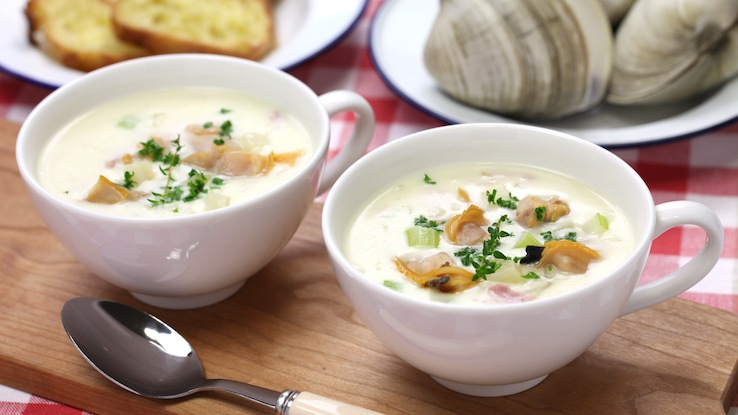 Clam chowder is a classic food from the New England region, and there are many local varieties of this well-known dish. If you're a chowder lover who's also into healthy eating, you might be wondering how this tasty meal stacks up nutrition-wise. So we're serving up some clam chowder nutrition facts, recipes and tips for making a healthier chowder.
Are Clams Good For You?
Clams are a great lean protein source. A 3-ounce serving of clams has only 110 calories and 2 grams of fat, but serves up a substantial 17 grams of protein. Clams are also high in vitamin B12, iron and potassium.
When it comes to health concerns, you may wonder if it's safe to eat clams — especially when you're pregnant. It's true that raw clams and other raw shellfish can have harmful bacteria. But it's safe to eat clams and other shellfish once they're fully cooked.
Clam shells open up when they're done cooking, so it's easy to know when they're finished. Just make sure to throw out any that don't open — that means those clams aren't safe to eat.
Is Clam Chowder Healthy?
That depends on how you make it! Despite how nutritious clams are, clam chowder can be a less healthy meal due to some of the other ingredients. Clam chowder often involves ingredients high in saturated fat, like heavy cream and bacon. And too much saturated fat can raise your risk for high cholesterol. In general, it's best to choose healthier unsaturated fats in place of saturated fats.
Broth and seasoning choices can also make chowders high in sodium (salt) — and too much sodium can raise your risk for high blood pressure. But with the right ingredient choices, you can make a healthier clam chowder. Try opting for low-sodium broth and low-fat dairy ingredients for a lighter meal. And if you're looking to boost the nutrition factor of your clam chowder even more, try adding in extra fresh veggies and herbs.
Best Clam Chowder Recipes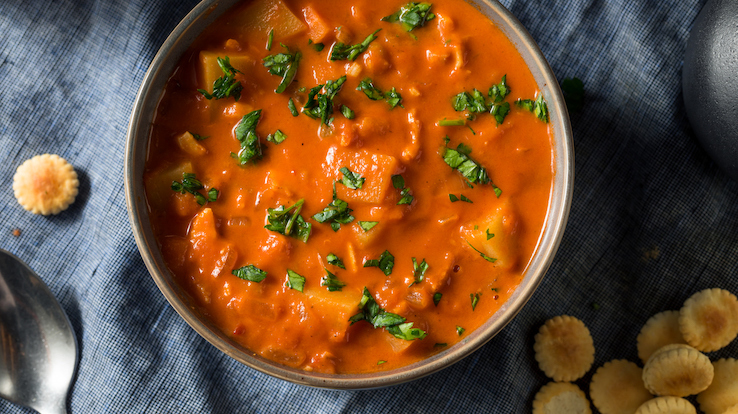 If you want to try out some new clam chowder recipes, look no further. We've compiled a list of simple, delicious clam chowder recipes from all over New England and beyond.
New England Clam Chowder from Taste of Home
This recipe is the classic cream-based chowder you know and love. First you'll cook up a few slices of bacon in a Dutch oven, then use that same pot to make the chowder. An aromatic mix of celery, onions and garlic goes in next. Then you'll add some reduced-sodium bouillon, clam juice, potatoes and seasoning.
To thicken this chowder, you make a slurry from fat-free half and half and flour. Finally, throw in the all-important clams — in this case, the canned variety — and turn the heat off just before they boil. Use some bacon crumbles as a garnish, and you've got yourself a perfect bowl of classic clam chowder.
Low-Fat Clam Chowder from Food Network
Leave the cans on the shelf, and break out your sieve! This recipe swaps the canned clams for fresh cherrystones. Just make sure to give the shells a good scrub before cooking.
This recipe lowers the fat content by using just a single slice of bacon and one cup of fat-free half and half. Pureed potatoes provide all the extra creaminess you need. And chives, parsley, thyme and paprika bring more than enough spice and flavor.
The main difference between New England clam chowder and the Manhattan variety is the addition of tomatoes. This recipe uses a 28-ounce can of crushed tomatoes to give this chowder its signature red hue. And that's not the only additional veggie you'll find here — carrots and green peppers also make an appearance in this dish (along with the more familiar onions and potatoes).
Of course, extra veggies always up the nutrition in any clam chowder recipe. This variety is also lower in fat because it skips the cream. For a bit of extra thickness in the broth, you'll mash a few cooked potato pieces against the side of the pot to release their starch into the chowder.
Where New England clam chowder is white and Manhattan clam chowder is red, the Rhode Island variation has a clear broth that lets the flavor of the clams shine through. There's no cream and no tomatoes needed here — just fresh clams and the familiar mix of bacon, potatoes, onion and celery.
This recipe suggests cooking the clams in a colander inside the pot to aid in making the broth. But if you don't get enough good broth out of this step, you can supplement with bottled clam juice. A trio of fresh herbs — parsley, chives and dill — top off this beautifully simple soup.
All the regional varieties of clam chowder are delicious in their own way. Try them all and see which one you like best.