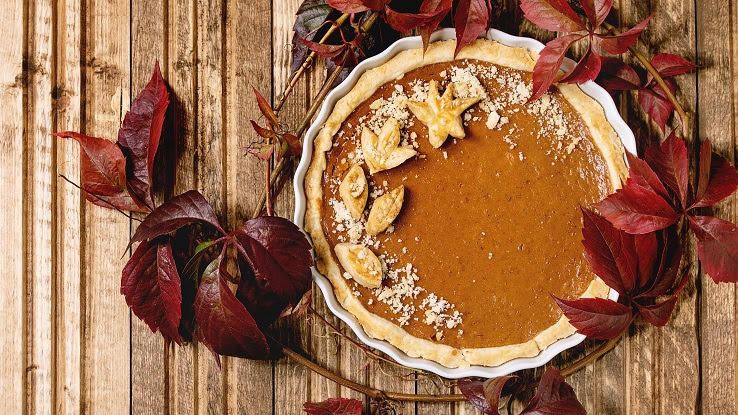 While we might think of pumpkin-spice flavored coffee drinks first, autumn ushers in a whole slew of comforting, tasty flavors and dishes. At seasonal gatherings, like Halloween or Thanksgiving, seasonal desserts are especially delicious. After all, who doesn't love pumpkin, apple and maple flavors?
Of course, although these desserts are fall staples, they may not be a good fit if you're on a low-sugar or low-calorie diet. But that doesn't mean you have to go without. Fortunately, there are quite a few spins on these classic treats that cut down on sugars, oils and other ingredients that are best to eat in moderation. If you're looking for some inspiration or hoping to adjust your own recipes, these fall-themed desserts are worth looking over — and, hopefully, tasting.
Taste Autumn with These Seasonal Cupcakes & Cookies
Healthy Carrot Cake Cupcakes | Chocolate Covered Katie
These Healthy Carrot Cake Cupcakes by Chocolate Covered Katie are incredibly delicious — and you can make them with sugar-free, gluten-free, and/or high-fiber considerations in mind. These fluffy cupcakes cut out the empty calories in heavy oils by relying on applesauce as a source of moisture instead. Not to mention, you can prepare them with regular white or gluten-free flour, depending on your preferences.
One variation has you swapping out sugar for xylitol and Stevia, a plant-based sugar substitute. Apart from that, the recipes draw on plenty of familiar carrot cake ingredients — cinnamon, vanilla extract, and shredded carrot topping. And if you're looking to prepare a healthier cream-cheese frosting, try using maple syrup and Greek yogurt as the base.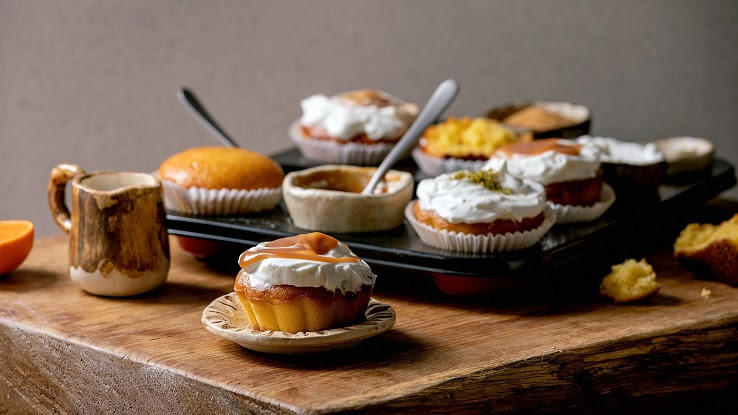 Maple Oatmeal Cookies | My Nourished Home
These Maple Oatmeal Cookies from My Nourished Home are Fall in treat form. This yummy mixture of oats, cinnamon, and maple makes for a scrumptious seasonal cookie — and a healthy alternative to sugar cookies, especially if you swap white-wheat flour for regular flour and chocolate chips for raisins.
Additionally, the maple syrup in the recipe helps cut down on refined sugar, all while creating a deeply sweet flavor profile that compliments the oats' nutty base flavor. To add texture, you can throw in some nuts or raisins, too.
Apple Cupcakes with Cinnamon-Marshmallow Frosting | EatingWell
If you find yourself enjoying cake more than pie, these Apple Cupcakes with Cinnamon-Marshmallow Frosting from EatingWell will have you licking your lips. Shredded apples help to cut down on extra oils, while ground cinnamon, brown sugar, vanilla, and dried apples contribute to the recipe's crisp, autumnal flavor.
Not to mention, the apples also help to keep the cupcakes moist and compliment the marshmallow frosting topping, which is made with vanilla, cream of tartar, and light brown sugar. For cupcake fans with dietary restrictions, these treats are a great way to get a taste of fall.
Mouthwatering Tarts & Pies You're Sure to Fall For
Ultimate Healthy Pumpkin Pie | Amy's Healthy Baking
One of autumn's most iconic dishes is pumpkin pie; you can find the dessert at any fall-related gathering or Thanksgiving celebration. For a healthier spin on the creamy dessert, this Ultimate Healthy Pumpkin Pie from Amy's Healthy Baking utilizes liquid Stevia and maple syrup — rather than loaded amounts of refined sugars — to give the dessert its sweet taste.
The creamy filling, which is made with nonfat Greek yogurt and pumpkin puree, contains your favorite seasonal spices, like cinnamon, nutmeg, and ginger. With homemade, yogurt-based whipped cream to top off the pie, this dessert doesn't rely on added sugars to retain its classic deliciousness.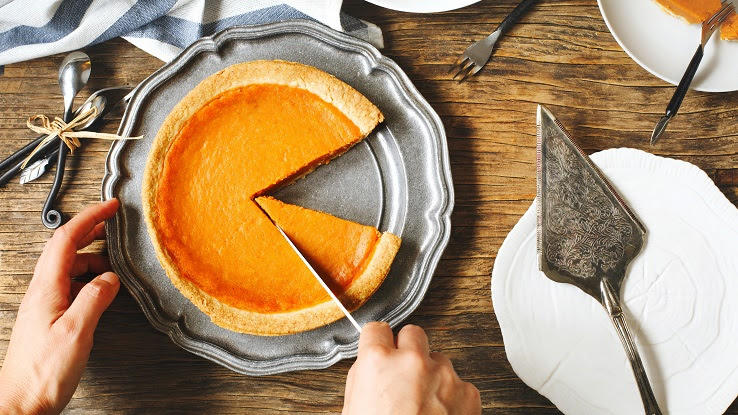 Low-Sugar Apple Tarts | Tasty
Are you starting to crave the apple-based desserts associated with fall gatherings? This Low-Sugar Apple Tart by Tasty is as yummy as a traditional apple pie. Traditional pie filling is often high in added sugars, but this recipe draws on unsweetened applesauce, nutmeg, lemon juice, and cinnamon to create a delectable base. With Honeycrisp apples and an oat-based crust, this tart is a must-have — and a real crowd-pleaser.
Pumpkin Tarts | Dr. Gourmet
Looking for a personal-sized pumpkin dessert? These Pumpkin Tarts from Dr. Gourmet are sure to hit the spot. The recipe relies heavily on canned pumpkin and gingersnaps, while vanilla extract and Stevia add in some sweetness. To accentuate that fall taste, ginger, cloves and cinnamon are musts. When all is said and done, you'll have six delicious tarts that are low in added sugar, but rich in flavor.
Delicious Autumnal Drinks with a Healthy(ish) Twist
Healthy(ish) Apple Cider | Hydroxycut
Nothing says autumn like a glass of apple cider, right? While traditional apple cider tends to be high in unhealthy sugars, this Healthy(ish) Apple Cider puts a more nutritious spin on the classic drink. Rather than packing the drink full of added sugars, you can use some naturally sweetened ingredients, like orange zest, maple syrup, cinnamon sticks, nutmeg, and ginger. Delicious fresh fruit and spices sit at the center of this recipe, so you don't have to sacrifice any of that fall flavor.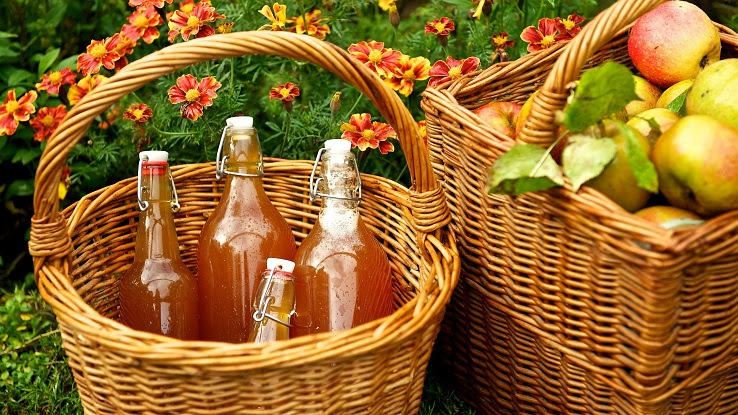 Healthy Chocolate Milkshake | Build Your Bite
This Healthy Chocolate Milkshake from Build Your Bite has a rich, orange coloring that gives it a stunning autumn appearance. (And this makes it a hit with the kiddos, too!) The drink gets its hue — milkshake-like texture — from frozen sweet potatoes. So, although it's classified as a dessert, this milkshake is packed with a whole serving of vegetables. When mixing up the vanilla almond milk-based shake, you'll also use maple syrup and cacao powder as sweeteners. Finally, sprinkle these beverages with a few mini chocolate chips and you've got a tasty, sweet drink and a perfect Instagram opportunity.