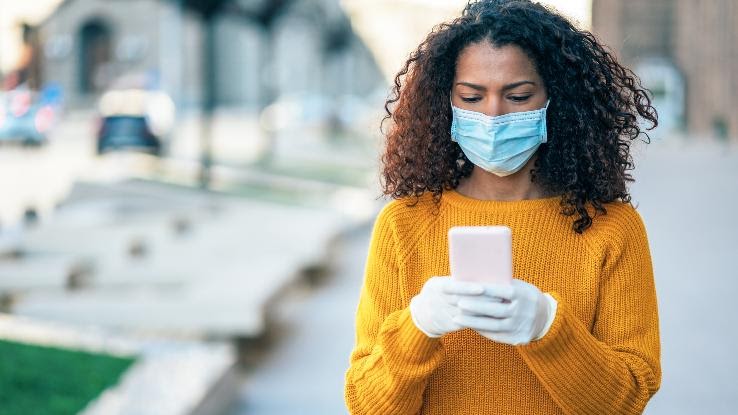 When the COVID-19 pandemic first started, you couldn't turn on any type of news without hearing the latest pandemic updates. Now, with the pandemic in its third year and conditions varying widely across the country, it can be a little trickier to keep track of the COVID-19 situation in your area. Here's a handy guide to help you find local and national COVID-19 updates you can trust.
Tune Out the COVID Rumor Mill
As you've probably noticed by now, not all COVID-19 content is trustworthy. And unfortunately, a lot of what you see on social media is misinformation. In particular, social media is a main source of dangerous misinformation about COVID-19 vaccines. (For the record, COVID-19 vaccines are safe and effective — and they're the best way to protect yourself and others from COVID-19.)
It's best to take any COVID-19 updates and info you see on social media with a grain of salt. This is especially true if the person posting the information is not a health expert or trusted source. Of course, social media can be a good way to keep in touch with friends and family during the pandemic. Just make sure you're confirming any health info you see there with a trusted source.
And for more information on how to spot COVID-19 related scams, visit the Federal Trade Commission.
Stick to Trusted Sources for COVID-19 Updates
If you're looking for the latest COVID-19 updates, there are some go-to resources to try.
For Official Federal Guidance, Check With the CDC
The Centers for Disease Control and Prevention (CDC) is the national public health agency of the United States. The CDC aims to use the best available information to make evidence-based recommendations about COVID-19. So for the latest official guidance on masks, vaccines or testing, the CDC COVID-19 hub is a great place to start.
The site also features a national COVID Data Tracker that's updated daily. You can use the County View map to see transmission rates, risk levels and other COVID-19 updates in your local area. You'll also find tools that try to forecast future increases or decreases in cases by state and track vaccination rates.
For User-Friendly Data Visuals, Try CovidActNow
CovidActNow is another great resource that's dedicated to keeping the public informed with accurate, up-to-date pandemic information. It's run by the Act Now Coalition, a nonprofit organization that partners with the Harvard Global Health Institute, Stanford Medicine and Georgetown University Medical Center.
The site features real-time updates and maps showing vaccination rates and risk levels by state or county. This kind of info can help you make informed decisions about your personal risk in your local area. You can even sign up to receive email alerts when risk levels in your area change.
For COVID Rules and Resources in Your Area, Turn to State and Local Health Departments
When it comes to keeping up with the latest rules and policies about mask and vaccine requirements, check the website of your state and local health departments. For example, your state may only recommend that people wear masks in indoor public spaces, while your town requires that everyone do so.
To find your state health department website, you can visit this USA.gov directory and find your state in the drop-down menu. You can find your local health department website through this directory from the National Association of City and County Health Officials.
Both state and local health departments are also good places to find information about vaccine appointments and COVID-19 resources in your state, county or town.
For Breaking News Updates, Keep Up With Newspaper Coverage
Major newspapers like the New York Times and Washington Post provide breaking news coverage of the coronavirus pandemic. And these newspapers make some of their key COVID-19 content available for free. Your local paper may also be a good resource for relevant up-to-date coverage about the pandemic in your area.
Just make sure you're looking at the most recent articles on a particular topic — guidance on everything from masks to boosters changes quickly, so it's important to find the most current information.