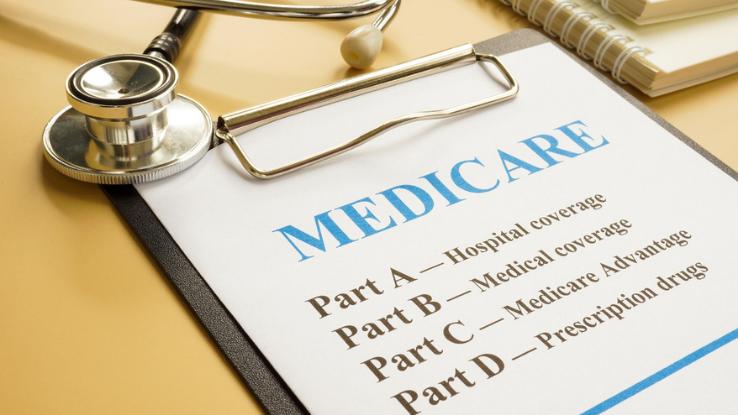 Most Americans are aware that Medicare provides healthcare for citizens once they turn 65 as well as younger people with certain disabilities and end-stage renal disease. However, how to actually collect those benefits is a different story. There are several parts to Medicare that each cover separate areas of medical care, and depending on your needs, the parts that matter for you could vary. Understanding Medicare Parts A, B, C, and D can be the best place to begin as you determine what Medicare can and should do for you.
Medicare Part A
Part A of Medicare is useful for nearly everyone. It covers hospital and some specialized nursing facility care as well as nursing home, hospice, and personal care with some restrictions. It even applies to blood transfusions of more than three pints. If you've worked for 10 years in the United States or are married to someone who is at least 62 and has worked that amount of time in the country, there is no monthly cost for Medicare Part A.
However, there is an annual deductible — $1,408 in 2020 — and it's continued to rise over time. (You can buy a supplemental Medigap policy to cover that if you wish.) There's also a $341-per-day coinsurance fee after the first 60-day inpatient hospital care. This amount jumps up to $682 daily after 90 days. Once this point is reached, patients tap into a pool of 60 lifetime reserve days. Once these days are used up, inpatient hospital stays are no longer covered by Medicare. Similarly, there is a smaller coinsurance payment for stays at a skilled nursing facility after 20 days of care, and you are responsible for all costs after 100 days.
Other fees include a 20 percent copay on Medicare-approved durable medical equipment (DME) and any mental health services you receive during a hospital stay. Room and board costs for hospice care in your home or a nursing home where you already live are also not covered, as are private hospital rooms.
Medicare Part B
Medicare Part B focuses on doctor services and outpatient care. Unlike Part A, which you can use alongside private health insurance (with Medicare absorbing costs first), Part B may not be something you want if you receive better healthcare through your or your spouse's employer. If you do decide not to opt into Part B, however, you should be aware that if you don't apply within eight months of losing or ending the other policy, you will face steep penalties should you apply later — as much as a 10 percent premium increase per year you were eligible for Part B and not covered by another plan.
Part B covers doctor's visits and outpatient procedures at a doctor's office or hospital when you don't stay overnight. It also applies to flu shots and vaccines, ambulance rides, therapy, rehabilitation, medical equipment, chemotherapy, some in-home services, lab work, x-rays and other forms of diagnostic imaging, surgeries, preventative care, medical testing, durable medical equipment (DME), medically necessary chiropractic care and dialysis for people with renal failure.
Medicare Part B comes with a monthly premium of over $100 which comes out of your Social Security checks (if you get them). People who make over $85,000 a year singly or $170,000 when filing as a couple pay more. There's also an annual deductible of roughly $200. After it's reached, you pay 20 percent of the approved cost for outpatient services as well as most doctor services and during hospitalization and any DMEs.
Medicare Part C
Together, Medicare Parts A and B are known as Original Medicare, which is funded by the federal government. However, this isn't true for all parts of the service. Part C, also known as Medicare Advantage, is offered through private companies with the government's supervision, and unlike with Parts A and B, you can choose from a range of plans.
Part C plans offer the same benefits as Parts A and B plus additional services, such as dental or vision coverage. Prescription medications, which are also covered by Medicare Part D, are often covered by Part C plans. While you usually pay less in premiums, you may end up paying more overall after factoring in co-pays. Medicare Advantage also isn't available in all parts of the country, particularly in rural counties. As with a private insurance company, you have a network of healthcare providers, and if you go outside of that network, it'll cost you.
Medicare Part D
Because it's a relatively newer part of Medicare, not everyone is aware that Part D exists. It covers generic and brand-name medications, and like Part C, it offers a range of plans operated by private companies. While enrollees in Medicare Part C often already receive the same benefits, it can be a good choice for people who use Original Medicare but anticipate needing regular prescription medicines. You pay a monthly premium, usually less than $100 dollars, and there may be a deductible as well.
How to Enroll
If you already receive Social Security benefits, you'll likely receive your Medicare card in the mail three months before your 65th birthday. You can also be automatically enrolled in Medicare before that if you've had a disability that qualifies you for Social Security for the past two years, as well as some other circumstances.
Otherwise, you need to manually apply by visiting Medicare's website, calling 1-800-633-4227, going to a local Medicare office, or mailing a signed and dated letter that includes your full name, social security number, the date you would like to be enrolled, and the parts of Medicare you're interested in. Be aware that you are limited in when you can apply for Medicare; generally speaking, you may apply from three months before your 65th birthday to three months afterward. There may be penalties if you apply outside of that time frame, and it's generally advisable to do so in the first possible three months, as otherwise, it could take longer for coverage to begin. There's also an open enrollment period from January 1 to March 31 every year if you wish to change plans.
Resource Links
https://www.humana.com/medicare/medicare-information/understanding-medicare-cost/medicare-part-a-b-c-d-cost
https://www.healthmarkets.com/content/medicare-part-a-b-c-d
https://boomerbenefits.com/new-to-medicare/parts-of-medicare/
https://www.aarp.org/health/medicare-insurance/info-01-2011/understanding_medicare_the_plans.html
https://www.questionsanswered.net/article/how-enroll-medicare