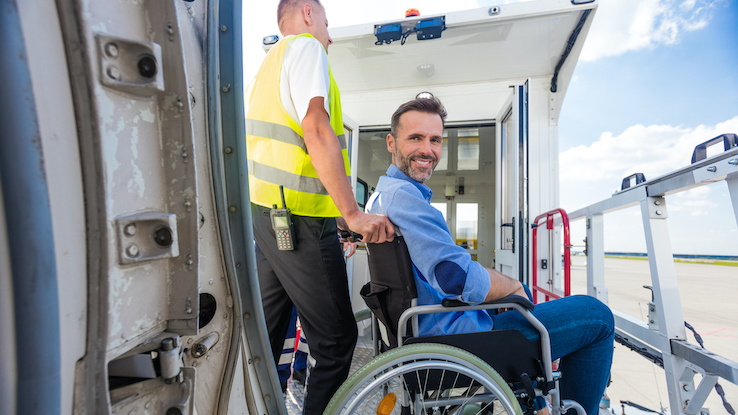 Whether you're heading off to explore a new city, meeting family for the holidays or packing your suitcases for a business trip, navigating the travel process always benefits from some helpful planning before the big flight. Along with booking tickets, taking pets to the kennel and arranging a ride to your terminal, getting through the airport and to the plane is another element of your travel checklist. And if you travel with mobility equipment or medical supplies, a bit of extra planning will go a long way in ensuring your travel experience is a comfortable one. Using the tips below can help you more easily and safely navigate every step of the process, from making travel plans to getting through airport security, while bringing your mobility equipment along for the journey.
Start Planning Early On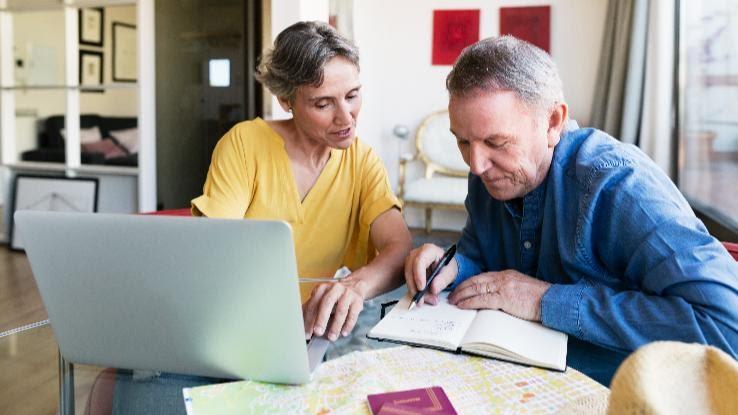 It's never too early to start making plans. Once you have your flight details finalized, start thinking about other steps you can take to make your trip a smoother one. It can help to divide your travel day into separate phases and create a plan for each to ensure you have all your bases covered.
Say you're bringing your wheelchair along for the trip. One phase of your travel day could be your shuttle ride to the airport, and the next phase could be checking your luggage. So, you can create plans for each. When you're scheduling your shuttle ride, let the company know that you're traveling with your wheelchair so they can ensure the vehicle that picks you up has enough space to securely store your equipment.
Once you're at the airport, it could take a bit longer for you to go through security and board the plane. You might need to check your chair, too, which can take extra time. Plan ahead by creating a calendar or timeline for the day, and allow for more time in your schedule for these important periods. This can prevent delays in your schedule and keep you feeling confident about the trip. And don't forget to make the same type of plans for your destination, too.
Choose the Right Seat and Request Pre-Boarding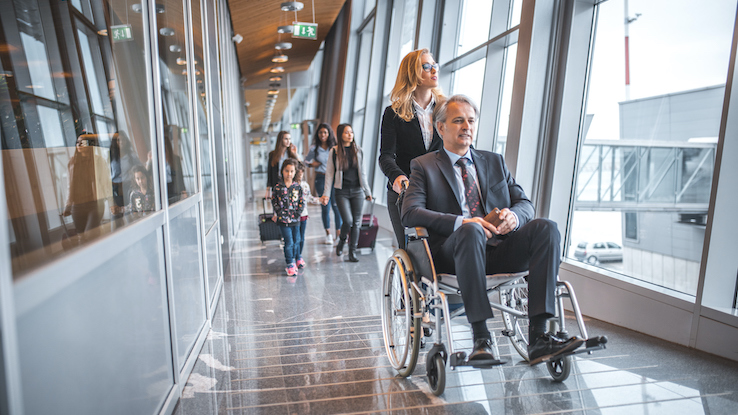 Depending on the equipment you're bringing along, you'll be more comfortable when you have the space you need to use or store it safely. If possible, when you're booking your flight, see if you can pick an aisle seat that provides more legroom and space to one side. It'll also be easier to access the plane's lavatories if you're seated next to the aisle.
Keep in mind that you might want to have some extra time to get around when you arrive at the airport, as well as some extra time to board the aircraft. Ask for pre-boarding assistance when you check in upon your arrival. You can board the flight before other passengers, allowing yourself more time to get comfortably situated in your seat before other travelers get on.
Let the Airline Know About Your Requirements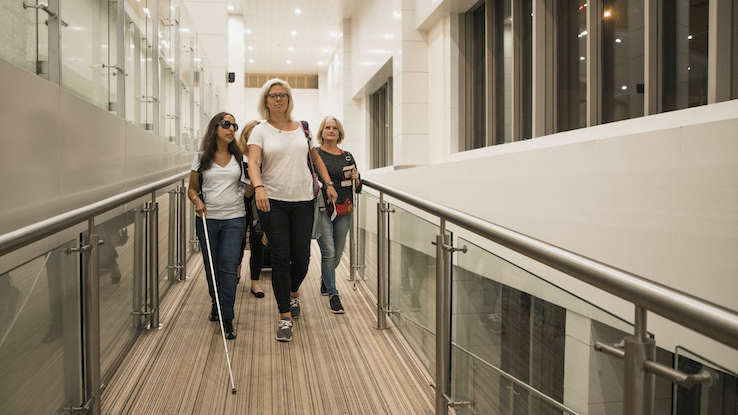 It's important to notify the airline about your mobility requirements both ahead of time and when you're at the airport on your day of travel. This is particularly important if you're planning to have a representative from the airport help you through the facility on the day of. Advise them about your ability to navigate stairs, walk a longer distance and seat yourself on the aircraft. It's also important to let the rep know if you need a seat with a liftable armrest, or if you have other mobility limitations that might change how you'll get around at the airport.
Notify the airline at least 48 hours in advance to give them time to process and prepare — and feel confident in your decision to ask for accommodations. Airline staff members are required by the Air Carrier Access Act (ACAA) to provide appropriate accommodations for your safety and wellbeing at the airport and while you're traveling, and they may be able to offer further suggestions that can help you.
Bring Some Key Documents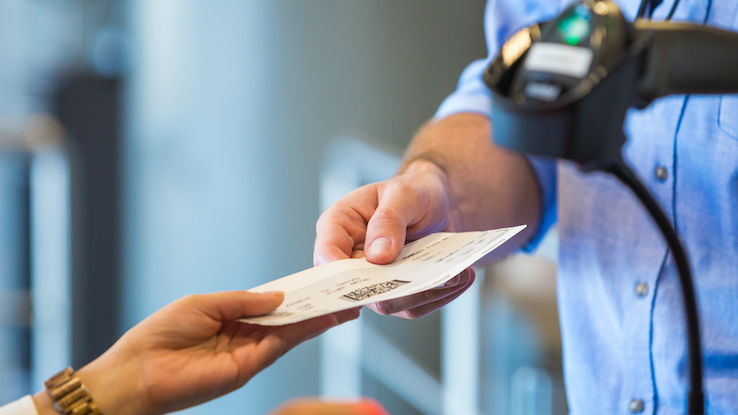 If you have medical or mobility equipment, you're allowed to carry on the equipment separately from your stored luggage, but you might not have full access to the standard outlets or cargo space. Your airline may require you to show medical proof and documentation for the devices you're bringing along, which you can provide with a medical statement from your doctor or via a medical assistance notification card.
Once you're at the airport, your medical equipment will likely need to go through some extra security screenings. Arrive at the airport in advance to make sure you have enough time for this processing before your flight.
Reserve a Wheelchair Ahead of Time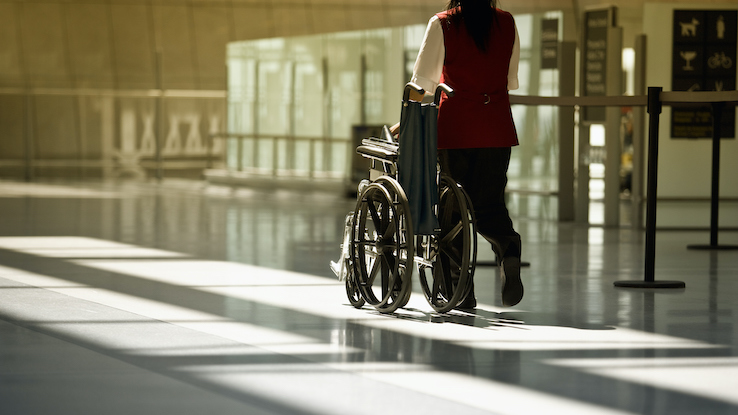 If you need to use a wheelchair or other form of mobility aid (power scooter, walker, etc.) at the airport but you're planning on checking your own before the flight, you can reserve one of the airport's wheelchairs to use to get around the facility before you board. You'll want to contact your airline and request wheelchair assistance at least 48 hours before your scheduled flight. Be sure to have your flight details on hand during this process.
Once you've notified the airline about your request, a customer service representative will add a "requires special assistance" note on your reservation record. Your departure, arrival and transfer airports will be notified individually that they need to provide a wheelchair during your travels. If you're flying on multiple airlines, make sure you call each one to inform them.
Prep Well to Bring Your Own Mobility Aid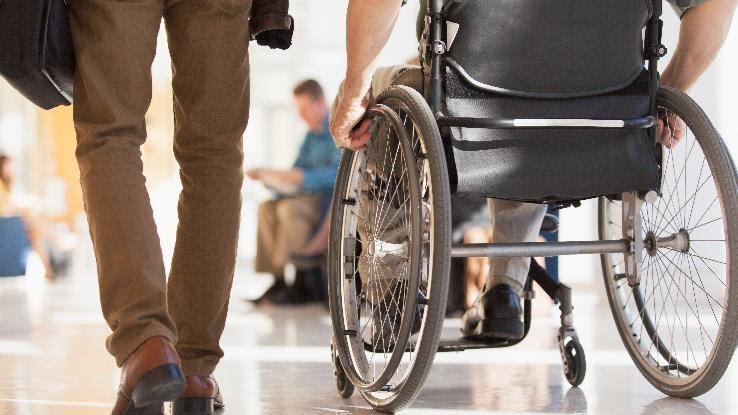 If you prefer to use your own mobility equipment, you can check in the item after you arrive at the gate for your scheduled flight. Most wheelchairs and mobility aids can be gate-checked, which means you can use your aid anywhere in the airport, right up to the point when you board the aircraft.
Before arriving at the gate, make sure your wheelchair's footrests are either removed or folded in to lessen the chances of damage. If you need a cushion for your wheelchair, remove it and carry the cushion on board with you.
Know What to Expect When You Go Through Security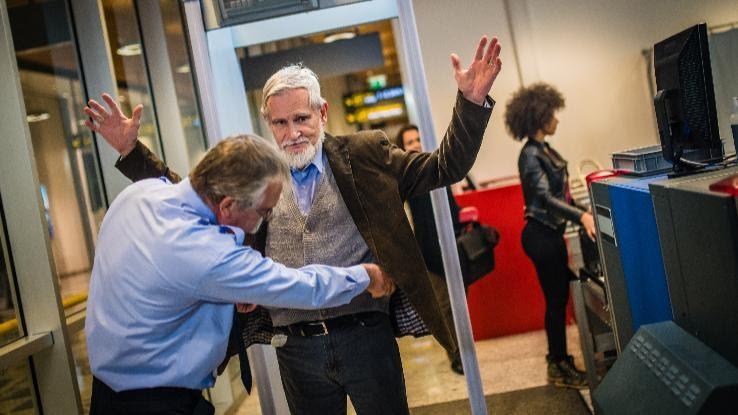 For most of the security process, you'll be allowed to remain in your wheelchair if you use one. However, a security agent may ask if you can stand and walk through the security detectors. If you need to remain seated, you can request a manual pat-down at airport screening so you don't need to go through the detectors.
If you use a cane, crutches or similar aids, you'll be asked to place them on the conveyor belt, and they'll pass through the screening machines like other luggage and carry-on items. If you're unable to walk without your device, advise the airport's security screeners and request a manual pat-down or for it to be returned to you immediately after it passes through the screening machines.