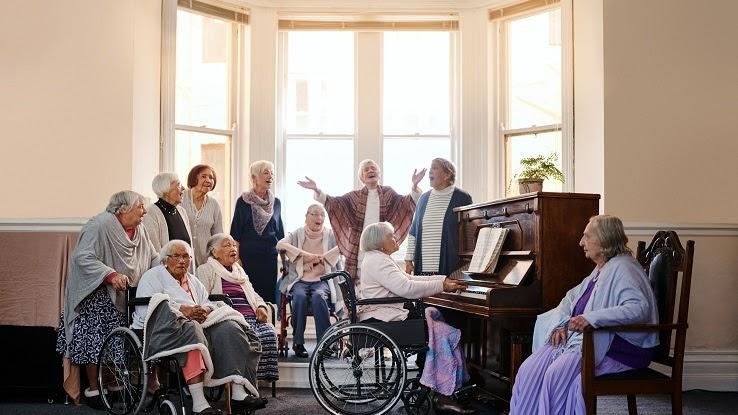 Believe it or not, becoming a singer, singing happy birthday and leading a sing-along might all be much more than joyful entertainment. Music therapy, which involves using songs to improve people's physical and mental health, is an emerging field of medicine that's showing promising results for elderly patients.
Many long-term care facilities host sing-alongs for the elderly both to raise the spirits of residents and to improve their health. Caretakers have noted that patients with dementia show great improvement after singing. But what does science say about just how effective music therapy can be?
What Is Music Therapy?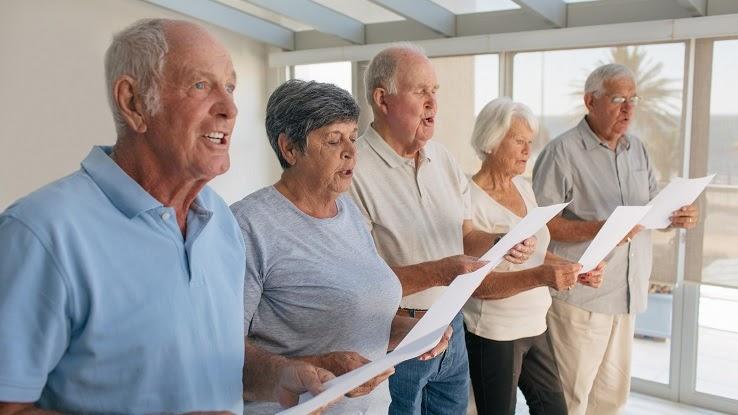 Music therapy is a type of health service that can provide therapeutic support and assist people in managing various health conditions. This type of treatment, which is conducted by certified music therapists, can help people cope with physical, mental, social and cognitive disorders. The specialized therapists who provide these services have both a medical and a musical education.
Singing, dancing, listening to music and playing instruments are all activities people might experience during a session of music therapy. This treatment is especially effective for physical and emotional issues that people who are aging may have difficulty navigating. Music gives people a fun reason to move, and music is a mode of expressing the hardest emotions.
That's why members of the healthcare industry who work with elderly residents are paying special attention to music therapy. Many nursing homes, assisted living communities and other residential facilities for the elderly have begun including group sing-alongs in their regular activity routines. Residents enjoy singing and taking music lessons, but there could also be a number of medical benefits to this type of therapy.
Benefits of Music Therapy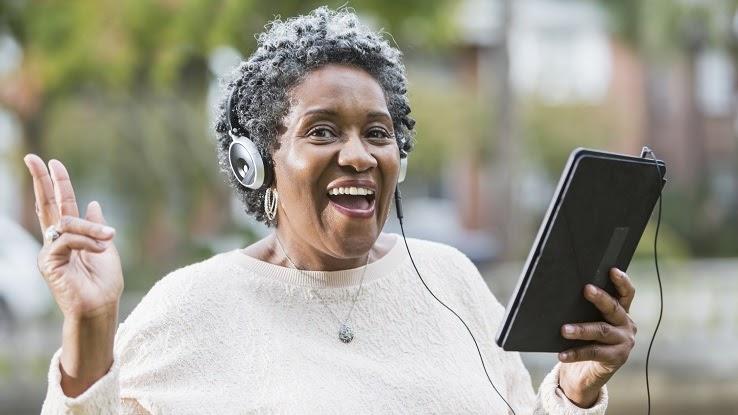 Music therapy is an emerging field, meaning researchers are still learning more about it and not everything they've studied so far is conclusive. As more studies are completed, the evidence for music therapy's efficacy may increase.
The authors of a cumulative analysis of several smaller studies on the impact of music therapy in people with dementia note, "Providing people with dementia who are in institutional care with at least five sessions of a music-based therapeutic intervention probably reduces depressive symptoms and improves overall behavioral problems at the end of treatment. It may also improve emotional well-being and quality of life and reduce anxiety, but may have little or no effect on agitation or aggression or on cognition."
While these early assessments appear promising, more data are needed to determine the extent to which music therapy has a positive impact on people with dementia. This particular study was based on the findings of 22 smaller studies with over 1,000 participants. Studies found that, while music therapy is beneficial, it's not a miracle cure. One session isn't sufficient for making major changes in a patient's prognosis or behavior. Instead, music therapy should become a regular part of a patient's healthcare routine to create results. In all of the studies, the impact of music therapy wore off after four or more weeks without receiving therapy.
A subsequent study had even more promising results. This study, which was published in Frontiers in Medicine, fostered stronger confidence in music therapy's ability to improve cognitive function in dementia patients. Among other things, it showed that music is a strong stimulus for the mind and music therapy provides an opportunity to interact with others. The melodies, lyrics and percussive beats of a song become like brain teasers for older adults, getting their minds working. Music is a motivator, and many older people want to be able to sing, clap or play along. As an elderly person participates in these activities, perhaps practicing the same song repeatedly, their brain becomes stronger.
A third study, published in the journal BioMed Research International, showed that music therapy is an effective preventative measure against long-term depression in people with dementia. However, the research also found that music therapy didn't improve rates of short-term depression. Depression is a chronic symptom of dementia, and people who have the disease often become depressed from time to time. Evidence suggests that continuous music therapy helps an elderly person with dementia to avoid long bouts of depression.
Even for those who do not have dementia, music therapy has also been found to be an effective anxiety reliever. Adjusting to losing various physical and mental functions, such as sight and the ability to walk, can cause anxiety. Many older individuals also experience spikes of anxiety in medical settings, such as doctor's offices and hospitals. A study about emergency rooms found that simply supplying older adults with headphones and an iPad loaded with music reduced anxiety levels, improving the medical team's ability to care for the patients.
Common Forms of Music Therapy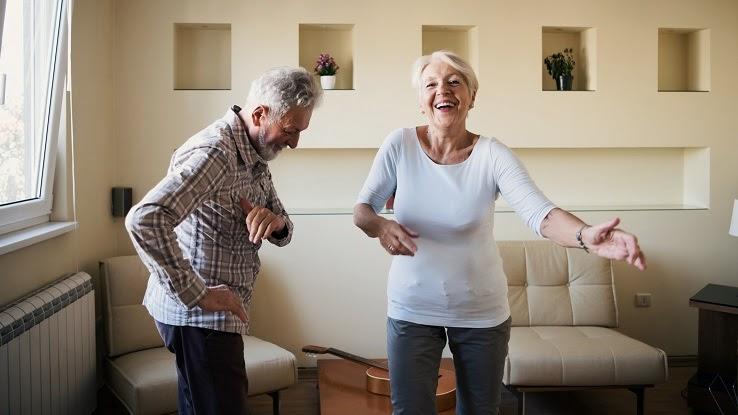 Listening to music is a form of music therapy. For older adults, especially those with dementia, listening to music from their childhood or young adult years can be especially poignant. There are often happy memories associated with the songs, and they remind people of a time when they had the physical and mental abilities that they're working to improve.
Sing-alongs are one particularly effective form of music therapy for older adults. Often, participants sit in a circle with a music therapist in the middle and sing songs that are well known and easy to remember. Music therapists often choose songs around a certain theme or those that help participants reach a certain goal, such as introducing themselves. Rhyming lyrics are also favorable for this type of music therapy.
Drums are a favorite percussion instrument for music therapists who work with elderly patients. Participants who may lack physical strength or have difficulty with dexterity can tap out simple beats. This is both a cognitive and physical exercise, and it provides participants an outlet for self-expression that they may not otherwise have.
Qualifications for Facilitating Music Therapy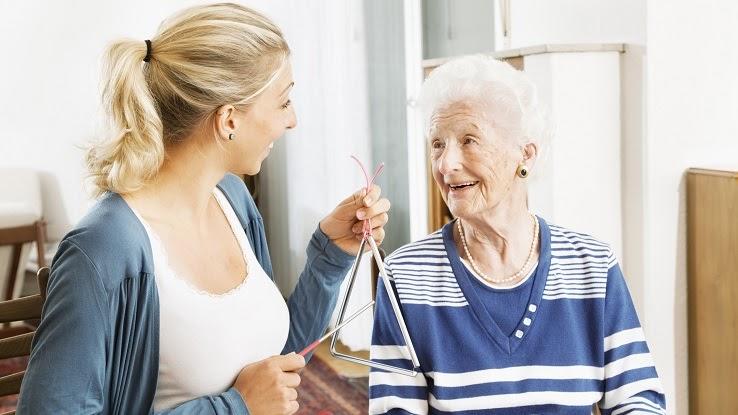 While listening to or playing music may seem like something anyone with talent can do, music therapy is more complicated and goes beyond merely playing music. The songs, structure and methods chosen are very purposeful because this is a method of treatment. Music therapists need to earn a bachelor's degree and a credential from the American Music Therapy Association. Credentialed music therapists are recognized as board-certified music therapists.
Music therapy is an ever-improving method for reaching people who may develop difficulty communicating or experience issues with coping as they age. This non-invasive, mood-boosting therapy looks to be a promising method for improving overall mental and physical health for people with dementia.
Resource Links:
https://www.musictherapy.org/faq/#343
https://www.musictherapy.org/about/musictherapy/
https://pubmed.ncbi.nlm.nih.gov/30033623/
https://www.ncbi.nlm.nih.gov/pmc/articles/PMC7248378/table/T1/
https://www.ncbi.nlm.nih.gov/pmc/articles/PMC4676992/
https://www.alz.org/help-support/caregiving/stages-behaviors/depression