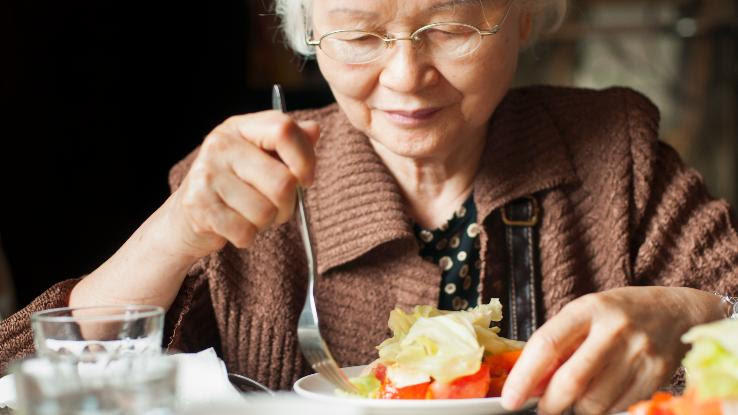 If you're an older adult or senior — or if you have a senior family member who you're looking to support — a meal delivery service might be a real life-changing resource. Sometimes, the process of shopping for food, or cooking food, can get in the way of eating regular, healthy meals. Thankfully, meal delivery services for seniors can give subscribers time back, all while providing them with tasty, balanced options.
In addition to cutting out time spent at the store or making ingredients from scratch, these convenient, chef-designed meals can help you expand your palate or try meals that would otherwise seem too difficult to make. Not sure where to start? We've rounded up three of the best meal delivery services for seniors, so that you can determine which option best fits your dietary needs, kitchen know-how, budget, and more.
Magic Kitchen
If you know the complete, fully prepared frozen meal you'd like to enjoy, a service like Magic Kitchen might be the best option for you. Not sure exactly what you're looking for in a breakfast, lunch and dinner? That's okay — Magic Kitchen will work for you, too, thanks to their a la carte menu. For folks looking to save time and plan out three square meals, Magic Kitchen allows you to set up regular deliveries of complete meal plans; breakfast will run you between $9–12, while lunch and dinner meals typically cost between $13–16.
One thing to keep in mind? Magic Kitchen sells many of its options in pairs, so you may have to spend twice as much and receive twice as many meals as you'd planned. While this is perfect for a couple or someone living with another family member or friend, it may be too much food for someone living alone. You can cancel or suspend your deliveries at any time, though, so if you find yourself with a backlog of meals, that's always on the table. If you receive three meals a day seven days a week from Magic Kitchen, the plan will run you between $246–275 weekly.
Do you or your partner have a special diet? Magic Kitchen offers a range or products and plans for diabetic, dairy-free, gluten-free, low-carb, low-fat, low-sodium, and vegetarian lifestyles. As broad as that range is, note that they do not offer a vegan menu or salt-free meals. (Their low sodium diet is low in sodium, but not altogether free of salt.) Another thing to note is how the service's delivery schedule fits into your own. Shipping costs vary according to the weight of the delivery but typically start around $19. Shipments go out on Mondays and Tuesdays and typically arrive within four days.
Options from Magic Kitchen's a la carte menu include baby clams with linguini marinara, balsamic BBQ pork shank, BBQ sliced beef brisket, crustless spinach quiche and eggplant parmigiana. If you want to shop from Magic Kitchen's selection of complete meals, you can try selections like baked tilapia, brown rice and minted carrots; beef and broccoli over noodles; beef with red wine sauce, diced potatoes, okra and corn; and a breakfast burrito with salsa, applesauce and hash browns.
Home Chef
Home Chef is different from Magic Kitchen in one significant way: it provides prepared and pre-portioned ingredients, but lets you do the cooking yourself. The meals on the menu are designed to be ready to eat in 30 minutes or less.
If your cooking days are behind you, and you rather just heat something up, Home Chef won't be the best fit. But if cooking is a passion — and shopping, recipe research and food prep get in the way of that — Home Chef might be ideal. Of course, they also offer a limited selection of ready-to-eat options for those weeks when you just want a break.
Looking for variety? Home Chef offers at least 15 different recipes to choose from each week, and you can select packages with two, four, six, or eight servings. Not only does this make it great for individuals and couples, but it can also accommodate larger households as well. The skill level required for each meal varies from recipe to recipe, but everything is designed to be accessible for beginners.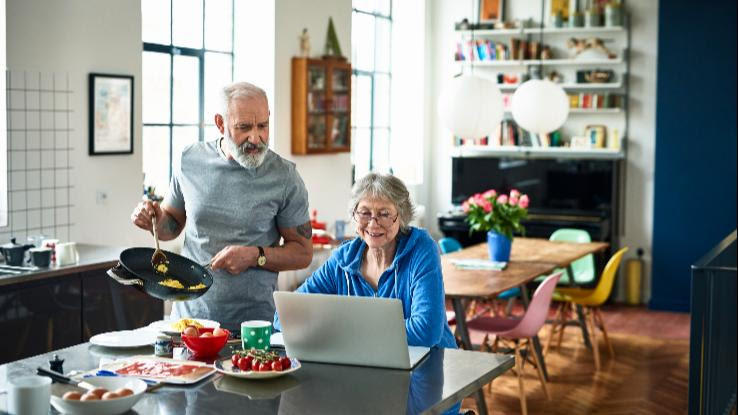 Still looking to mix things up? You can swap out protein options in many recipes on offer. And, depending on your schedule, you can be more flexible with the number of meals you're receiving weekly. (In total, you can opt in to six recipes a week max.) While prices start at just $6.99 per serving, you do need to order a minimum of $50 of product per week — and shipping costs $8 per delivery.
While Home Chef offers variety, the service does not provide specialized menus for special dietary restrictions, so if you require a a gluten-free diet, dairy-free diet or something else, an option like Magic Kitchen might be a better fit. Menu options vary from week to week, but include meals like steak and garlic demi with creamy Florentine-style mash; salmon and lemon herb compound butter with creamy potato gratin and asparagus; crispy asiago chicken with roasted broccolini and tomato risotto; and sliced beef gyro flautas with tzatziki sauce.
Freshly
Unlike other meal delivery services, Freshly is specifically designed for older adults and seniors. The service's program offers fully prepared meals, but, unlike both Magic Kitchen and Home Chef, Freshly meals are designed for one person. For seniors who live alone and crave convenience, Freshly is ideal.
You can keep delivered meals in your fridge — unfrozen for maximum freshness and convenience — for up to five days. Alternatively, you can freeze the meals and simply follow the instructions for thawing and cooking. Regardless, all you have to do is reheat the meals. Moreover, Freshly's offerings are certified gluten-free — and the program offers low-carbohydrate, dairy-free, and peanut-free menus.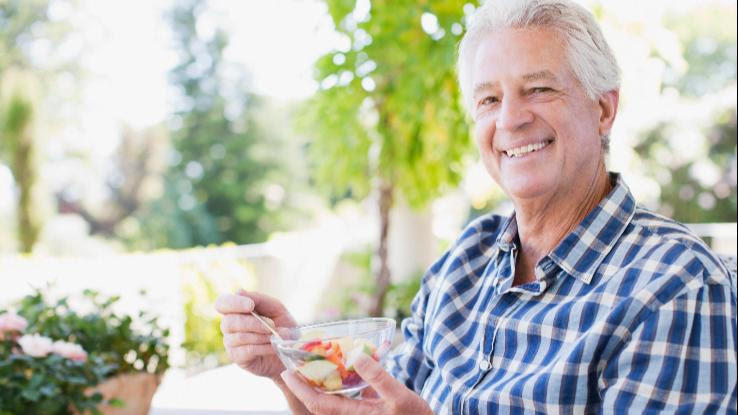 With Freshly, you can order as few as four meals weekly — and as many as 12 meals — from a list of over 30 items on the rotating menu. The cost of Freshly's plans vary depending on the number of meals you purchase each week. For example, the four-meals-a-week plan costs $11.49 per meal — a cost that drops to $8.49 per meal for the 12-meals-a-week plan. Like the other services, Freshly's menu options are varied and tasty, and include meals such as peppercorn steak with sautéed carrots and French green beans; homestyle chicken with mac and cheese; and cauliflower shell beef bolognese with Nonna's soffritto & Italian cheeses.