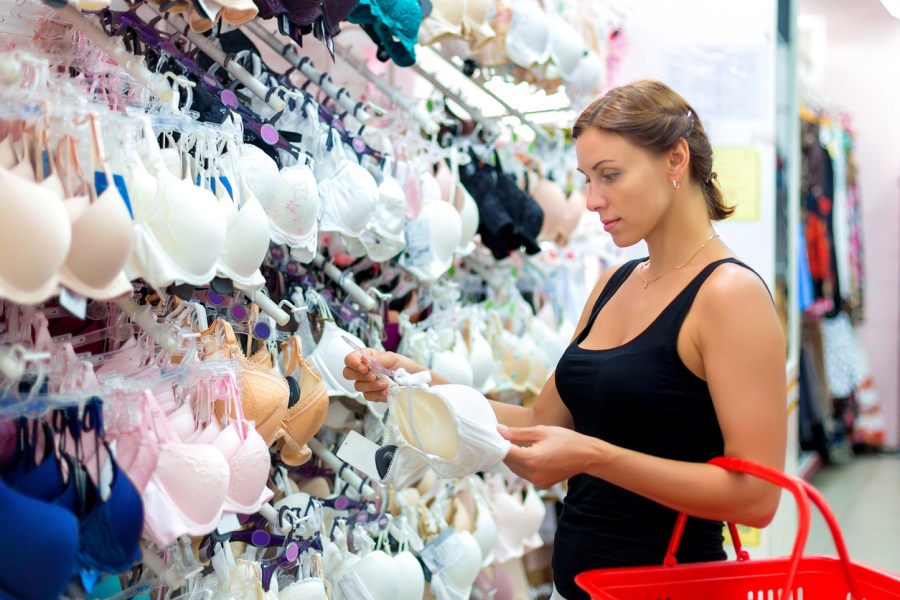 Shopping for a new bra can be frustrating. Sizes can vary quite a bit from brand to brand — so it's not unusual for the same person to wear several different sizes of bras. But don't get discouraged. Tools like a bra size fitting calculator can help. Use these tips to find a comfortable bra that's right for you.
Why Is It So Hard to Find a Bra That Fits?
You know how the size of jeans and other clothing can vary a ton between brands — or even within the same brand? Unfortunately, the same is true for bras. This is due to a number of factors ranging from the material and style to the fit model they used. (A fit model is a person the designer works with to check the fit of a clothing item on a real body).
As bra expert Linda Becker told the Huffington Post, "Even in the same company, sometimes the bras all run differently, and a 34B [in one style] is not the same as another 34B."
So where does that leave the average bra shopper? It's important to realize that bra sizes aren't an exact science — and you may have to try a lot of duds before you find one that really fits.
That said, knowing your measurements and understanding what they mean can provide you with a good idea of where to start. Many upscale lingerie stores offer professional fittings — though even these can vary, depending on the exact method they use and regular old human error. If you'd rather find your bra size in the comfort of your own home, there are tools and tricks to help you do it.
How to Find Your Bra Size at Home
If you want to go the self-measuring route, you'll need to find your band and cup size using a measuring tape. Bra sizes combine numbers for the band size with letters for the cup size. Before you start, make sure you're wearing an unpadded bra — that will make the measurements more accurate.
Follow these steps to find your bra size:
Find your band size. Wrap a measuring tape around your back, just under your breasts (where the band of a bra usually sits). That's your band size.
Find your bust size. Now wrap the measuring tape around your back, but this time hold it across the fullest part of your breasts. That's your bust size.
Subtract your band size from your bust size. The difference between these two numbers shows how far your breasts extend from your ribcage.
Use that number to find your cup size. Now you can use the number you got in step three to find your cup size on a bra size chart.
Bra size charts may vary a bit from brand to brand, but here's an example of a U.S. bra size chart. Remember, the numbers are what you get (in inches) when you subtract your band size from your bust size:
1 = A Cup
2 = B Cup
3 = C Cup
4 = D Cup
5 = DD or E Cup
6 = DDD or F Cup
7 = DDDD or G Cup
8 = H Cup
And so on — for every inch of difference between band and bust size, you go up a letter in cup size.
Once you have your cup size, combine it with your band size. If your band is 38 and your cup is D, your size is a 34D — or at least that's a good place to start!
Don't Feel Like Reading a Chart? Use a Bra Size Fitting Calculator
If you don't feel like doing subtraction and reading a chart, there are plenty of cool online tools that will do the work for you. Some bra size fitting calculators are more basic, like this one from Bare Necessities. Some go beyond the numbers to take into account things like the shape of your breasts — like this tool from Third Love.
Want to get even more thorough? One well-reviewed and popular tool is the A Bra That Fits Calculator, which was created with the feedback of a very active and supportive Reddit forum. This tool doesn't stop at band and bust measurements — it asks you to take six different measurements to find a more precise fit.
Check for a Good Fit
Ultimately, finding the perfect bra will primarily come down to knowing what to look for in the fitting room, or when trying on bras at home after shopping online. Follow these tips:
Check the band. Most of the support in your bra comes from the band, so this is key. Try raising your arms above your head. Ideally, the band would stay pretty much in place.
Check the cups. If the cups leave gaps around your breasts, they're probably too big. And if you're spilling out over the top, that's an obvious sign that they're too small.
Check the straps. The straps should fit snug over your shoulders, without slipping off or digging into your skin.
It's also totally common to have one breast that's slightly bigger than the other. In this case, you'll want to go with the one that fits the larger breast. If the difference is fairly small, try finding a bra made from a stretchy material that will naturally adjust to the size of each breast. If it's larger, look for a bra with removable inserts and wear the insert only on the smaller side.