What Does a Heart Attack Feel Like? Heart Attack Signs to Know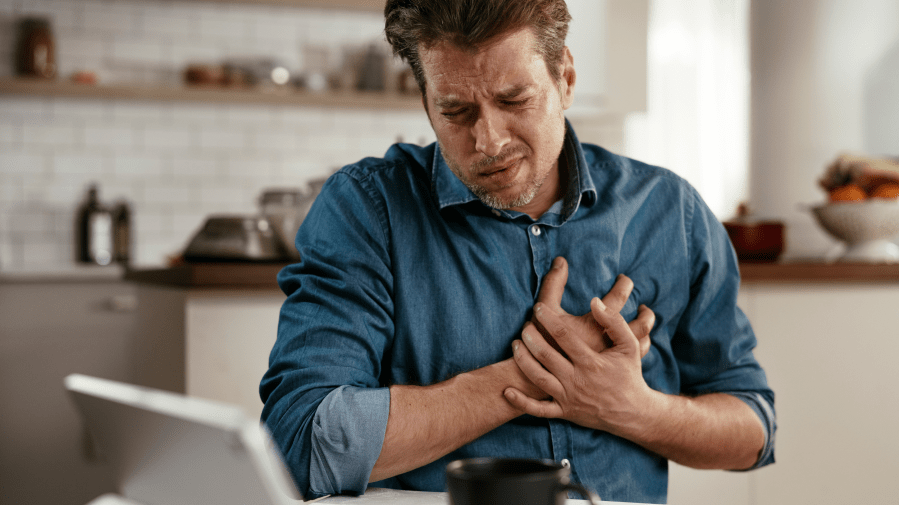 Every 40 seconds, a person in this country has a heart attack. Catching heart attack signs and symptoms as early as possible can be lifesaving. Let's take a closer look at how to spot the symptoms of a heart attack and what to do if these happen to you or someone you care about.
What Is a Heart Attack?
A heart attack describes tissue death or damage to parts of your myocardium, or heart muscle. The medical world calls a heart attack a myocardial infarction (MI).
What Happens During a Heart Attack?
A heart attack greatly impedes or fully blocks blood flow to your heart. This cuts off your heart's oxygen supply, which it can't live without.
In turn, this prompts various heart attack signs and symptoms, which let you know that an infarct (tissue death called necrosis) has happened. An infarct can scar and weaken your myocardium and keep it from working as efficiently as it did before your heart attack.
How Long Does a Heart Attack Last?
Mild heart attack signs and symptoms may last for a few minutes, and then stop when you rest. But more severe MI symptoms can last for 20 minutes or more, especially if your coronary arteries are completely blocked.
What Causes a Heart Attack?
Your heart needs blood to thrive and survive. Your coronary arteries lie just outside your heart.
They provide a direct pathway for blood to enter your heart. Damage ensues when this pathway gets blocked.
Atherosclerosis and CAD Can Cause Heart Attack Signs
Heart attacks may be due to atherosclerosis. This happens when your arteries harden and become too narrow, causing plaques to grow and build up in and on these blood vessel walls.
Plaques consist of cholesterol, fat and other compounds that adhere to these artery walls. These make it harder for blood to travel freely and safely to your heart and the rest of your body.
Coronary artery disease (CAD) is a condition that occurs when atherosclerosis affects arteries that carry blood to your myocardium. It's also called coronary heart disease or ischemic heart disease. CAD is the most common type of heart disease in the country and the cause of most heart attacks.
MINOCA Can Also Cause Heart Attack Signs
MI with nonobstructive coronary arteries (MINOCA) may also be the culprit. These describe non-CAD issues and conditions that cause heart attack signs and symptoms.
Examples of MINOCA include:
Blood clot that forms around a ruptured plaque, blocking blood flow to your heart
Coronary artery embolism, which happens when a blood clot gets wedged inside your coronary artery as it moves through your bloodstream
Coronary artery spasm that blocks blood flow when this blood vessel suddenly tightens
Spontaneous coronary artery dissection (SCAD), which is when this blood vessel wall suddenly tears or separates, causing blood flow to be blocked by the tear itself or when a blood clot forms at the SCAD site
Who's at Risk for a Heart Attack?
Various risk factors increase your chances of a heart attack. Many of these are tied to your risk of CAD.
Heart Attack Risk Factors Out of Your Control
That is:
Age older than 45 for males [at birth] and older than 55 (or after menopause) for females [at birth]
Infections caused by bacteria and viruses such as bronchitis, COVID-19, flu, pneumonia and urinary tract infections
Male gender at birth
Many close relatives with heart disease (e.g., biological parents or siblings)
Racial background (i.e., American Indians, Native Hawaiians and African-, Mexican- and some Asian-Americans)
Heart Attack Risks You Can Prevent and Improve
These include:
Alcohol (prolonged and excessive drinking)
Poor eating habits
Smoking nicotine or being exposed too often to second-hand smoke
Stress (long-term or severe)
What Are the Symptoms of a Heart Attack?
So what does a heart attack feel like? These can differ from gender to gender, person to person and heart attack to heart attack.
The most common heart attack sign is a stabbing or crushing pain in the center or left side of your chest called angina. Or instead of pain, your chest feels heavy or tight as if it's being squeezed.
Pain or discomfort may also be felt in your:
Abdomen above your belly button
Arms (1 or both)
Back
Jaw
Neck
Shoulders
You may also feel as if you can't catch your breath at rest or with mild activity. Your heartbeat may race, its rhythm may be off and your blood pressure may drop.
These heart attack signs can leave you feeling:
Faint, dizzy or lightheaded
Fatigued
Nauseated to the point of needing to vomit
Sweaty (cold, clammy sweat)
What Are the Symptoms of a Heart Attack in Women?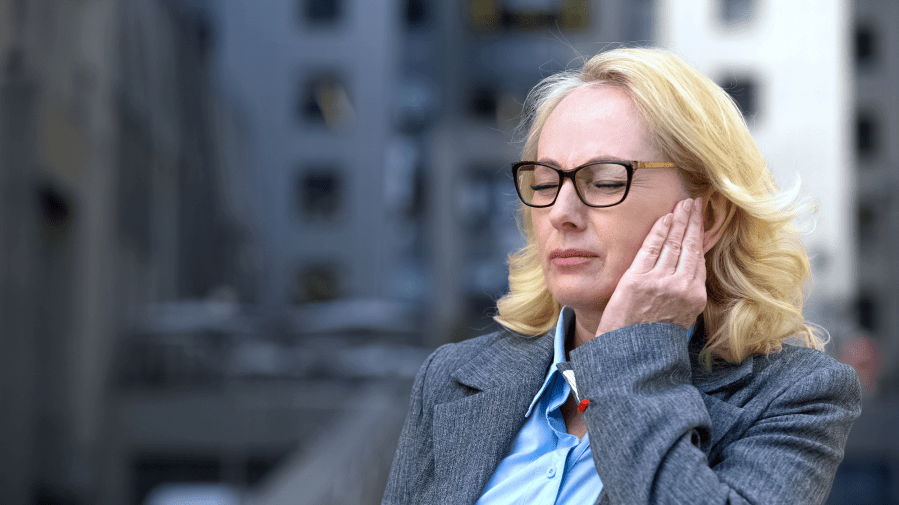 Women can feel gripping chest pain or discomfort, too. But they're more likely to have some of the other common heart attack signs such as shortness of breath, nausea and vomiting and brief or sharp pain felt in the:
What Is a Silent Heart Attack?
Can you have a heart attack and not know it? You may have an MI with few if any heart attack signs and symptoms. Or, you may not recognize them as such.
These are known as a silent heart attack or silent MI (SMI). An SMI can damage your heart and place your life at risk just as much as other heart attacks.
You may not have chest pain or feel short of breath. Instead, you may feel overly tired and achy as if you're coming down with the flu.
Your stomach may ache or you may feel like you strained a muscle in your:
Some of these "silent" heart attack signs can linger for days or weeks.
What to Do If Someone Is Having a Heart Attack?
If you witness or come upon someone you think has had a heart attack, call 911 or the local emergency medical service (EMS) phone number. If another person is nearby, direct them to call 911 or EMS in your place.
While you check their pulse for 5 to 10 seconds also check their breathing by looking at the rise and fall of their chest. If 5 to 10 seconds have lapsed and you still can't feel a pulse and the person isn't breathing [or only has agonal or gasping breaths], place them on their back on a firm surface and start CPR.
How to Diagnose a Heart Attack
An electrocardiogram (ECG or EKG) is usually performed within minutes of arriving in the hospital emergency department. Waves on the EKG monitor show whether you've had or are having a heart attack.
Your doctor may also order:
Blood tests to check for elevated heart proteins (e.g., troponin) in your blood
Chest X-ray to view the size and condition of your heart and lungs
CT or MRI to view the extent of damage to your heart
Echocardiogram that uses ultrasound to see how your blood moves through your heart and its valves
Coronary Angiogram, PCI and Stenting
Your doctor may also order a coronary angiogram to check for narrowing or blockages in the arteries leading to your heart with the help of contrast dye and an X-ray machine. A thin tube called a catheter is threaded up to your coronary arteries and heart from a blood vessel in your groin or arm.
If the angiogram shows narrowed or clogged arteries, an angioplasty can also be performed. This procedure is also called percutaneous coronary intervention (PCI).
During the PCI, your doctor inflates a tiny balloon that sits at the tip of the catheter to widen your blocked artery and improve blood flow.
A small wire mesh tube called a stent can also be placed during your PCI. The stent helps keep your artery from collapsing or narrowing again. Some may be coated with medicine to keep it open.
How to Treat a Heart Attack?
The treatment of heart attack signs and symptoms often includes MONA.
Morphine helps relieve angina.
Oxygen (O2) helps boost O2 to prevent further heart tissue damage and death.
Nitroglycerin improves blood flow and treats chest pain by expanding your blood vessels.
Aspirin thins out your blood to help with blood flow and reduce blood clotting.
Other medicines might include:
Angiotensin-converting enzyme (ACE) inhibitors or beta blockers to lower your blood pressure and ease your heart's workload
Heparin to thin out your blood and treat blood clots
Statins to lower your cholesterol
Thrombolytic or fibrinolytic clot busters to break up blood clots
Coronary Artery Bypass Surgery (CABG)
The open-heart surgery known as CABG (pronounced "cabbage") reroutes the blood that flows to and from your heart. Your surgeon takes a healthy blood vessel from another part of your body to funnel blood flow around your blocked or narrowed artery.
Cardiac Rehabilitation (Rehab)
Your health care team works with you to tailor a cardiac rehab program that helps you recover and regain strength after a heart attack and supports your total health in a holistic manner. Depending on your program, your care team can include health care specialists such as your:
Doctors
Nurses
Clinical exercise physiologist
Registered dietitian nutritionist
Mental health therapist
Health or disease-management coach
How to Prevent a Heart Attack?
Healthy lifestyle habits can help prevent a heart attack. Aim to:
Follow a nourishing eating plan that emphasizes whole foods such as lean meats, seafood and fruits and vegetables while limiting processed foods and added sugars
Get at least 150 minutes of brisk exercise each week. 
Hydrate well with healthy fluids, which can help your heart pump blood more efficiently and lessen the load placed on your myocardium.
Keep your blood pressure, blood sugar, cholesterol and weight within healthy ranges.
Limit alcohol. 
Avoid illicit drugs such as methamphetamines (meth) and cocaine, which weaken and place added stress on your heart.
Cope with stress, anxiety and depression in healthy ways, seeking out help from a mental health therapist if needed.
Quit or never use tobacco and avoid people while they smoke.
Take your medicines as directed by your doctor. 
Resource Links: